Joint statement condemns Turkey's crimes in Rojava
Dozens of organisations and individuals condemn the brutal killing of Zehra Berkel, Emîna Weys and Bedîea Mele Xelîl by the Turkish army in Kobanê.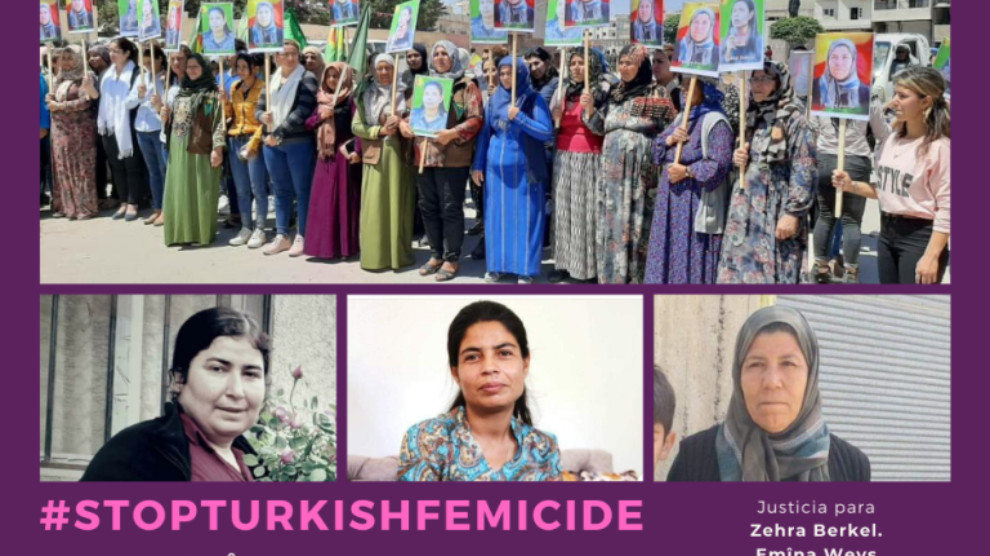 On 23 June, three activists of the women's movement in north-east Syria were killed in a targeted drone shelling by Turkey in the village of Helincê (Halinja) near Kobanê. Zehra Berkel and Hebûn Mele Xelîl were members of the women's umbrella organisation Kongreya Star in the Euphrates region, and Amina Waysî was also active in the women's revolution in Rojava. She took part in all activities of the women's movement and dedicated all her energy to the revolution.
Dozens of organisations and individuals have signed a statement condemning the constant attacks by the Turkish state on the Kurdish population, especially for the murder of the three women in Kobanê.
Women's organizations and collectives from many territories and countries, trade unions and bookstores, political individuals, intellectuals and human rights defenders raised their voices firmly against "the murder, feminicide, looting and invasion perpetrated by the Turkish state against the Kurdish population, especially against the violence perpetrated on the women of Rojava, that are the soul of the democratic, women's liberation and environmental revolution in northern and eastern Syria."
Collective adhesions:
Women Defend Rojava Madrid
Rojava Azadi Madrid
Comité de Apoyo a Kurdistán Madrid
Asociación de Amistad con Kurdistán
La Corrala Patio Feminista (Aranjuez)
Associació de Dones La Frontissa (Vilanova i la Geltrú)
Solidaritat Obrera Metro de Barcelona
FeministAlde (Bilbao)
Suargi Elkartea
Emakume askeak-Mujeres Libres Bilbo
Anticapitalistas
Comité Valencià de Solidaritat amb el Kurdistan
Comité Solidaridad Asturias Rojava
Women Defend Rojava Asturias
Traficantes de Sueños
Solidaridad Obrera
Confederación General del Trabajo (CGT)
Asamblea Feminista de Madrid
Mujeres Libres Miranda de Ebro
S.O.V. CNT Miranda de Ebro
Comité Solidaridad Kurdistán Ciudad de México
Mujeres de La Comuna, presxs y represaliadxs de la dictadura
Asamblea Feminista de los barrios de Fuencarral-El Pardo
TRAWUNCHE MADRID - Coordinación de Apoyo al Pueblo Mapuche Madrid
Comisión Internacional 8M SP
Círculo Feminista Agua de Mayo
Frente de [email protected] por el derecho a la salud, México
Colectivo Caracol de la Vida - Red de Resistencia y Rebeldía, México
Red de Mujeres del Oriente del Estado de México que Luchan
Mujeres y la Sexta (México)
Red MyC Zapatista
Espacio de Coordinación "Grietas en el Muro"
Red de Mujeres que Luchan "Porque Acordamos Vivir"
Tejiendo Organización Revolucionaria
Matrioska MIR (Michoacán, México)
Universidad de la Tierra en Puebla, AC
Colectivo Utopía Puebla
Red de Resistencia y Rebeldía Tlalpan
Mexicanos Unidos
La Voz del Anáhuac
Red de feminismos descoloniales
Red Morelense de Apoyo al CIG-CN
Red de Resistencia y Rebeldía Jo' (Mérida)
Sexta Teatrito
Texthilo
Colectivo de Mujeres Tejiendo Resistencias
Colectivo Wila Pacha (Arica, Chile)
Cooperativa Itzpapalotl (Ciudad de México)
Sororitat Obrera
Feministas con Voz de Maíz
Asamblea 8M Alicante
Colectivo Patli Uelik
Asambleas Abiertas Feministas de Cantabria
Colectivo Utopía (Morelia, Mich.)
Colectivo Ariles de Caracol (SLP, México)
Mujeres Libres de Madrid
Plataforma Feminista de Guadalajara
Confederación Nacional del Trabajo (CNT)- Comité Confederal
Confederación Nacional del Trabajo (CNT) – Comarcal Sur, Madrid
Confederación Nacional del Trabajo (CNT) Aranjuez
Confederación Nacional del Trabajo (CNT) Valladolid
SOV CNT La Cabrera-Sierra Norte
Asamblea Feminista Burgos
Steilas
Women Defend Rojava Bizkaia
BEA, Asamblea de Mujeres Bizkaia
Feministalde
Auzoetatik Piztu Bilbo
BDS
Kurdistanekin Elkartasuna Ekimena
------------------------------------------------------------------------------
Individual adhesions:
Miguel Urban Crespo. Eurodiputado y miembro de Anticapitalistas
María Eugenia Rodriguez Palop. Eurodiputada. Unidas Podemos
Alma Sánchez. Fotoperiodista independiente
Frida Gómez, activista abogada del Frente Nacional para las Sororidad y periodista digital de Noticias Tiempos Modernos
Patricia Jiménez Naranjo, sección X de la CNTE, México
Silvia Ruiz Maruri, Sección X de la CNTE, México
Alejandra Arcas de la Cruz, abogada, México
Laura Suárez Almanzor. Actriz, directora, pedagoga teatral
Silvia Reséndiz. Mexicali resiste
Sashenka Fierro Reséndiz. Colectivo Mujeres Tierra Ac Comunidad Circular
Ana Lucía Pérez. Red Coyoacan
Adriana Maggio, abogada (Argentina)
Claudia Torres, Mujeres y la Sexta
Dra. Alicia Castellanos, antropóloga e investigadora mexicana
Dr. Gilberto López y Rivas, antropólogo e investigador mexicano
Armando Soto, Red de Resistencia y Rebeldía Tlalpan
Julieta García López, antropóloga, tallerista y activista de la sexta
Carmen Huerta, antropóloga (Xalapa, Veracruz)
Cecilia Zeledón, historiadora, directora de Universidad de la Tierra en Puebla, adherenta de La Sexta, miembro del consejo Tiyat Tlali, miembra de vivasnosqueremos, BDS México. 
Edith Victoriano, estudiante de posgrado de Defensa y Promoción de DH en UACM.
Luvina Camargo, socióloga.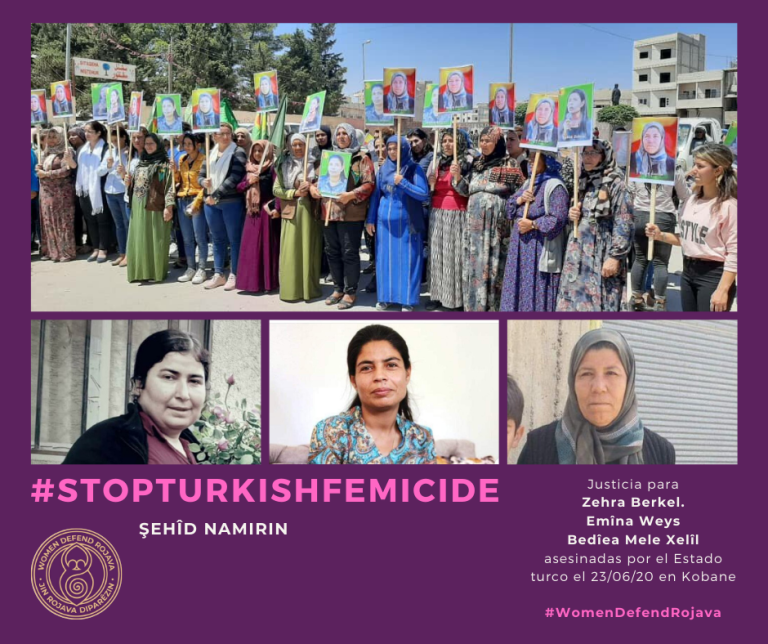 RELATED NEWS: