Murat Karayılan: A heroic epic is being written in Heftanin
PKK Executive Committee Member Murat Karayılan talked about the recent developments in South Kurdistan.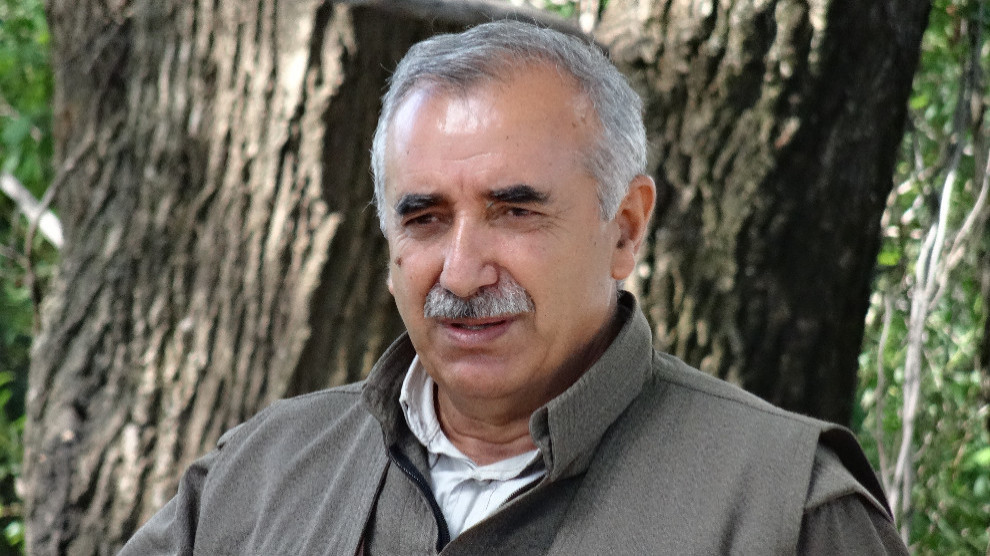 PKK Executive Committee Member Murat Karayılan spoke to Dengê Welat Radio.
The Turkish state carried out extensive air strikes on Shengal, Maxmur and Medya Defense Areas on 15 June. It has been speculated that 81 targets were hit and you had many losses. Is it true?
The enemy has not achieved any results. We had not a single martyr. In the first place, we could not get information from Shengal; but now we have tis precise information. As announced by the press, the YBŞ has three injured. Apart from that, there were no losses there. We already knew that no loss was experienced in other place. So the enemy attack on 15 June was a total failure. It was unsuccessful.
Immediately after, a comprehensive attack on Heftanin was launched and is still going on. We know that the guerrilla has carried out a great resistance. What is the situation on the 14th day?
In these 14 days a heroic epic was written in Heftanin. This resistance, especially the resistance of Egîd, Mazlum, Amara and Memyan, gained more meaning and deepened. The spirit that prevailed from the first day until today is the resistance spirit of these martyrs.
Lastly, on 25 June (the anniversary of the Kobanê Massacre, and I respectfully commemorate our martyrs there), the enemy wanted to advance in an area called Martyr Zelal. Here, a historical resistance was carried out under the command of Esmer Devrim. This resistance continued throughout the day and until the next day. The enemy was hit many times. It then retreated and attacked by setting fire on the lands launching aerial attacks. There have been 66 air strikes and thousands of cannon attacks.
As an important point about this resistance, I can state that the defense of that area is to ascribe to the YJA STAR under the command of comrade Esmer. Our women comrades. This is also important in itself. A new epic was written by the YJA STAR women who are passionate about freedom on June 25 in Heftanin.
The war continues in Heftanin. The enemy took some places. It can take them, but the guerrillas are there. We have already mentioned this before: Anywhere the enemy got its hands on, he will pay the price. So it will pay the price, die and withdraw. If they stay there, they will always pay the price, so they will die again.
The Turkish state is killing civilians, in Sharbajar and Shêladizê. Kurdish women were killed in the village of Helincê in Kobanê. Are these attacks carried out as part of a plan? IN other words, why are Kurdish women especially targeted?
In the person of the martyrs of Kobanê, Shêladizê and Sharbajar, I remember all our people who fell martyr as a result of the Turkish state's genocide policy, and I repeat our promise to our martyrs once again. They are the martyrs of our sacred cause, the Kurdistan Freedom Struggle, and their blood will not remain on the ground, revenge will be taken.
Undoubtedly, these attacks carried out by Turkish colonialism are following a plan. In other words, the Turkish state does not carry out the attacks from Süleymaniye to Shengal to Kobanê in a meaningless way. These attacks are planned. The first objectives are to scare the Kurdish society, repress it and force it to surrender. In this way, Turkey wants to establish its domination in three parts of Kurdistan. It wants to say: "I am the judge" not only in North Kurdistan, but also in the South and Rojava.
How do you assess the attitude of the people?
The general attitude of our people is good. Especially our people in Sulaymaniyah and Germian have taken a national and resisting stance. Again, Shêladizê alone shows a brave and heroic stance.
I greet all of our South Kurdistan people with respect. Once again I commemorate the martyrs of Shêladizê. The stance of our people in Shêladizê is a source of pride for every patriot.
RELATED NEWS: