50,000 NO in Bilbao to criminalisation of defense of prisoners
Some 50,000 people took to the streets in Bilbao against the macro trial that will start on Monday in Madrid against 47 Basque citizens for their defense of the rights of prisoners.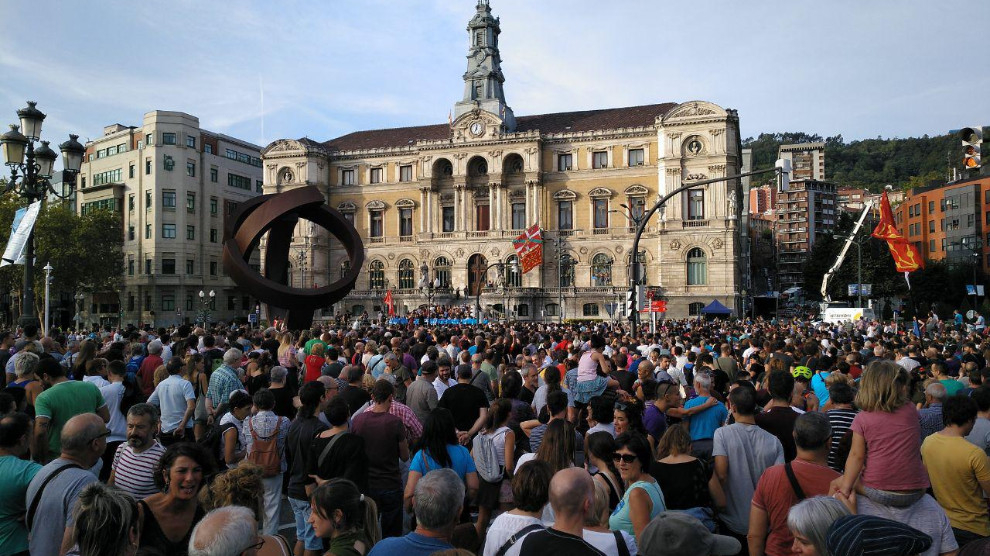 The march was joined by a plural representation of the political and trade union and agents inside and outside Euskal Herria.
Lawyer Amaia Izko, one of the 47 people accused, said the group was very happy with the response in the streets of Bilbao. She also stressed that the wave of solidarity in Bilbao is also a strong pronouncement of the Basque society against a judicial process "that is out of time, out of place and out of measure, unfair and absolutely unfounded."
The lawyer has also stressed that the people gathered in Bilbao «come here to say that they want to continue looking to the future, moving forward, and that they do not accept strategies that lead us to the past, that chain us».
More than 60 buses arriving from different points of Euskal Herria brought demonstrators to the meeting point of the march which ended in a rally in front of the Municipality.
A broad representation of EH Bildu also joined the march, including its general coordinator, Arnaldo Otegi, along with the parliamentarians Maddalen Iriarte and Bakartxo Ruiz and the deputy in Madrid Mertxe Aizpurua.
Tinixara Guanche, from Elkarrekin Podemos was also there and so were Anjels Puyol and Patricia Sierra, representing the Catalan National Assembly. From the Social Forum, Agus Hernan was there.
Basque trade unions and Comisiones Obreras union also were represented.