Mass march against isolation in London
A march was organized in London against the isolation and to support the hunger strikers and death fasters.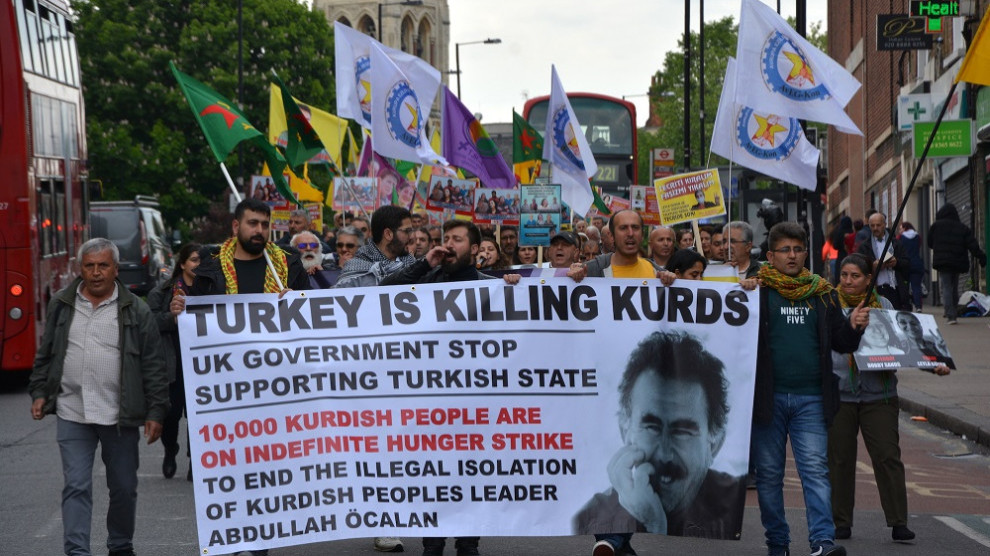 British Democratic Forces Union organized a march in London to draw attention to the onoing hunger strikes and death fasts demanding an end to the isolation imposed upon Kurdish People's Leader Abdullah Ocalan. The speeches in the protest called for growing the struggle against the isolation.
Members of the British Democratic Forces Union, with over 20 organizations from Turkey and Kurdistan as members, gathered in the civic center in the Wood Green area of London.
"IF EVERYTHING IS TO BE BEAUTIFUL..."
Alevi Federations Britain Chairperson Israfil Erbil gave a speech on the purpose of the protest. Referencing the Istanbul elections, Erbil said: "They say everything will be beautiful, we want that 'everything' to include Leyla Guven and our friends in prisons."
"THEY ARE MAKING HISTORY"
Erbil said the following:
"To this day, we have stood wherever there is an injustice. We stood with those who were wronged. Today, under the lead of Leyla Guven, the hunger strikes aiming to break all chains in prisons including ending the isolation of Mr. Abdullah Ocalan, are making history. Leyla Guven is 6 months into her hunger strike resistance. 30 of our friends have turned their hunger strikes into death fasts.
When all injusties in Turkey fall on deaf ears and blind eyes, there is only one way left to call on the conscience: to lay down one's own body to die. There are many injustices and unlawful acts in our country. Everybody knows about the most recent elections."
The crowd gathered in Wood Green, London started to march after speeches. The marchers held banners with Ocalan's photos and photos of hunger strikers as well as signs about the hunger strikes and chanted "We are Leyla, Leyla is us", "Leyla's demands are our demands", "Biji Serok Apo" and anti-Turkey slogans. The marchers also passed out flyers to the public about the hunger strikes and their demands.
"LET'S ORGANIZE STREET RESISTANCE"
The crowd were received by Nahide Zengin and Mehmet Sait Yilmaz, who have been on an indefinite nonalternating hunger strike since March 14, in front of the Democratic Kurdish Social Centre in Haringey.
Migrant Workers Cultural Association administrator Ibrahim Avcil spoke in the name of the British Democratic Forces Union at the end of the march and called to increase the struggle: "For the hunger strikers' demands to be met, there needs to be a street resistance to match the hunger strikes. We must be on the streets not in the hundreds, but in the thousands. To avoid deaths, we must set aside all discussions and come together around the hunger strikers' demands to increase the struggle."