May your heart rest in peace, guerrilla Tekoşer!
Guerilla Tekoşer Kahraman fell martyr in beautiful Avashin, Southern Kurdistan on 27 July.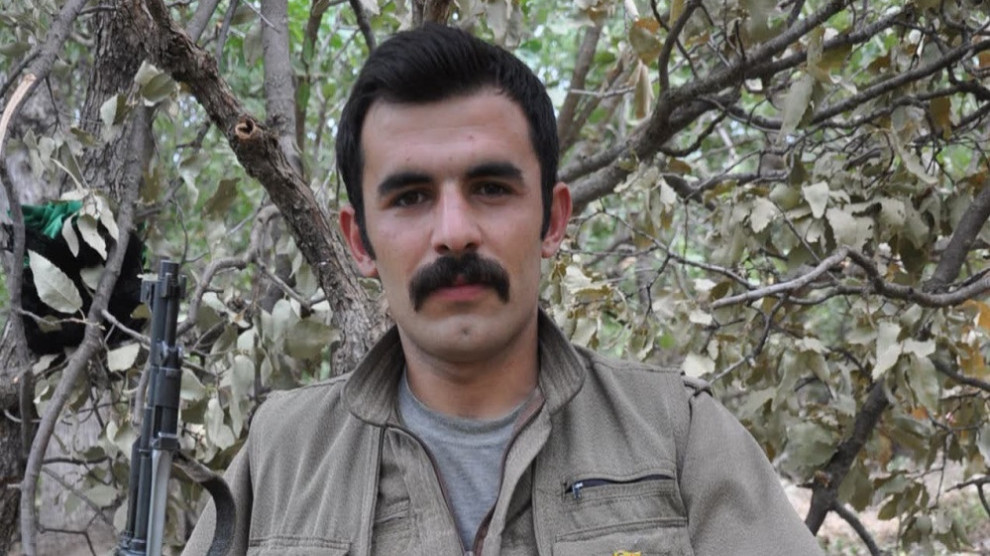 I remember the day I saw him as if it was yesterday. I recover the images of him I took with my heart. So deep, so brave and lively. "Why do you want to take a photo? I don't want. Do you want to take a photo of me under a tree? What about heroes who have no photos?" he said.
What he said had never occurred to me. "I take a photo to fix a memory," I said. "I take photos of guerrillas, because a people who fought a war of liberation means there is hope." He would be convinced and he leaned against the tree and then said "go" and smiled. So I turned off my camera and looked at him for two minutes and then said "I took it". He didn't understand what I was doing. I said: "I took the photo of what you said with my heart." Later, even though I turned on my camera and took dozens of photographs, none of them was as beautiful, nor as permanent, as the one I took with my heart.
This year, yes, this year, a few months ago, I met guerrilla Tekoşer Kahraman in the winter of Zagros, which exhausted us but smelled of heaven. I saw him moving in Avaşin. So mature yet agile; it was such a calm but stormy heart. He walked calmly, slowly, and with small strides, but when we had to run, he was a storm passing over everyone.
He was going to Çarçella this year. "Before I go to Çarçella, let me show you the most beautiful parts of Avaşin, but you have to take a lot of photos, but if I see you taking another picture of me, I will get angry again." Although he said so, I was taking pictures secretly every time he walked. I knew; If I hadn't taken it and said to others today "I wish you knew him too, but unfortunately there is no photograph of him", I would probably be buried in the ground.
It was an apology to the heroes who do not even have a photo, the desire to get so many guerrillas photos. It is now an apology to thousands and tens of thousands of unofficial heroes, whose face we have been curious about, whose hands we have to imagine.
We cannot bring back the old one, perhaps the PKK had heroes with no photos. We have seen a photograph of Haki Karer, who has been the line of this ideology since the beginning of the Freedom Movement. Mazlum Doğan, the spark of the philosophy of resistance, has only a few photographs and a few frames in a film; staring at the window for two seconds. Kemal Pir, who is the energy of freedom has three beautiful frames. A shot of Ronahi and Berivan. There is a photo of Elefterya, who wants to be the voice of freedom in Greece. Still, no one has forgotten or will forget these unofficial heroes. If we do not have a camera in our eyes, if we do not have eyes we will take pictures of these young people who run towards freedom with our hearts.
May your heart rest in peace, guerrilla Tekoşer! Our camera and our heart are at your disposal.