Police disturbed by Armenian Genocide commemoration
Police attempted to stop the Armenian Genocide commemoration in Istanbul due to the emphasis on "genocide" and "massacre".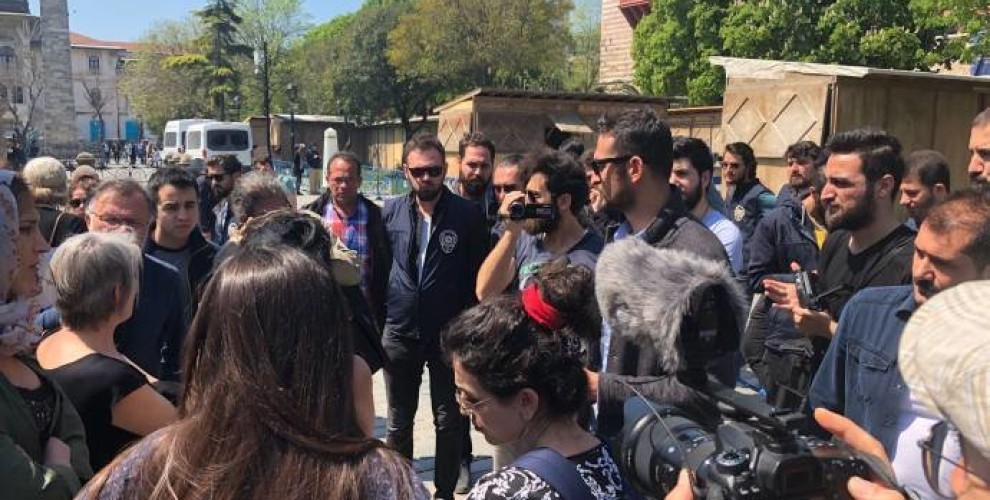 The press statement the Human Rights Association (İnsan Hakları Derneği - İHD) Istanbul Branch Commission Against Racism and Discrimination wanted to make in front of the Turkish and Islamic Works Museum in Sultanahmet for the 103rd anniversary of the Armenian Genocide was stopped by the police, who said they would allow the statement if the association didn't use the words "genocide" or "massacre" then confiscated the banners.
The police conducted ID checks on all participants including the journalists.
KESKİN: "IT DOESN'T MEAN ANYTHING WITHOUT THOSE WORDS"
İHD Co-chair Lawyer Eren Keskin stated that this is preventing the freedom of expression and thought: "Without those words, making a statement doesn't mean anything. The State of Emergency was in place last year and the year before as well, this is the first time since 2015 that we are facing such a situation."
Bayzar Küçük, daughter of Maritza Küçük who was murdered in Samatya, said: "They killed my mother, they stripped her naked. What is this but a genocide? Why are we not permitted?"
FOREIGN COMMITTEE PROTESTS POLICE
A committee that arrived from abroad to participate in the commemoration said they would not hold the statement due to the police's approach.
A press statement will be held in the İHD Istanbul offices at 13.30 about the police stopping the commemoration.