Kurdish and Turkish intellectuals in the UK support Jeremy Corbyn
Kurdish and Turkish institutions in London issued a joint declaration together with intellectuals, writers, lawyers and journalists calling on people to vote Labour against poverty and racism in the general elections to be held in Britain on December 12.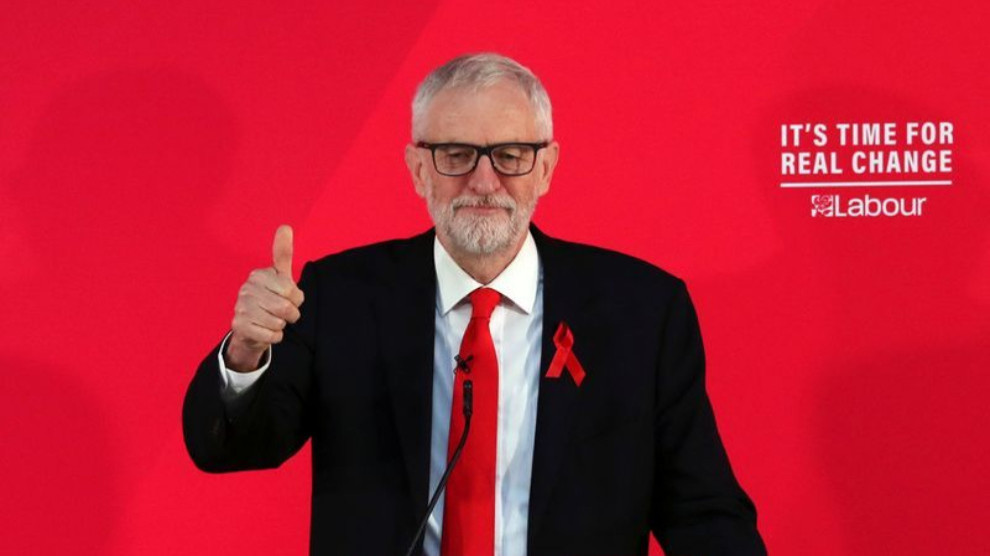 With little left before the 12 December general elections in Britain, Kurdish and Turkish organisations and parties declared their support for the Labour Party.
Kurdish and Turkish intellectuals, writers, journalists, artists, academics and lawyers issued a joint declaration to call on their communities to vote for Jeremy Corbyn and to express full support for the Labour Party manifesto.
"The Kurdish and Turkish community in England, we are proud to support the Labour Party's manifesto. As the austerity policies deepened, poverty began to be felt more and inequality grew much faster. Like all ethnic minorities, the Kurdish and Turkish communities were turned into scapegoats."
The declaration recalled that racist aggressions suffered by Kurds in the past couple of years and underlined the support and solidarity shown by the Labour Party leader Jeremy Corbyn with Turkish and Kurdish communities in North London for 35 years.
The declaration also recalled Jeremy Corbyn's support for the Kurds against Saddam Hussein in Iraq and against Iran Kurdish policy of repression of Kurds. "Jeremy Corbyn has visited the region many times. Likewise today, Labour Party deputies and activists have visited and expressed their solidarity to the thousands of HDP activists, employees and deputies in prison in Turkey." 
The declaration, which emphasized that a conservative government would bring more wars, more poverty and more racist attacks agains refugees displaced by wars, invited everyone to vote for the Labour Party and its progressives and anti-racists policies on 12 December.
The declaration is signed by the following:
Canan Sagar – Musician,
Akın Olgun – Journalist – Writer
Deniz Ciftci – Academic
Alaettin Siyanic – Journalist
Ahmet Guven – Writer
Mizgin Müjde Arslan - Film Maker
Tugba Ozcivan - Music Teacher, Singer
Baran Duran - musician
Suna Alan – Singer
Özkan Orman- Artist
Gulseren Tas – Actress
Cemi Salih – DJ
Berguzar Erdogan / Singer
Hikmet Erden- Journalist
Kamil Küpeli – Poet
Zafer Armutlu – Solicitor
Ali Has – Solicitor
Sibel Gungor – solicitor
Suna Tiskaya – Solicitor
Ilkay Timur Aydemir - Solicitor-Advocate
Sevcan Kaygun - Solicitor
Saim Basbaydar – Solicitor
Guven Ates - Solicitor
Suna Tiskaya - Solicitor
Sefaret Yaman – Solicitor
Vesile Tekas – Solicitor
Onder Karpuz – Solicitor
Suna Derinkursun – Solicitor
Rauf Khalilov – Solicitor
Bektas Cetin – Solicitor
Sevim Tombul - Solicitor-Advocate
Silan Has – Solicitor
Dogan Dogus – Solicitor
Aynur Celik – Solicitor
Cilem Dogus – Solicitor
Yagmur Hanim Bulut – Solicitor
Aycan Misir – Solicitor
Berivan Coskun – Solicitor
Hasan Yildirim – Solicitor
Mahmut Dogan – Musician
Sevgi Ulcay – Activist
Kenan Hudaverdi -Director
Sultan Karatas Poet
Ruhi Karadag – Film Director
Feyzullah Cinpolat - Day-Mer Community Activist
İbrahim Avcil – Gik-Der - Community Activist
Kalender Ülger – Kirkisrak Community Centre Organiser
Sultan Cakir – Teacher
Deniz Engin – Teacher
Guner Aydın- CLLR
Yusuf Kul – Accountant
Dr Mehmet Kurt, London School of Economics and Political Science
Argun Cakir - University of Bristol, Department of Music, postdoctoral research assistant
Meryem Kaya - Medical Doctor
Srwa Mustafa (Nérgiz) - Civil ServiceAta Mufty - Journalist and Activist
Elif Gun - Graduate and Activist
Elif Sarican - Anthropologist and Organiser
Kumru Baser / Journalist
Sibel Gungor / Councelor
Ferhan Yetisal / Councelor
Aysel Kirmizikan / Councelor Rabia Cinar / Propreitor
Rana Aksac / Psychotherapist
Banu Aydin / Therapist
Macide Yuksel- Senior CBT Psychotherapist
Hanim Akdemir – Optic Manager
Olcay Aniker – Solicitor
Zuhal Borucu Kocadag – ManagerMeral Halkaci - Community Activist
Memet Kardu – Kurdish People's Assembly Community Activist
Nejla Coskun - Kurdish People's Assembly Community Activist
Fatma Can – IT Consultant
Ferhan Yetisal
Sevgi Ulcay – Finance
Fatma Aydin - Chartered Accountant
Dilek Gungor - Nurse/ Senior psychotherapist
Nuran Donmez - Mental Health Social Worker
Firat Karaboyun – Accountant
Rojda Sipan – Accountant
Ilker Yadirgi – Accountant
Ala Hassan, Kurdish Student Movement
Ari Murad - Television producer
Bavil Ahmad, kurdish refugee from South Kurdistan
Ayca Cubukcu - Associate Professor in Human Rights, LSE
Fezile Ozbaran - Flight Attendant
Mustafa Ozbaran - Medical student
Tijen Beligh interpreter/ translator
Dilek Gungor - Nafsiyat Intercultural Therapy Centre
Feride Kumbasar - Consultant and Research Student
Ali Dogan - Medical doctor
Ozlem Pekbas - IDVA IDVA- Independent Domestic Violence Advocate
Eylem Dogan – Phlebotomist
Sema Atessal Ugur – Freelance
Belgin Koc – Freelance
Tulay Gulsen – Advisor
Esengul Ozdemir - Nursery Teacher
Dr. Zeynep Kurban - Offshore Renewable Energy Catapult
Oktay Sahbaz- Teacher
Ufuk Uyanik – Artist
Baris Celiloglu - Stage Director
Mehmet Ugur Professor of Economics and institutions. University of Greenwich
Tahir Palali- Musician/ Entrepreneur
Av. Serpil Ersan - Solicitor
Savaş Yadirgi –Yazar
Cemo - Artist
Hunting. Serpil Ersan - Solicitor
War Yadirgi - Author
Cemo - Artist