Internationalists start long march from Luxembourg to Strasbourg
The Luxembourg arm of the marches toward Strasbourg to condemn the international plot has kicked off. The activists will cover 200 km in 5 days.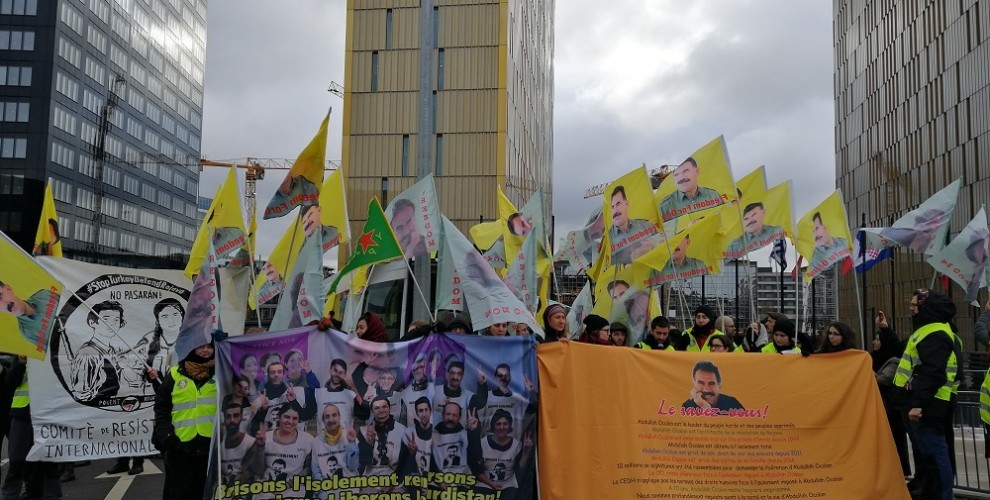 Internationalist groups from Germany, France, South America, Italy, Portugal, Belgium and the Netherlands are participating in the 100-person march. The group will march 200 km in 5 days. They are aiming for 40 km a day, and will be using rest stops along the way to rest at night.
The group carries posters of Kurdish People's Leader Abdullah Ocalan and frequently chants "Freedom for Ocalan" and "Long live Leyla" in various languages, as well as "Biji Serok Apo" and "Biji Berxwedana Zindana". They also have a banner with the photos of Strasbourg hunger strikers and Leyla Guven.
The group gathered in front of the European Court of Justice and read a statement titled "Break the Isolation, Tear Down Fascism and Free Leader Apo" in the name of the Strasbourg Freedom for Ocalan Initiative and the hunger strikers.
"WE WILL SMASH THE ISOLATION"
The statement included the following:
"As members of the Freedom for Ocalan Initiative, we salute with our spirit of resistance and revolution the long march you esteemed comrades started through mountains and borders for the Leader's freedom and the indefinite non-alternating hunger strikers in Strasbourg. Even though we are not with you physically, our hearts beat as one in our shared spirit of resistance.
20 years ago, forces that orchestrated the international plot saw Leader Apo to be the biggest obstacle on their path to redesigning the Middle East. They set the plot in motion to eliminate Leader Apo, who represents a paradigm that is based on the freedom of all peoples, faiths and social identities in the Middle East. As such, the international plot is also against all opposition forces and all democratic and pro-freedom identities in Kurdistan, Turkey and the Middle East. The plot aimed to eliminate not just the Kurdish people's struggle for freedom but the peoples' search for freedom and the women's revolution. The long march launched in 3 arms by the youth, international revolutionaries and intellectuals, politicians, artists and faith institutions to condemn the plot is the most obvious sign that the international plot has been defeated in practice.
We want all to know that the indefinite non-alternating hunger strikes led by Leyla Guven that spread to the prisons in Turkey and Kurdistan, to Hewler, Strasbourg, Wales, Germany, the Netherlands and Austria and that have reached a critical phase are part of your march. We shout out to the whole world that we will smash the isolation, tear down fascism and free Kurdistan.
This march is the continuation of a 40-year long march, the peoples' march to freedom."
The crowd started marching and chanting slogans after the press statement.