KCK greeted those who say 'another world is possible'
The KCK statement stressed that; "To counter this genocide implemented by international global powers on an international level we must wage a great resistance at international level and a great struggle for radical democracy."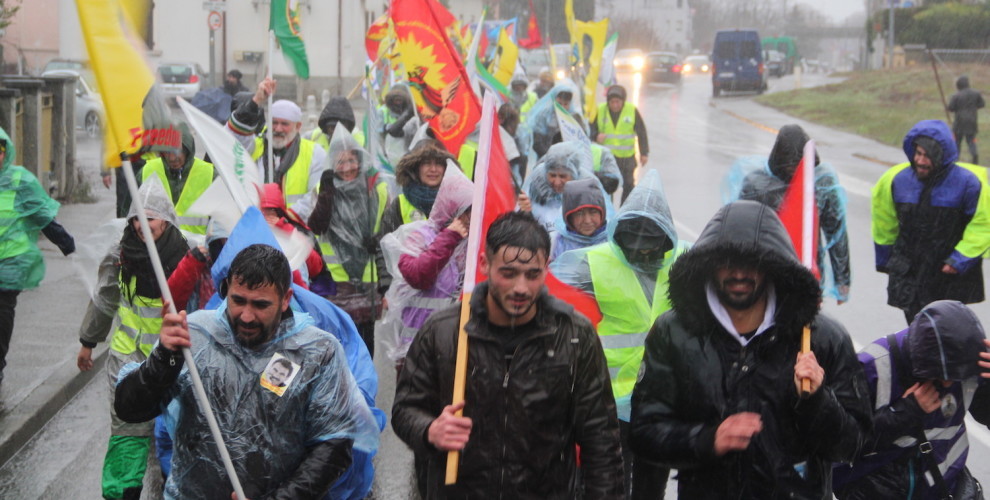 The co-presidency of the KCK welcomed activists by sending a message to the 3 long marches from Basel, Luxembourg and Mannheim to Strasbourg.
The statement said: "The Kurdish people are going through a very important process. In fact, the era we are in is in a sense resembling the middle ages when the practices, the feudal and kings ruling were imposing their will on peoples, beliefs, women and young people. And this is what we are witnessing today. We're still in the era of massacres and genocide. In this so-called modern era, the modern-day massacre and genocide against the Kurds is also a cultural-artistic-political-moral genocide."
The KCK statement stressed that; "To counter this genocide implemented by international global powers on an international level we must wage a great resistance at international level and a great struggle for radical democracy."
KCK recalled that "President Apo was imprisoned in the island of imralı as the result of a conspiracy of international global powers because he was the leader of this resistance, this struggle. That was the reason for the hatred shown by international global forces against President Apo."
"International powers want a new conspiracy"
The KCK statement continued: "President Apo has been resisting global forces, capitalist modernity, and the enemies of democracy and freedom for 20 years, without compromising."
Noting the importance of the Rojava revolution, the KCK statement said: "We know very well that the Rojava revolution is not just a Kurdish revolution trying to implement a communal revolution. The Rojava revolution is an internationalist revolution. All intellectuals, politicians, writers understand what this revolution means in today's age.
In order to protect the Rojava revolution it is necessary to end the isolation against Öcalan."
"Another world is possible, look at Rojava"
Emphasizing the importance of the long marches, the KCK statement said: "You are currently carrying out an important action. With your long marches you are telling Europe, the European states, the so-called neutral Council of Europe and the CPT what the truth is and how they should take their responsibility.
Today, you are calling all the nations-peoples by saying that another world is possible.
Yes, another world is possible. And to prove it we have the Rojava revolution under our eyes."
"Isolation will end"
The KCK statement added: "Today, young people, who are leading the Kurdistan revolution, are marching from Germany to Strasbourg. Another group is marching from Luxembourg. They are Kurds, Turks and many other nationalities.
We'll walk, talk, take part in the resistance trenches all over the world, and we're going to win.
Regardless of the magnitude of betrayal, whatever the pressure of the fascist Turkish state, no matter what the AKP-MHP and Erdoğan fascism and the concept of massacre, they cannot break the will of the internationalist comrades participating in these meaningful marches.
Both isolation and fascism will be defeated and the Kurdish people and the peoples of the world will win.
We salute you for your determination, your devotion to revolution, democracy and freedom. Another world is possible."