Police opens fire on human rights defenders in Ankara
Turkish police attacked lawyers from the hunger strike commission and human rights defenders in Ankara, using weapons and pepper spray and detaining several people.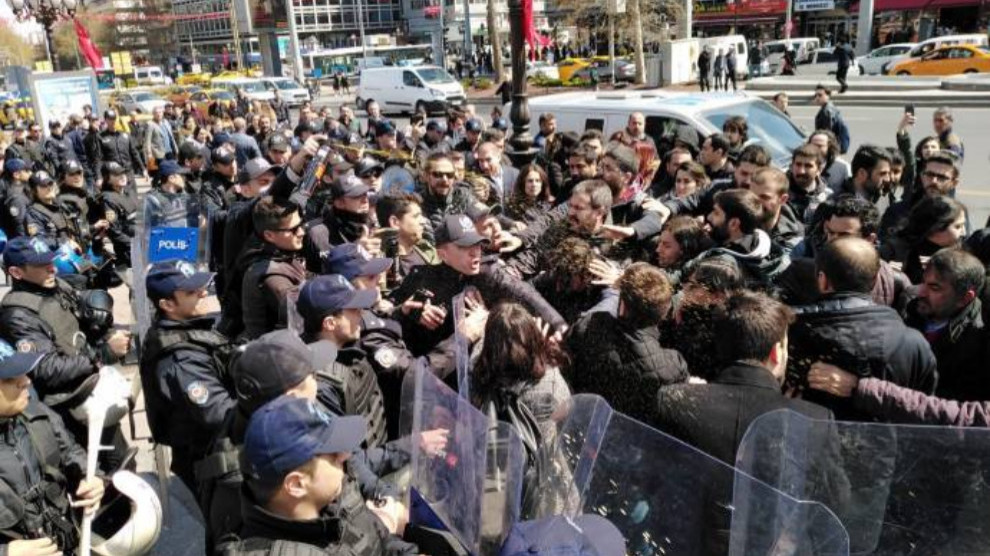 The Hunger Strike Commission, founded to monitor the hunger strikes demanding an end to the isolation imposed upon Kurdish People's Leader Abdullah Ocalan with members of the Human Rights Association (IHD), Human Rights Foundation Turkey (TIHV), Lawyers for Freedom Platform and Contemporary Lawyers' Association (CHD), was to hold a press statement in Kizilay, Ankara.
The group was to present a report they prepared on the hunger strikes to the Minister of Justice after their press statement. The police asked them to disperse, but the activists wanted to read the statement and chanted slogans, after which the police attacked them with rubber bullets and pepper spray.
Peoples' Democratic Congress (HDK) Ankara Provincial Co-spokesperson Fatma Kilicarslan was hit on her head during the police attack and was hospitalized. She was subsequently detained.
The AKP-MHP regime's police detained lawyers Kenan Macoglu, Veysi Eksi, Ahmet Baran and Bulent Asa.
After the attack, the group announced that they will be going to the Human Rights Association (IHD) Headquarters to issue a press statement.