Angry protests after funeral of Bedel killed by Turkish attack in Shengal
Merwan Bedel, the Yazidi revolutionary murdered by a Turkish drone attack yesterday, was buried in Shengal. Afterwards, thousands of people protested against Turkish state terror and the collaboration of the Iraqi government.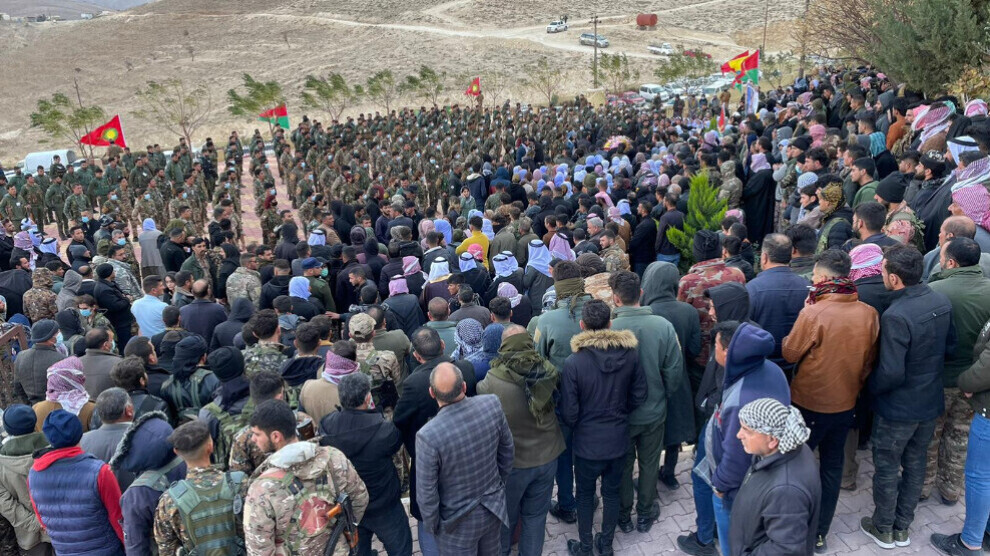 Thousands of people paid their last respects to the Yazidi revolutionary Merwan Bedel who was killed by a Turkish drone attack in the Khanasor town of Shengal (Sinjar) in southern Kurdistan (northern Iraq). The body was taken from the hospital to his family's house in Khanasor and from there to the Şehîd Dilgeş û Berxwedan Cemetery of Martyrs.
The funeral was attended by Shengal Resistance Units (YBŞ) and Shengal Women's Units (YJŞ), representatives of the Autonomous Administration, Yazidi Women's Freedom Movement (TAJÊ), Yazidi Youth Union, Yazidi Freedom and Democracy Party (PADÊ), Yazidi Security Forces (Êzîdxan Asayish), as well as notables and religious leaders.
YBŞ commander Tirêj Şengalî paid tribute to Merwan Bedel's tireless struggle for the Yazidi community and the defence of Shengal, saying: "His death proves once again that the Yazidi people have no choice but to organise and defend themselves."
After more speeches, Bedel was laid to rest with the slogan "Şehîd namirin" [Martyrs are immortal].
Following the funeral, where anger and mourning prevailed, the crowd staged a march demanding revenge and protesting against the Turkish state. The crowd ran to an Iraqi base in the village of Sinûn shouting slogans and accusing the Khadimi government of collaborating with the Turkish state. Rîham Hesen, who together with Merwan Bedel formed the dual leadership of the Executive Committee in the Shengal Democratic Autonomous Council, gave an angry speech and said: "What is the Iraqi government doing here if it is not able to protect the Yazidi population from terrorist attacks? Those who remain silent today about this murder make themselves accomplices. The Iraqi government is an ally of Turkey. We will never give up our resistance. Whatever happens, the Yazidi people will not be destroyed."