Lawrence: Those portraited in my photos are fighting a dictator
Canadian photographer Joey Lawrence opened an exhibition of photographs taken in Rojava, Shengal and Maxmûr. The photographs tell of cruelty, resistance and human stories.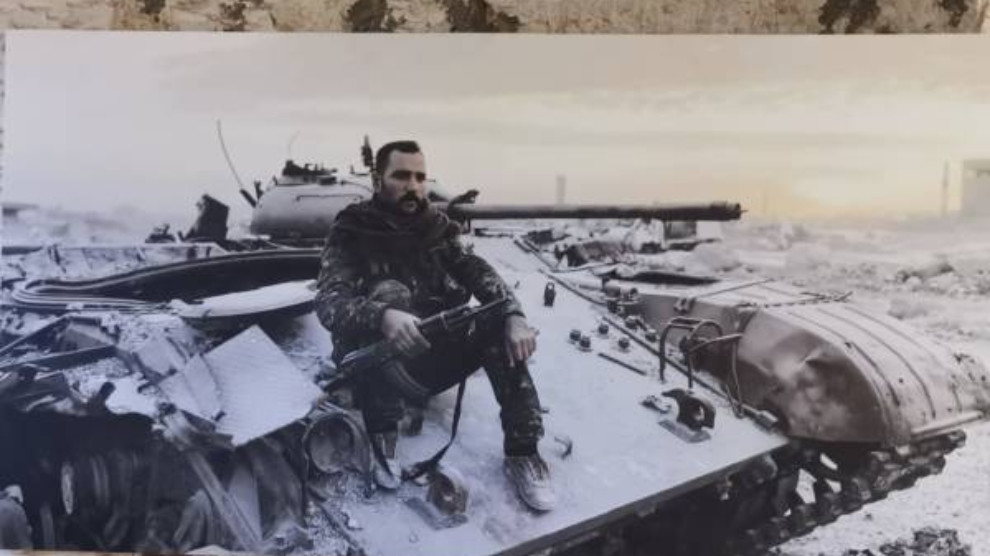 Metro Photography Agency, which operates in many parts of South Kurdistan (Bashur), opened a photography exhibition in Sulaymaniyah on World Rojava Day on 2 November.
The exhibition opened in Emne Süreke, one of the prison, torture and execution centers of dictator Saddam Hussein, which was converted into a museum after it was seized in the 1992 uprising.
Canadian photographer Joey Lawrence exhibite photos of YPG, YPJ, SDF fighters he took in Rojava and many parts of North-East Syria a different times. He also exhibited photos of people who were forced to flee after ISIS attacks in Shengal, of YBŞ and YJŞ fighters, of Kirkuk and Maxmûr fighters after ISIS attacks and photos of HPG guerrillas who intervened in defense of the people of Shengal.
Lawrence: Now they fight against dictator Erdoğan
Lawrence said: "We are in Emne Süreke Prison. This prison is famous for the torture carried out on Kurdish and Iraqi prisoners. The Kurds in the South made their own revolution and overthrew a dictator like Saddam.
The warriors in the photographs hanging on these walls are fighting against another dictator, Erdoğan. We are proud to exhibit photos of these fighters and draw attention to the situation in Rojava."
PROFITS WILL GO TO HEYVA SOR
Speaking about the money collected with some postcards prepared for the exhibition, Lawrence said that the income will be going to Heyva Sor.
He added: "We are helping the Kurdish charity Heyva Sor with the money we get here. Heyva Sor is one of the few aid organizations I have seen many times in Rojava and is active in the region. They provide assistance to civilians and therefore everything sold here will be donated to them. Heyva Sor employees are being targeted by Turkey and Turkish-backed groups who are actually killing Heyva Sor members in airstrikes. They are the heroes of Rojava.
THOUSANDS VISITED THE EXHIBITION
Metro executive, Ahmed Necim, said the exhibition will remain open until 11 November. Necim said that thousands of people have already visited the exhibition which has been going on for a week.
Necim said that they had started with an exhibition they opened in Sulaymaniyah on 2 November. "Rojava is now experiencing difficult conditions. There are attacks. World rojava Day was on 2 November. We opened the exhibition today, we support Rojava. With this exhibition, we wanted to encourage Kurdish youths and artists to tell what is happening with photographs.
Joey Lawrence himself is here, and he signs the photographs we have prepared to sell and thus be able to give the income to Heyva Sor.
Joey Lawrence's photographs are also works of art. Visitors to the exhibition also express their feelings. Many of these visitors see who are those who resist in Rojava, who fight against ISIS, and develop their love and respect for them."
VISITORS: WE SEE PAIN, WE SEE HOPE
Pesend Hussein, a young woman who visited the exhibition, said: "The exhibition appealed primarily to Sulaymaniyah and Bashur. That's why we wanted to come and visit with our friends. Joey Lawrence kept the YPG fighters, those who fought against ISIS alive with his photographs.
Villages and cities were destroyed by ISIS, the people's houses were seized, their daughters and women were abducted, they had to migrate from their lands. 
The photographs however showed hope in their eyes, despite everything. There is also pain in their eyes but you can see hope coming out all the time."