Caliphate devastated, Yazidi children freed
Yazidi children freed in al-Bagouz report that they have been militarily trained and religiously indoctrinated following their kidnapping in an ISIS re-education center called the Future of the Caliphate.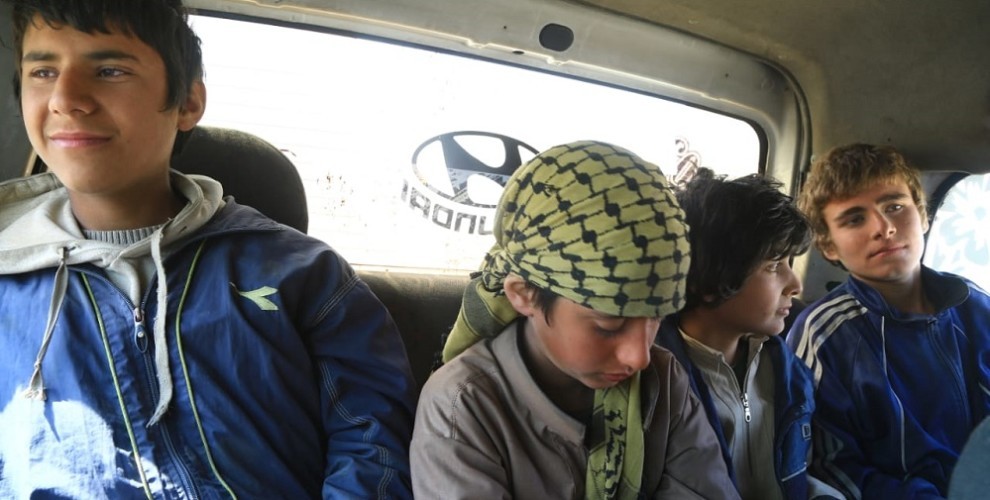 The Syrian Democratic Forces (SDF) have been able to liberate several Yazidi children and women during their offensive on the last ISIS positions in al-Bagouz in recent days. The children report that after their abduction from Shengal in August 2014 they were taken to a camp called Ashbal al-Khilafa (Future of the Caliphate). There they had to undergo military training and religious indoctrination.
ANF talked to some of the rescued children about the suffering experienced. They state that they were forbidden to speak Kurdish. They were separated from their families and taken into camps of military and religious training for various massacres.
14-year-old E.X.H. from Shengal reports that at the age of ten, he was abducted with his family and separated from them in Tal Afar. He never heard from them again. He was then taken to Mosul together with many other Yazidi children, where he was subjected to religious reeducation and military training. He continues: "After I was abducted, Kurdish was banned. Now I can no longer speak Kurdish."
Kidnapped at the age of 4
X.Ş. was abducted at the age of four. The eight-year-old faces us in ISIS military uniform, wearing gloves and boots. He explains that he was injured in an explosion. He also says that there is a shrapnel in his throat and that he has been given the name Abdullah by the ISIS. He cannot remember his family. When asked if he would recognize his father or mother, he replies, "I do not think I would recognize them."
"Future of the Caliphate"
X.Ş. reports on his religious and military education. The children's camps were called by the ISIS "Ashbal al-Khilafa" (future of the caliphate). X.Ş. tells: "There we were trained militarily and on the Koran. We could not move freely. However, no one has cared much about us lately, nobody asked what we were doing."
"I do not know my family, but I'm curious"
There were many children in these camps. When we show them the pictures of the children freed by the SDF the day before, they all know each other's names. X.Ş. says, "I do not know my family, but I'm curious." He stresses that he wants to return to his family. The liberated children are brought from the region and handed over after first aid by the YPG/YPJ to the Mala Êzidiya (Yazidi House) in Hesekê.
Hundreds of Yazidi women and children freed
The SDF has freed hundreds of Yazidi women and children over the past four years and brought them back together with their families. After the beginning of the mass murder on 3 August, ISIS had abducted thousands of Yazidi women and children and sold them on slave markets.