Demonstration in Amûdê against Turkish occupation
As part of its ongoing occupation efforts, the Turkish state is building a wall around Afrin. A demonstration against the construction of the wall took place today in the northern Syrian city of Amûdê.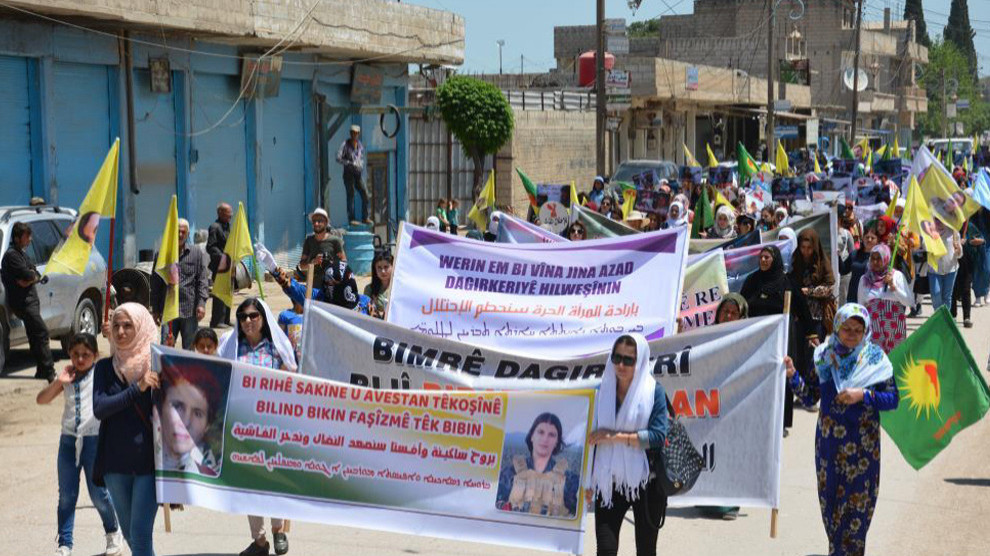 In April, it came out that the Turkish occupation forces were building walls in the northern Syrian canton of Afrin around the area they had occupied, in order to connect the canton to their own territory. The total length of the wall will probably be 70 kilometers and reach from Şêxberekat via Afrin to Azaz. Thus Afrin would actually be tied to Turkey. The construction of this wall also aims to ensure the security of the radical Islamist groups in the region.
Since the construction of the wall became public, people joined protests against the wall in masses. Hundreds of people took to the streets in Amûdê, northeastern Syria, on Sunday against Turkey's ongoing occupation efforts in the region and demonstrated against Turkey.
The demonstration started under a colorful sea of ​​flags of the YPG, YPJ, SDF and the women's movement Kongreya Star as well as several pictures of the fallen YPJ fighter Avesta Xabûr at the Free Woman's Square. Many participants also carried pictures of victims of the Turkish war of aggression on Afrin and banners with inscriptions like "Down with the Turkish state", "No to the war" and "The will of the woman will end the occupation".
Slogans such as "Long live the resistance of Afrin" were chanted as the demonstration swept the streets of Amûdê. A final rally took place in front of the headquarters of the Revolutionary Youth Movement of Syria.
Selva Silêman, co-chair of the Amûdê People's Council, said in a speech that the extermination and expulsion policies of the Turkish occupation forces and their jihadist allies in Afrin continue as usual. Silêman pointed out that with the construction of the wall around Afrin, the demographic change carried out by Turkey has reached the peak of illegal occupation. "Before the eyes of the entire world, the Turkish state is building a wall around Afrin and is violating any law," criticized Silêman.