Fourth session of International Forum on ISIS
The international conference on ISIS organized by the NRLS in Amude continues on day 2.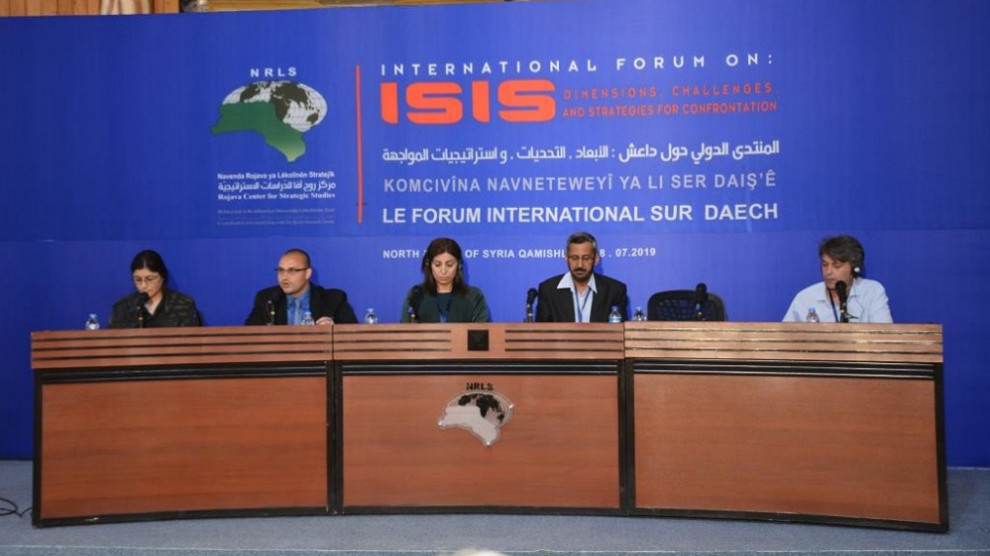 The international forum on ISIS organized by the Rojava Strategic Research Center (NRLS) in the Beylesan conference hall in Qamishlo's Amude district continues on day 2.
The forum is addressing four  issues today.
In the first session, ISIS terrorism was assessed in the military and security aspects, with presentations from SDF and YPJ commanders Tolhildan Raman, Dr. Nicholas Heras, Dr. Seed Bin Umer and journalist Zana Omar. The session was moderated by Dr. Mihemed Ebdilqadir.
The second table will handle the cultural and religious aspect of ISIS terrorism. The session will be moderated by Munir Shexi and Mensur Teyfuri, Dr. Amy Austin Homales, Thomas Garrett and Mihemed Cihad Ibrari will present.
The third session will take on the economic and social effects of ISIS terrorism. In the session to be moderated by Mihemed Shewqi Mihemed, Dr. Ehmed Yusiv, Dr. Muhib Salha and researcher Ehmed Pelda will give presentations.
The last table of the second day will focus on the women aspect of ISIS terrorism. Lina Berekat will moderate the session and Berivan Mihemed Yunis and Zozan Sima will give presentations.
Q&A's will be held after every session.