Hunger strike in Qamishlo
Kongreya-Star and PYD promoted a solidarity hunger strike in Qamishlo to support HDP Hakkari deputy, Leyla Güven fasting in Amed jail.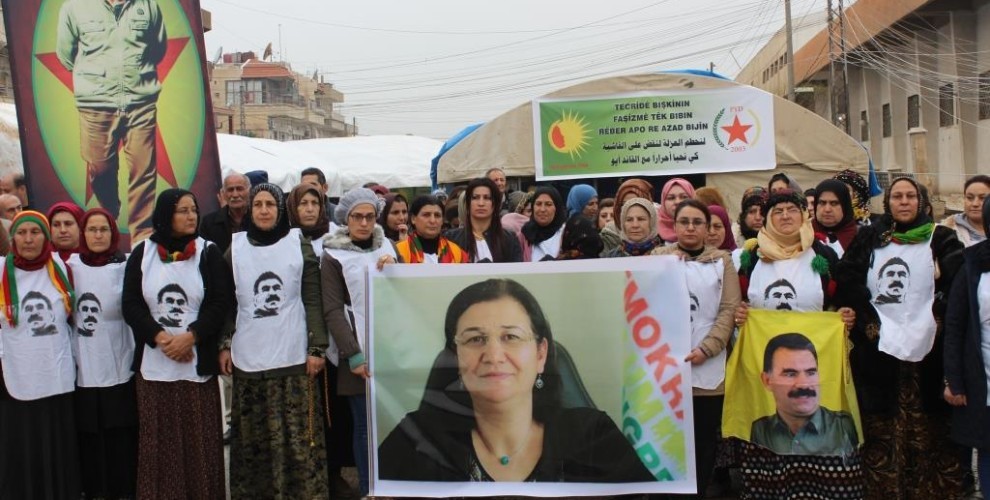 Kongreya-Star and PYD (Democratic Union Party) in Qamishlo have launched an action to support HDP (Peoples' Democratic Party) Hakkari deputy, Leyla Güven, who is on hunger strike in Amed prison to demand an end to the isolation regime imposed on Kurdish People's Leader, Abdullah Öcalan.
The action is Qamishlo has been organised under the slogan 'Break isolation, destroy fascism and free Leader Apo' and is carried out the neighbourhood of Siyahi.
Photos of Kurdish People's Leader Abdullah Öcalan and Leyla Güven were displayed while the promoters announced the beginning of a solidarity hunger strike.
A large number of citizens, civil society organizations and political party representatives visited the tent where the solidarity action is taking place.
Kongreya-Star Coordination member Daliya Henan was among those who joined the solidarity action and said that they would support the hunger strike launched by Leyla Güven and continue to fight until the isolation regime is lifted.
Metir Yûsif and Adile Xelef, who also join the hunger strike, said that it was Öcalan and his ideas that showed people the path of freedom. They added that they would support Öcalan until the end.
The protest tent in Qamishlo will remain open for 2 days. It was learned that Kongreya-Star will open protest tents in other cities of Cizire (Jazira) region in the coming days.