Joint decisions by parties in Northern and Eastern Syria 
13 political parties have come to joint decisions against the Turkish state threats of invasion and said, "All political parties will put forth a clear stand against the current situation and call on peoples and faiths to resist attacks."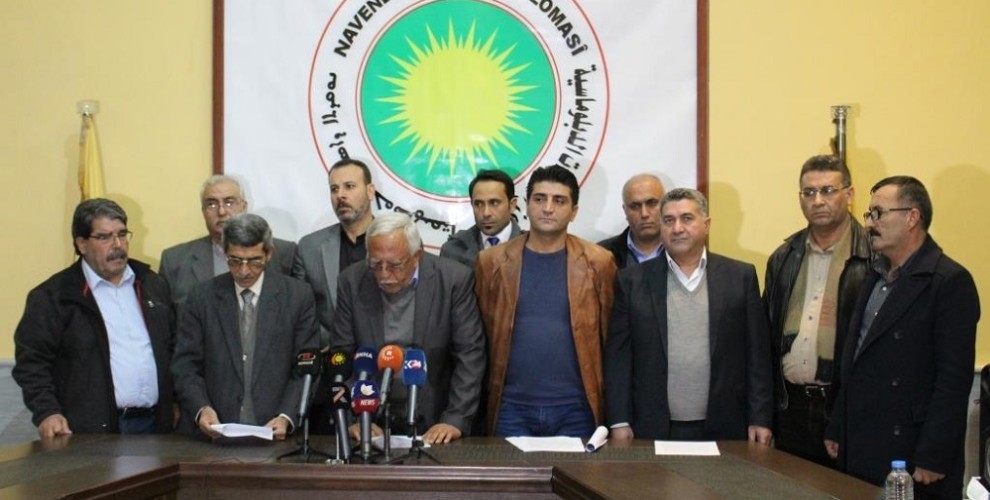 13 political parties and organizations in Northern and Eastern Syria have come together in a meeting held in the TEV-DEM Diplomatic Relations Office in Qamishlo against Turkish President Erdogan's threats of invasion.
A press statement was held after the 5 hour long meeting.
The statement was read by Syrian Kurdish Left Party Secretary General Mihemed Mûsa in Arabic and Kurdish.
The statement included the following:
"Political parties and powers in Northern and Eastern Syria have held a meeting on the latest developments in the region and the Turkish state's threats against Northern and Eastern Syria. All attendants of the meeting have come to an agreement over the below points:
1- Erdogan's threats are a declaration of war against the region, and are part of the Union and Progress plans that aimed to rebuild the Ottoman state and targeted all peoples and faiths in the region in early 20th century.
2- Erdogan's threats have started with the overt or covertly continued alliance among international states. These threats are aiming for a long term plan against the region.
3- All peoples and powers in Northern and Eastern Syria demand strategic planning against the current plans.
4- All peoples and powers in Eastern and Northern Syria call on all democratic forces and institutions in the world to stand against the current attack attempts and to stop the air strikes.
The political parties and powers have reached the following decisions:
1- All political parties will take a stand against the current situation and call on all peoples and faiths to resist against the attacks. Enemy forces want to evacuate the region.
2- A committee will be formed to monitor the political powers in the region with participation from all peoples and faiths. The duties of the committee will be:
- organizing popular actions
- monitoring duties for all involved parties in the face of the current situation
- organizing the press to get the people's word out.
- organizing necessities so the people can take self defense precautions"
The political parties involved in the meeting are as follows:
- The Democratic Change Movement (Heyet El-Tensîq El-Weteniye)
- Kurdistan Communist Party
- Conservative Party
- Kurdistan Labor Party
- Kurdistan Modern Party (Nûjen)
- Syrian Kurdish Left Party
- Syrian Kurdish Democratic Party
- Syrian Syriac Union Party
- Democratic Union Party
- Democratic Union and Kurdish Left Current
- Syrian Kurdish National Union
- Arab National Council