KNK-Rojava working for national unity
KNK-Rojava continues its meetings with different Kurdish parties in order to speed up national unity.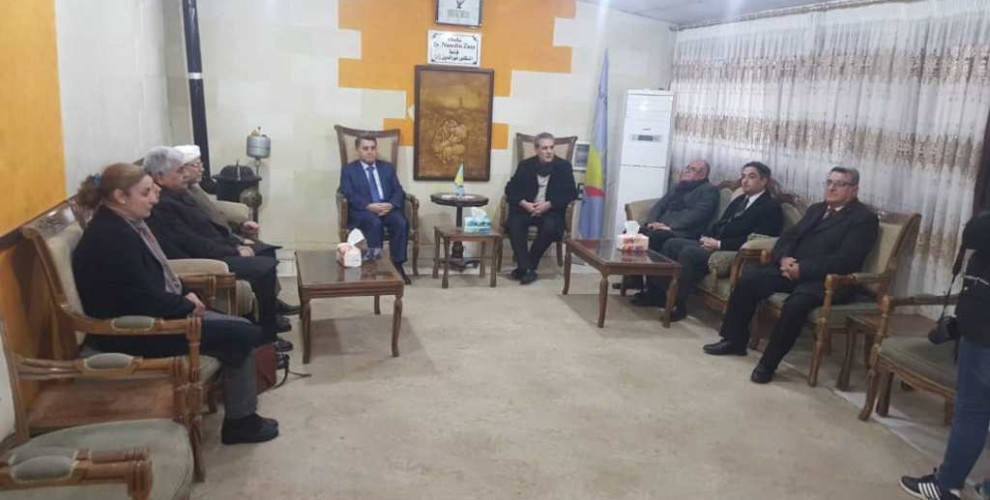 The 5-person committee, established by the KNK-Rojava Executive Board, is working to improve efforts to reach Kurdish national unity with the parties in Rojava. The committee is at the same time working to ensure negotiations with the aim of preventing the dangers posed to Kurds' very presence in Rojava.
Derik Wise Leaders Council member Sînan Ehmed, President of the Syrian Writers Union, Dilawer Zengî, members of the Steering Committee of KNK-Rojava, and University of Rojava lecturer Silêman Ilyas went to visit the office in Qamishlo of the Progressive Party of Syrian Kurds.
The committee was welcomed by party members Hesen Cengo, Geylan Oskan and Abbas Mustafa. The meeting was closed to the press.
After the meeting, Committee member and KNK-Rojava Board Executive, Derya Ramadan, spoke to ANHA.
"We were welcomed positively", said Derya Ramadan about the talks with officials of the Progressive Party.
"We talked about the threats issued by the Turkish state to occupy Northern and Eastern Syria, the importance of the current process, the occupation of Afrin, the current situation of the Kurdish people and the national unity of the Kurds."
Positive talks
Ramadan said the officials of the Progressive Party did not give clear answers about the national unity, but that the meeting was nevertheless positive. "The parties will respond in due time on their thoughts about national unity. We hope the answers will be positive."
Geylan Oskan, member of the Progressive Party of Syrian Kurds, said that the meeting was positive and that there were no obstacles. "We had discussions within the framework of national unity. In such a period, the national unity of the Kurdish people is important. Syria is going through an important process. As a party, we have also called for national unity and are ready for it. We have told the committee that we will respond about this issue in details soon."
The KNK-Rojava-based committee had met with the Coalition of Syrian Kurds a few days ago. Speaking about the outcome of that meeting, Ramadan said: "The Coalition of Syrian will take part in the work for national unity."