SDF: 29 ISIS members killed in Operation Cizire Storm
SDF Press Office announced that at least 29 ISIS members have been killed during the past 24 hours in the Operation Cizire Storm.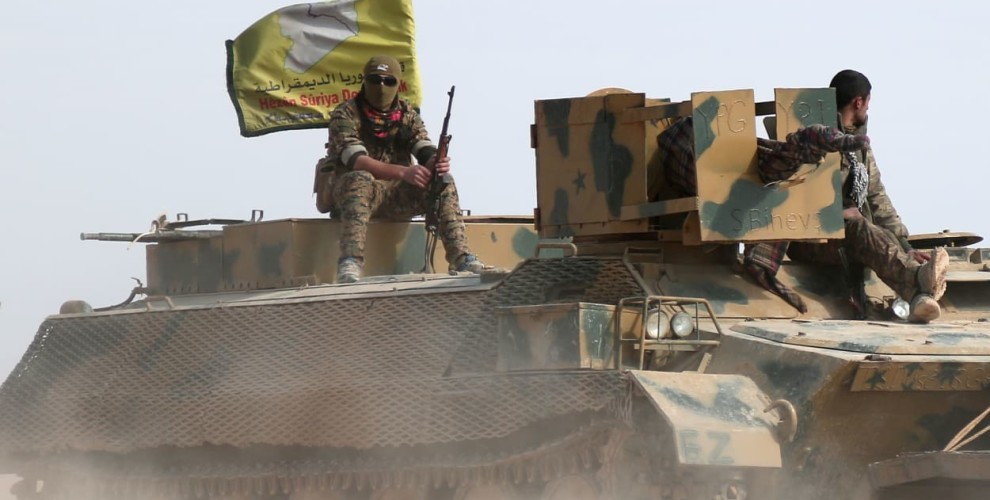 Syrian Democratic Forces (SDF) Press Office published a statement reporting about the latest developments from the Battle to Defeat Terrorism, the last phase of the Operation Cizire Storm SDF launched against ISIS to the east of the Euphrates on September 11.
SDF continued to make advances on both fronts where at least 29 ISIS members were killed during clashes.
The statement said the following;
"Al-Bagouz axis: Violent engagements broke out in this axis between our fighters and terrorists, "Daesh", which lasted for many hours. During the fighting here, terrorists tried to reduce the size of our fighters' strikes by using all types of heavy weapons, including thermal missiles, but were unable to impede the progress of our forces.
Our forces advanced 1.5 km and got stationed in 15 points. In addition, 5 mines planted by the terrorists were defused.
A coalition jet targeted a terrorist site, killing two of them, as well as destroying a rocket-propelled grenade. In another strike. The jet destroyed a bomb-laden car that the terrorists were set to detonate after infiltrating our fighters' position.
Terrorists bombed the positions of our forces, using PKC weapons, snipers and missiles, but did not cause any damage.
The coalition jets attacked the terrorist organization's sites, destroying 3 sites from which they were launching attacks against our forces. The strikes killed a number of terrorists and destroyed a car bomb factory.
In the evening, our fighters launched a large-scale aggression on terrorists' positions in the village of Al-Morsheda, where they destroyed an ammunition warehouse and advanced 1 km.
Amid violent clashes at all points on this front, all attempts by terrorists to launch counter-attacks failed in the face of the vigilance of our fighters.
Hajin axis: This axis witnessed fierce engagements, which resulted in the deathsof a number of terrorists, whose numbers could not be determined.
The terrorists tried to regain the initiative and launched a counterattack, but our fighters confronted them and forced them to retreat.
This axis witnesses occasional engagements, during which terrorists bombard the remote area with heavy weapons, especially missiles.
Outcome of engagements:
29 terrorists were killed.
A rocket-launching base, a bomb-laden car, 3 sites, a car bomb factory and an ammunition store of the terrorists were killed.
5 mines were defused.
Coalition aircraft carried out 14 strikes.
Weapons and military equipment seized: Dushka ammunition (12.5.5 mm / 26,000 bullets) , PKc ammunition (25000 bullets) , 120mm mortar (4mm) , shells Mortar number / 120 / mm / 200 / mortar number / 100 / filler, 5000 / rounds Kalashnikov submachine gun, Dushka tank caliber / 23 / number / 2 / Dushka Bulldozer (12,5/1/."