TEV-DEM Co-chair: Stop Turkish invasion of Afrin
"Afrin, Bab, Jarablus and Idlib are not Turkey's cities. Why is the Turkish state able to intervene in the territory of another country?"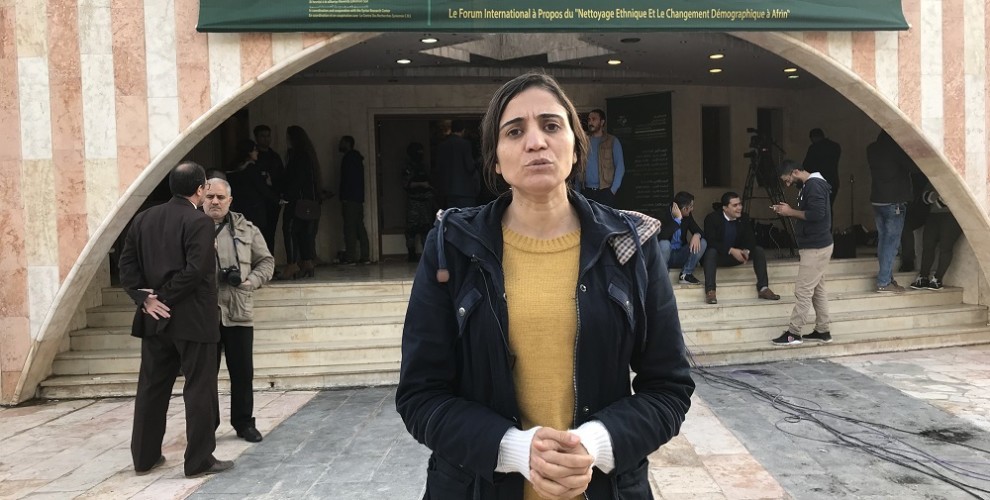 Democratic Society Movement (TEV-DEM) Co-chair Zelal Ceger spoke to ANF about the International Forum on Demographic Change and Ethnic Cleansing in Afrin, organised in Amude.
Ceger said the Forum aimed at bringing to the world what happened in Afrin. "I believe - said Ceger - events like this should continue to be organised because the occupation, genocide, demographic change in Afrin is continuing."
There are participants from both Afrin and many countries in this forum, said Ceger adding: "The reports, papers and documents we prepared have been translated into many languages. On the first day, - she said - important speeches were made. The most remarkable point here is that the people who have witnessed and been victims of the events in Afrin are telling their experiences. For example, there was a mother among the speakers, she had lost her feet. There was a father who lost his foot. We had the chance to listen to the fears and the situations in which a child of Afrin felt. We have seen how the Turkish state has created a fear in the memory of a child with its tanks, cannons and planes."
Ceger continued: "It is a different thing altogether to read a report or listen to testimonies from the direct victims."
Why is the world silent?
To say that only in Afrin civilians were massacred and demographic changes occur will be limited, said Ceger adding: "There was an occupation carried out in Afrin. Many YPG and YPJ fighters have fallen martyrs. They never attack Turkey. Is it a crime to defend your land, your life? YPG, YPJ fighters and civilians were slaughtered by those who occupied Afrin.
The question to be asked is, why is the Turkish state carrying out this occupation? Afrin, Bab, Jarablus and Idlib are not Turkey's cities. Why is the Turkish state able to intervene in the territory of another country? Why do America, Russia, Iraq, Iran, Syria and European countries remain silent?"
Ceger then underlined some of the main issues raised by European and American speakers.
"David Philips - said Ceger - said in his speech that 'the Turkish state is a terrorist state'. This is an important statement. Kouchner said in his speech that 'the Syrian crisis will be solved within Syria'. Stefan De Mistura also admitted 'we have failed'. But the participants must be able to explain and defend their ideas in the UN councils, in their own countries, and they must confront the existing reality in their own country".
Unfortunately, added Ceger, "in Europe and in the world, universal human rights and law have been sacrificed when it came to Afrin and the Kurds. No solid protest was made against the occupation, only vague statements. Which actually encouraged Turkey to carry on its invasion. The same attitude unfortunately is what we are witnessing today. Two weeks ago, let us recall the response of the European Court of Human Rights to the applications of our people whose houses were destroyed as a result of the attack by the Turkish state in Afrin.
Does Afrin belong to Turkey? Is there law in Turkey? Rights, justice? In Turkey these days there is no law, no rights, no justice, and everyone knows that there is nothing but fascism. The ECHR then ruled in the interest of the States. For this reason, everyone who is aware of the truth should struggle against his own state in his own country".
Turkish occupation is a threat for everybody
At the end of the Forum, some conclusions and resolutions will be taken, said Ceger and added: "The occupation and genocide continue in Afrin. The occupation of Afrin is a threat to security, not only in Rojava but in the whole of Syria. In the North of Kurdistan Turkey is carrying out a huge repression, and then it attacked Gire Spi, Manbij, Kobane… all are under threat. Turkey is implementing fascism both within its borders and outside."
It is in the interests of all peoples, said Ceger say "stop to Turkish occupation. Europe is remaining silent and pay a ransom to Turkey, but the Turkish state is without control. Erdogan sees himself as an imperator."
Ceger called on "all peoples, especially the peoples of Europe and America to say 'stop' to the invasion of Afrin. As long as the Turkish state is in Afrin, all peoples are in danger."