Hêvî Gabar - a breathless life full of enthusiasm
"Hêvî was like water, flowing and pure. She made it her principle to always be there and to do what the revolutionary life required of her", the Kurdish women's movement says on the death of Gülistan Aksoy.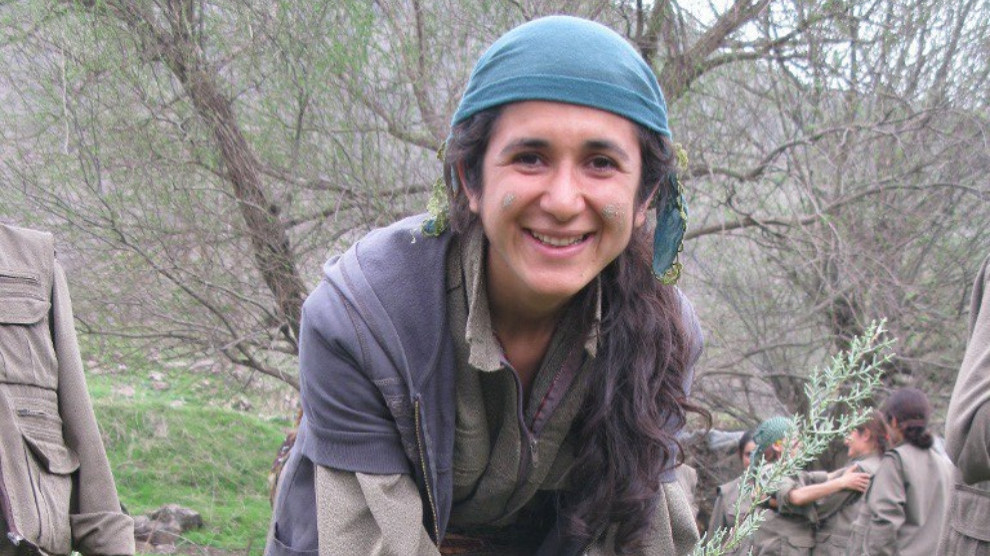 The Kurdish Women's Movement in Europe (TJK-E) has published a statement in memory of Gülistan Aksoy (Nom de Guerre: Hêvî Gabar). The Kurdish revolutionary died of an illness in Berlin on July 26.
The statement by TJKE-E reads as follows:
"Hêvî Gabar dedicated her life to the liberation struggle of the Kurdish people and women. We are deeply saddened by her loss. Heval Hêvî had been in Berlin for a while for medical treatment. We remember her with love and great respect. As the Kurdish women's movement in Europe, we express our sympathy to her family, the Kurdish people and the women.
Heval Hêvî has represented the revolutionary personality in women's liberation throughout her life with her commitment, her resistance and her big heart. She was at the forefront in many different areas of the struggle and was a source of morality and strength for everyone.
Heval Hêvî came from Bthe village of Bağyaka (Baqistan) in Mardin's Savur district. In the face of the village burnings and forced village guard system imposed in the 1990s, she was physically forced to leave her land at a young age. In her heart and in her thoughts she has never forgotten her roots. Her anger at the oppression by the Turkish state has strengthened her fighting spirit. She always wanted to be at the forefront and joined the Kurdish liberation struggle when she was young. In youth work, her positive energy made her an answer to the search for freedom, in media work she became the voice of a people who are wanted silenced.
Heval Hêvî was a prisoner in the dungeons of Iran and Turkey at different times. Her biggest dream was to go to the mountains of Kurdistan. All her longing was for the mountains. She made this dream come true. She took to the mountains and took part in the revolution of Kurdistan in the front line.
Hêvî was like water, flowing and pure. She made it her principle to always be there and do what the revolutionary life required of her. When the ISIS attacked Rojava in 2014, she said, "That's where I have to go.' Together with her companions she became - as her name - the hope [Kurdish Hêvî] of the women in Rojava and worldwide.
She did not let herself be deterred from her fight against the ISIS by a leg injury she had suffered in Til Kocher in the beginning. After a short treatment she returned to the front. One year later she was seriously injured near Serêkaniyê by a mine laid by the ISIS. There was still much to be done in her country, but the injuries she suffered made comprehensive treatment unavoidable.
In May 2017 she came to Europe and underwent difficult and protracted medical treatment in Germany. She had to undergo several operations. But even that did not stop her from feeling responsible for her own people. She lived within the people in the Diaspora and was a teacher and activist leading her people until her death. She told the people of Kurdistan, the women and children she met, about her love for her country and brought them closer to the smell of the country.
The thoughts and philosophy of Rêber Apo [Abdullah Öcalan] were a way of life for Heval Hêvî. Their implementation in all areas of life was an endless struggle for her. Hêvî worked for the revolution and the building of democratic confederalism. She was a tireless fighter and the hope of her companions. She was a woman of action. This was her loyalty to the martyrs, her belief in the revolution and her love for companionship. On this great path did she join the caravan of the martyrs.
Heval Hêvî, our friend and hope, lived breathlessly and with great enthusiasm. She challenged death several times. She will continue to show us the way. She was the companion of Rêber Apo and women like Sara. We give our word that we will continue her struggle until victory."
RELATED NEWS: