Protest against wave of arrests in Adana
Since yesterday, several activists of the HDP Youth Council have been in police custody in Adana. The pro-government press already calls them "terrorists". HDP member of parliament Tülay Hatimoğulları demands their immediate release.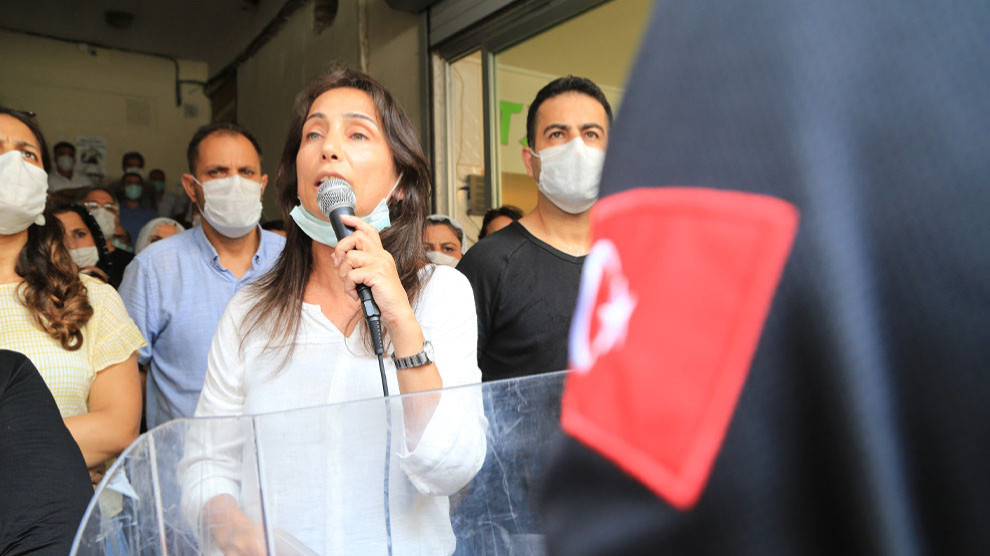 In the southern Turkish city of Adana, protests were held on Saturday against the wave of repression against the Youth Council of the Peoples' Democratic Party (HDP). The day before, thirteen activists of the association and the HDP Party Council had been arrested during province-wide raids. Ferhat Kalkan is among those arrested. As has become known in the meantime, the HDP youth activist was mistreated both during the arrest and while in custody. Member of Parliament Tülay Hatimoğulları even speaks of torture.
"Under the label of an alleged terrorist operation, youth activists are being pilloried here by the government. The AKP wants to use increased pressure to eliminate the social opposition. Those who are publicly and medially labelled as terrorists are the people", said Hatimoğulları.
The rally against the arrests of the activists was actually supposed to take place on the square in front of the HDP party headquarters in downtown Adana. However, the police had moved in early to seal off the building as far as possible and detained those present in the entrance area. Hatimoğulları pointed out that Ferhat Kalkan was a guest of Şükran Efetürk, a member of the HDP's local women's council, when her apartment was stormed by police. Apart from Kalkan, all those present were also mistreated by the police.
"The president recently boasted that in the 17 years his party has been ruling the country, they have made 'incredible progress' in the fight against terrorism," said Hatimoğulları and stressed that even the "palace regime" of Erdoğan is aware that it cannot intimidate the social opposition with arrests, detentions, torture, raids and operations. "The opposition continues to grow every day that is marked by repression. We will not retreat one step from our resistance and we demand the immediate release of the arrested activists", she said.