Ayn Îsa representatives protest against Turkish invasion attacks
Representatives of councils and institutions in Ayn Îsa protested against the invasion attacks of the Turkish state.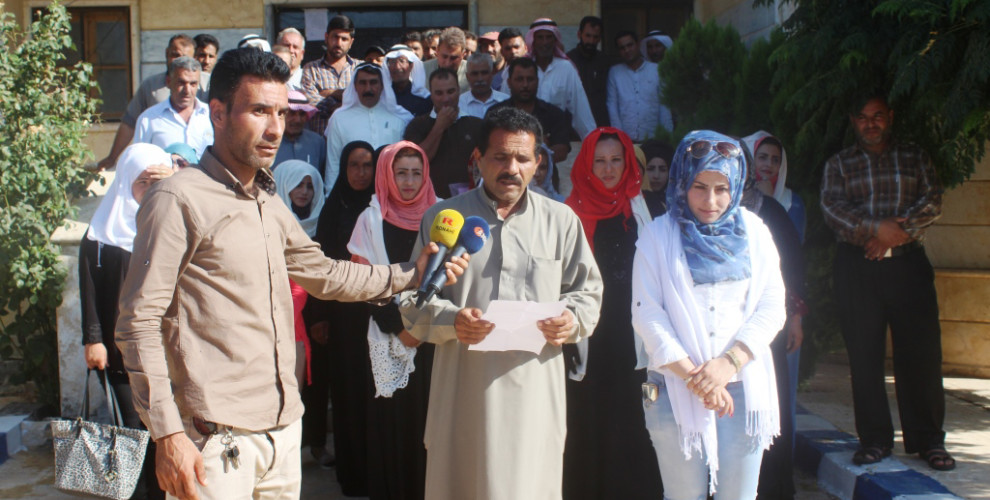 Representatives of civil assemblies and councils in Ayn Îsa town of Girê Spî (Tal Abyad) made a press statement condemning the occupant Turkish state's invasion attacks, against Northern Syria in the first place.
Reading the press statement, Elî Baçliyê Town Council Co-president Îbrahîm Salih Derwêş pointed out that the Turkish state wants to disrupt the security and peace that the children of the region had ensured by sacrificing their lives. He recalled that; "All the occupant forces, Turkey being in the first place, are supporting the gang groups in the region to keep the Syrian war going."
Derwêş said they are ready for resistance against any and all attacks, adding; "We are ready to give thousands more martyrs to frustrate the plans of invading forces against our lands."
Derwêş pointed out that they will continue to stand with the people of Afrin and that Northern Syria is a territory of co-existence of peoples.