Crisis in Armenia deepens
The political crisis that has been shaking Armenia for ten days appears to be deepening.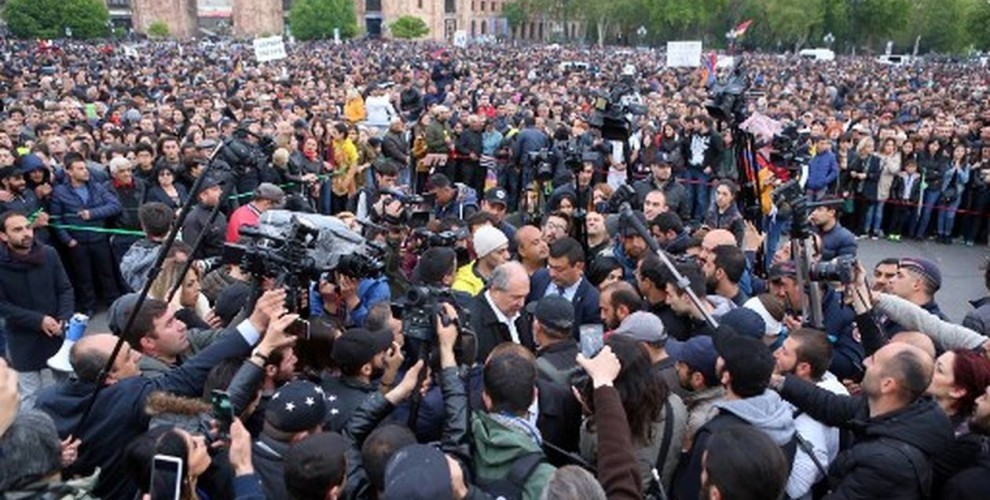 The political crisis that has been shaking Armenia for ten days appears to be deepening.
The meeting between Prime Minister Serge Serkisyan and opposition leader Nicol Pashiniyan failed. Protests continued on Sunday.
Pashiniyan was detained by police during the protest action in Yerevan. Another opposition deputy, Sason Mikaeliyan, said Pashiniyan was taken into custody and added: "People want him to be freed".
The police argued that Pashiniyan was detained as he was resisting the arrest.
Pashiniyan, who had met with Prime Minister Sarkisyan shortly before this protest, conveyed his request directly, saying: "I came to talk about your resignation". Sarkisyan responded that "This is not dialogue but blackmail". And added: "I can only advise you to go back within a legal framework, otherwise you will be responsible for the consequences".
Pashiniyan didn't step back and said: "You don't understand the situation in Armenia, the power is now in the hands of the people".
Sarkisyan then argued that a party that received 8 percent of the votes in the elections would not be able to speak for the people.
Pashiniyan, a 42-year-old journalist, was briefly arrested during the anti-Sarkisian movement in 2008. During demonstrations that year, 10 people lost their lives.
Armenia has been witnessing anti-Sarkisian demonstrations every day for over a week, now. On Saturday, thousands of people gathered at the Republican square in the capital. Last Tuesday, in the same Yerevan, 40,000 people turned out for a demonstration considered the largest seen in recent years.
Protesters have reacted by taking the streets to the nomination of Serj Sarkisyan as Prime Minister, after completing his second presidential mandate. They wanted Sarkisyan to leave power claiming that the constitution of Armenia prevented Sarkisyan from being President for more than two mandates.
A reform in 2015, has increased the powers of the Prime Minister while reducing the powers of the President, whose role has been reduced to the protocol level. Following this controversial reform, people have reacted to the nomination of Sarkisyan who continues to remain in power as Prime Minister.
The opposition claims that during the presidency of Sarkisyan, poverty and corruption have not been reduced and that indeed the oligarchs continue to dominate the country's economy.