'We will defeat the enemy with the resistance we carry out in Zap and Avaşîn'
Guerrillas carrying out the resistance in the Medya Defense Areas underlined their determination to defeat the Turkish army. They appealed to the collaborators to lay down their arms and join the resistance.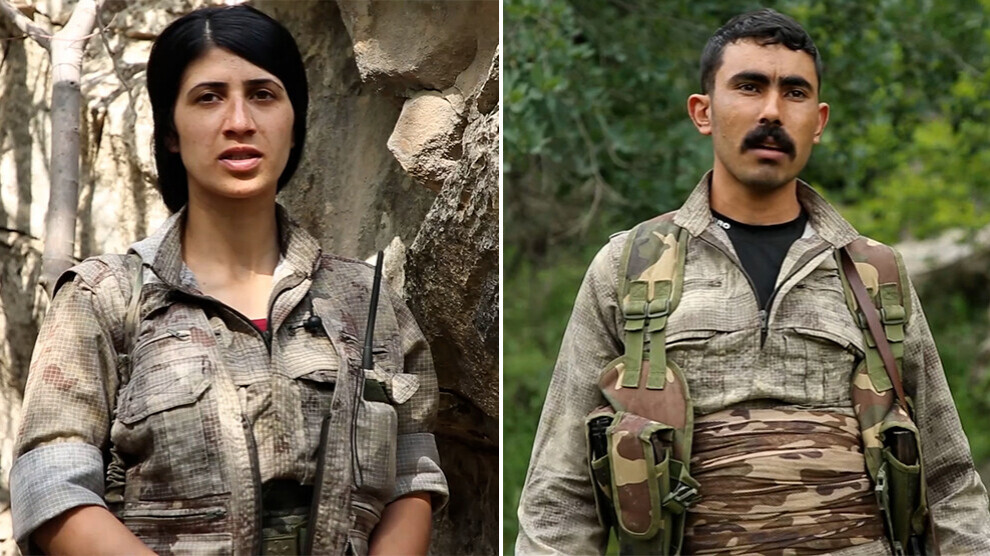 Since 17 April, the Turkish army has been trying to conquer the Zap and Avaşîn regions in the Medya Defense Areas. The guerrillas successfully resisted. Two of these guerrillas are YJA Star Baharîn Welat Şemzînan and People's Defense Units (HPG) Ferhad Şengal. They talked to ANF about the situation in the combat zones.
Baharîn Welat Şemzînan said that not only collaborators of the southern Kurdish party KDP took part in the invasion, but also northern Kurdish village guards.
Addressing them, she said: "There is a great resistance taking place in the Medya Defense Areas at the moment. This resistance is about the existence of the Kurdish people. For this reason, the Kurdish people must participate in the freedom struggle without fear. People must believe in themselves. The village guards must give up their treason and lay down their arms. The Turkish occupying army uses the village guards and sends them into the war zones. The village guards must finally understand this. They have to go back to their culture, to their country. They should take part in the freedom struggle of the people and the guerrillas. We resist based on the ideology of Rêber Apo [Abdullah Öcalan] in Zap and Avaşîn and will defeat the enemy."
"Guerrilla resistance crushed Turkish plans"
Ferhad Shengal said Turkey's plan is to occupy the Medya Defense Areas and added: "The guerrilla resistance has shattered the goals of the Turkish state and prevented it from advancing. We will resist until our last drop of blood. We will not allow the Turkish state to implement its plans. The Turkish state has intensified its attacks on our territories in recent years."

Shengal continued: "Despite the technology and aircraft at the disposal of the enemy, it cannot overcome the resistance of the guerrillas. The soldiers have no will to fight. We are not only fighting for Kurdistan. Of course, Kurdistan is our priority, but we are also fighting for the freedom of the Arab people and other oppressed peoples. We fight against the attacks of the Turkish state as one force, one spirit, one body. That's why I joined the guerrillas. I realized that the PKK is the only hope of the peoples of the Middle East. The burden on our shoulders is not as great as the work and struggle of Rêber Apo."