Book by Internationalist fighter and martyr Lorenzo Orsetti to be presented in Berlin
Lorenzo Orsetti was a SDF fighter when he fell a martyr in 2019 in the final assault on the last ISIS bastion in eastern Syria. His writings and letters from Rojava have now been published as a book and will be presented by his family in Berlin.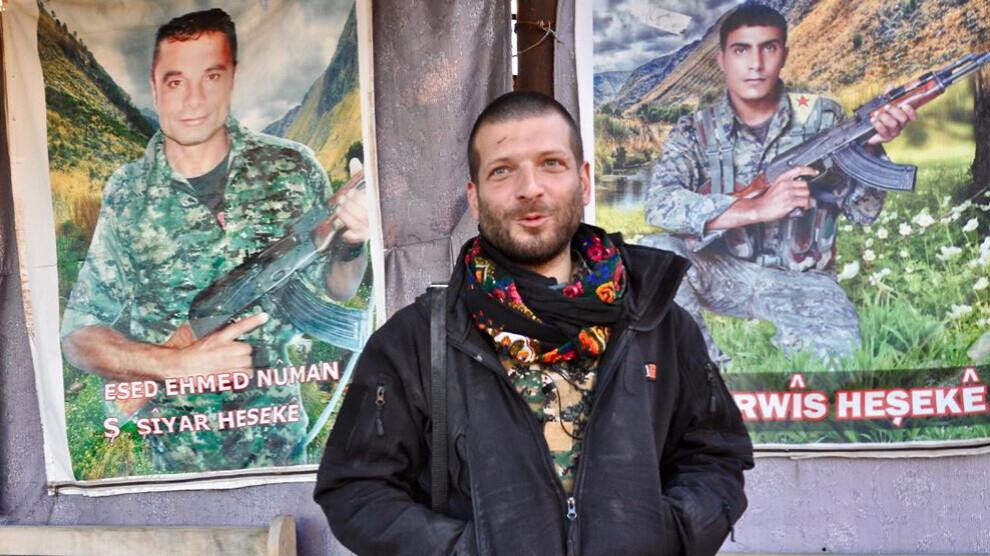 "I know these are difficult times, but don't give up, don't give up hope, never! Not even for a moment. Even if it looks as if everything is lost when bad things cause pain and the world becomes unbearable, you will still find strength and pass it on to your comrades. In dark moments this light will help. And always remember that big storms start with a small drop. Try to be that drop. "
These words were written by Lorenzo Orsetti, affectionately known by his friends as "Orso" (English for bear), whom the peoples of Northern and Eastern Syria got to know under his Kurdish name Têkoşer Piling.
Lorenzo was from Florence and was 33 years old when he fell as a martyr on 18 March 2019 in the final battle of the Syrian Democratic Forces (SDF) on the last ISIS bastion of Baghouz in Deir ez-Zor, East Syria. Under the title "Orso - Texts from Northeast Syria", the Red Star Press publishing house has now published the English translation of all of Lorenzo Orsetti's writings, letters, photos and interviews as a complete edition, following the original in Italian. Much of the work is about the thoughts of the anarchists, anti-fascists and partisans around the revolution of Rojava, the Kurdish liberation struggle and the paradigm of democratic confederalism proposed by Abdullah Öcalan and put in practice in Rojava, as well as his practical experiences there. The book was financed through a crowdfunding; the proceeds will go to the Italian section of the Kurdish red crescent movement Heyva Sor a Kurdistanê.
Next Saturday, 16 October, Lorenzo Orsetti's family will present the book in Berlin, in the premises of Collettivo O45 on Oranienstrasse. A member of the "National Association of Italian Partisans" (ANPI) will also be there and talk about the importance of internationalist struggles. The program also includes a contribution by a Kurdish activist on the emergence of the Kurdish liberation movement and on internationalism in the organization. The event will mainly be held in English, with Italian-language contributions being simultaneously translated into English. Participation is only possible by showing proof of a complete corona vaccination or recovery with corresponding test evidence. The event starts at 6 p.m.