First screening of documentary "Gitmek" in Europe
The documentary "Gitmek" ("Going") tells the story of the 33 revolutionaries murdered in Suruç and is now being screened in Europe as part of the SGDF's campaign 'We defended together, we build together'.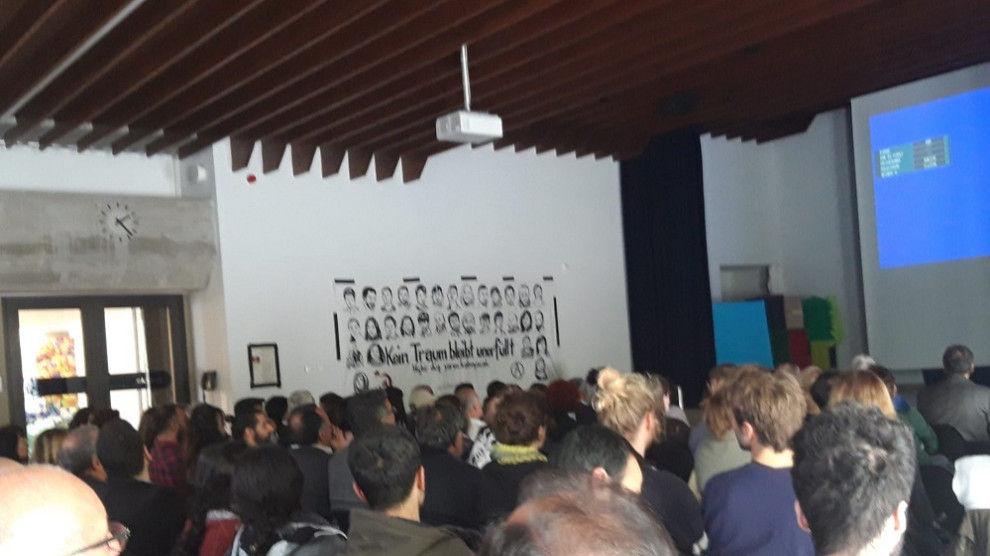 The first screenings of the film were in Lausanne and Basel at the European Confederation of Migrants. 
Güneş Erzurumluoğlu, who witnessed the Suruç massacre attended the screening in Basel.
After the screening of the film Arzu Demir, from the film crew, answered questions from the audience.
On 19 May a special screening was organised for families and witnesses and was attended by director Mustafa Emin Büyükcoşkun and his film crew joined the Istanbul show.
The film will be shown in Turkey in June, while on 25 May will be shown in Brussels. 
Arzu Demir, Ezgi Aydın, Leyla Postalcıoğlu and Emre Altan are in the film crew that supported director Büyükcoşkun.
What is the film about
The documentary "Gitmek" tells the story of 33 people murdered in Suruç as a result of a ISIS bomb. Most victims were members of the Socialist Party of the Oppressed (ESP) Youth Wing and the Socialist Youth Associations Federation (SGDF), university-ages students who were giving a press statement on their planned trip to reconstruct the Syrian border town of Kobane.
The film is an attempt to answer the question "Why did they go?"
Why would these people have set out and what they wanted to do when there were various solidarity campaigns in Istanbul, Ankara, Samsun, Izmir and Van?
The documentary tries to answer these questions in the meeting with the families, comrades and friends of the revolutionaries who were killed. The film was shot in the cities where 33 revolutionaries were born and raised. The survivors of the massacre explained the changes in their lives after the massacre.
"Do you regret going?" was another of the questions asked. After the interview with the witnesses of the massacre, young people involved in the defense of the Rojava revolution were also interviewed. They were asked how the massacre affected them.