Mother Language activities in several cities despite ban
Despite the ban of activities scheduled for Mother Language Day issued by Van Governorate a panel was held in Erciş.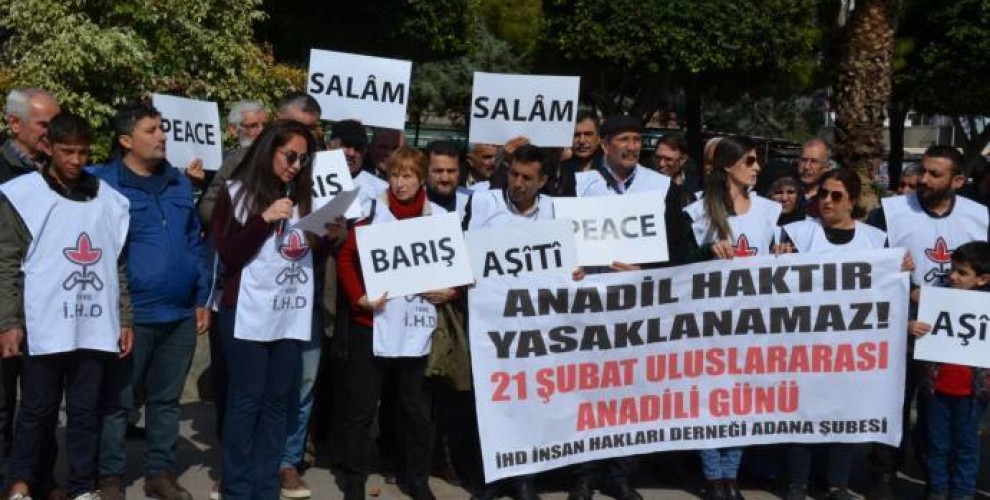 A panel was held in Erciş, in Van, to mark World Mother Language Day.
Kurdish writers Ikram Işler and Mele Muzaffer Çağan attended the panel at the HDP Erciş District building.
Drawing attention to the ban against the Kurdish language in Turkey, Çağan said: "The ban against Kurdish language is contrary to any law, including God's."
Writer Ikram Işler spoke about Kurdish history and Kurdish language origins. He underlined the fact that the Kurdish people, which have a history of thousands of years, have a deep-rooted language and culture. Stating that the Kurdish language also contributed to other languages ​​of the world, Işler said: "If we reclaim our language, we will get our rights."
Mother Language Day celebrated
Other cities organised activities to mark Mother Language Day.
Mersin
Akdeniz Art Atelier organised a dengbêj event to mark World Mother Language Day. Speaking at the event HDP Akdeniz Municipality co-mayor candidate Emine Silan Yüksekkaya, recalled that Democratic Society Congress (DTK) co-chair and HDP Hakkari MP Leyla Güven is on her 106th day of hunger strike.
Mother language, said Yüksekkaya, is as essential as water and added: "We should speak Kurdish in our daily life, in our home, in the street, in the market, everywhere. In particular, our mothers should teach their children their mother language."
DAD Mersin Branch president Mehmet Seyitalioğlu warned that this language will be lost if the family members whose mother tongue is Kurdish do not pass on the language to the new generations. The event ended after the performances of the dengbêj [Kurdish storytellers].
Kurdish Language Platform held press conference
Amed
The Kurdish Language Platform held a press conference in Amed.
The Platform was founded by 9 Kurdish parties some months ago to push forward the demand to end assimilation policies forced on the Kurdish language and for Kurdish to be a language of education.
In the statement made by the Platform it was underlined that language defines the identity and existence of a person, but also the existence of a nation. When language is assimilated, the nation disappears. The Kurds should reclaim their mother language and culture or face extinction.
The Platform renewed its demand to abandon assimilation policies and allow Kurdish to flourish and be a language of education.
Mother Language activities promoted by civil society organisations
IHD Amed Branch distributed the booklet "UN Convention on the Rights of the Child" published in Kurdish-Turkish-Arabic in Sur. A brief statement before the distribution was made by of IHD Child Rights Commission member Gülesra Güllü and IHD executive and lawyer Hasan Yalçın who celebrated the Mother Language Day with the publication of the "UN Convention on the Rights of the Child" in 3 languages.
Diyarbakır Medical Chamber, Diyarbakır Chamber of Dentists, SES Diyarbakır Branch, Social Services Experts Association (SHUDER) and MER-DEZ held a press conference at Diyarbakır Medical Chamber.
SHUDER Board Member Esra Ipek made a statement on behalf of the organisation and said that Kurds should be able to use their mother language in the health field as well as in other public areas in Turkey. They should have the right to receive health services in their mother language, something that has so far been denied.
Ipek said: "It should be possible to use our Mother Language in the field of health, from the medical education to the provision of health services. On 21 February, World Mother Language Day, we demand that the obstacles to all mother languages in the country that restricts the right of health to the public are removed and access to universal health service be opened."
Adana
The Human Rights Association (IHD) Adana Branch made a press conference at Ismet Inönü Park to mark World Mother Language Day.
"Mother language is the right that cannot be prohibited", said a banner.
Baran Öner, IHD Adana Branch executive said: "They want to destroy our language with prohibitions, denial and bullying. The flag of struggle against all this is in our hands this day and we will never drop that flag."
Van
A press conference was made by the Language Culture and Art Research Association (DÎSA-DER).
DÎSA-DER co-chair, Salih Sertkal, said: "In Turkey dozens of languages are at risk of extinction. Education is not provided in Kurdish, Laz and Circassian. These languages ​​are nearing extinction every passing day. DÎSA-DER doesn't want any language to disappear. Language is the identity of the peoples. We want languages to live."
Izmir
IHD Izmir Branch held a press conference at the branch building.
IHD Branch executive Cemile Karakaya said: "Anatolia and Mesopotamia have been the cradle of countless civilisations, languages, nations throughout history.
The banning mentality which has been going on for years is today carried out by the AKP government."