The story of a musician from Qamishlo
Each musician defines music differently.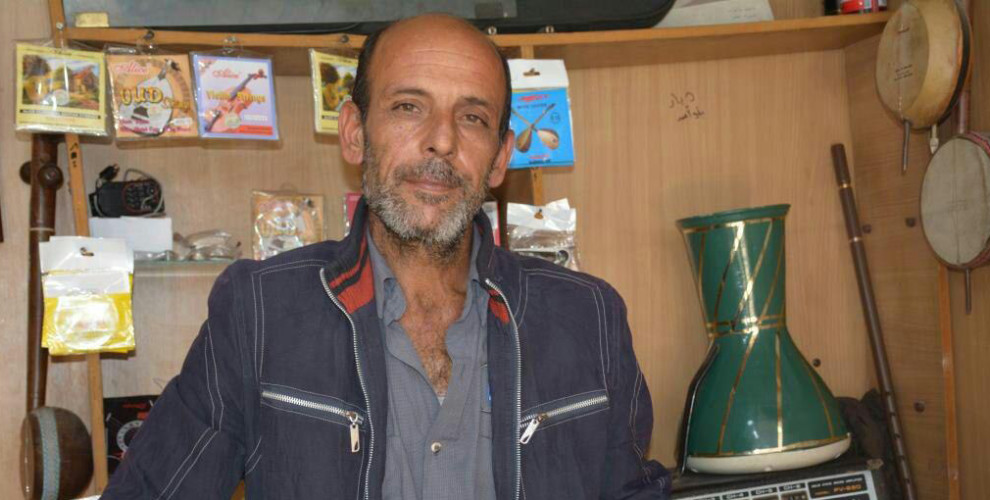 Isa Mihemed (50) describes music as his closest friend.
When Mihemed was 15 years old, he started to play baglama (instrument with three double strings) and sing. Mihemed's brother, Nezir Isa, is a student of the famous Kurdish dengbêj Mihemed Shêxo.
When he was 15, he collected money with a friend and bought a bağlama. At the beginning he played his instrument at weddings and he became known as 'Isa the bağlama player'.
The best thing in my life was meeting Mihemed Shêxo
Mihemed's love of music forces him to do something. Mihemed describes his encounter with music like this: "My love for music was certainly influenced by Mihemed Shêxo. When I started playing music, I saw myself in a new world, and the music affected me very much.
I can say that my soul revived. It was like my soul coming to live. Meeting Mihemed Shêxo was a great gift for me. He was always trying to teach music to young people, and he wanted to help people".
The promise of Mihemed Şêxo, 'Do not leave music and continue to sing songs in Kurdish' has been a will for him and he continues to work to fulfill that will.
Mihemed has been working in the store of musical instruments he has opened in Qamishlo for 25 years.
Today music is in every house
Mihemed, who sells mostly traditional instruments, usually brings his instruments from Damascus.
Mihemed has 5 children and he tries to pass on to them his love for music.
He teaches children who want to learn music to play an instrument. In the past, Mihemed said that the possibilities for buying musical instruments were limited: "Today there are musical instruments in every house. Our young people are living with music and have instruments. That gives me morale".
Mihemed says that music is a big part of his life and adds: "In times of emotion, I take my bağlama and I express my feelings. The bağlama is the best listener of my emotions. The bağlama and I have become friends and we are always together. I feel the bağlama is a part of my body".