Your freedom and mine, an evening of poetry for Ocalan
Organised by Peace in Kurdistan Campaign, an evening of poetry, music and film celebrating the resistance struggle of the Kurds.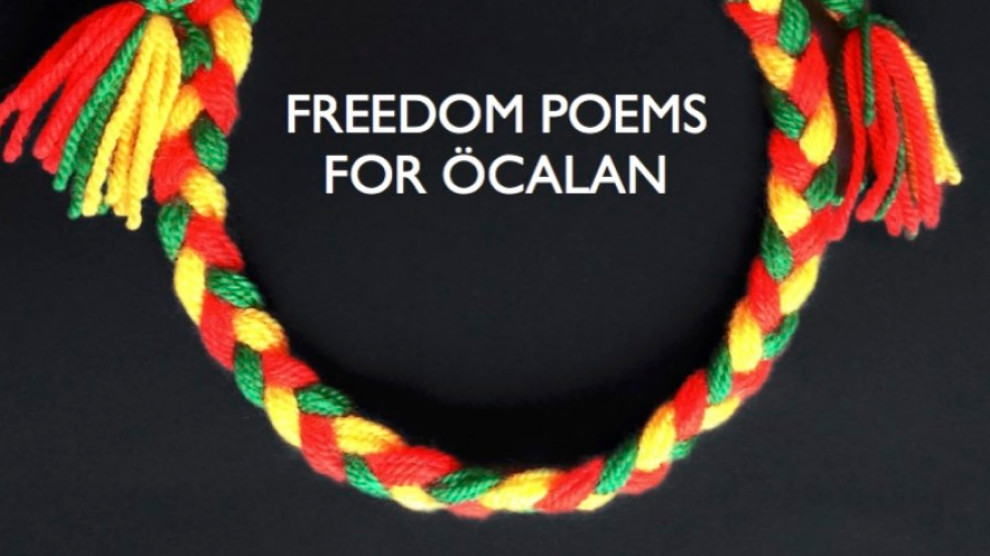 An evening of poetry, music and film celebrating the resistance struggle of the Kurdish Freedom Movement on the occasion of the publication of "Freedom poems for Ocalan" marking Abdullah Ocalan's 70th birthday is to be held tonight in London.
The appointment is at 7.30 pm (UK time) at Theatro Technis, 26 Crowndale Road, London NW1 1TT (5 min from Mornington Crescent station).
Here is the program of the evening:
George Evgeniou, founder and director Theatro Technis introduces the event
Free Ocalan song 
Ocalan – Lee Brickley Songs for Rojava
Compere Clara Bennathan 
David Morgan, co-editor speaks on the book
Matt Nathan, Campaigns Director of Freedom for Ocalan Campaign
Dr Thomas Jeffrey Miley, comments on title and book YOUR FREEDOM AND MINE & poetry book and introduces the following 2 videos:
An interview with PKK Leader Abdullah Ocalan. – Journeyman.tv, 11 years ago.
YPG and YPJ fighters speak up on Abdullah Ocalan's struggle - video
Clara Bennathan reads poems from the poetry book and introduces 
July Ward MEP, video message 
Margaret Owen will talk about Ocalan and Rojava
Greta Sykes, reads her poem 
People and Places in Rojava, photo video by Katrín Ólafsdóttir, film-maker who recently returned from Rojava . 
PW:  PPR 
Dr Thomas Jeffrey Miley introduces Gacheke Gachihi and Mathare Social Justice Centre
Grassroots Liberation from Kenya – video
Gacheke Gachihi reading his poem from the book- video.
Hagir Ahmed, reading poems by Matt Sedillo and Darnell Stephen Summers and Jihad Hami 
Accompanied by Les Levidow 
Matt Sedillo 
Tune: El Ejercito del Ebro (from Spanish Civil War)
Darnell Stephen Summers
Tune: Ain't going to let nobody turn me around (from US civil rights movement)
(Will sing the first couple verses, then play the tune)
Jihad Hami
Tune: Yara Min Bedewe (Kurdish song) 
Zelal Sahin sings Kurdish songs accompanied by Les Levidow
Malan Bar Kir   
Amediye
Çiyayeme berfi lekir    
Hoy Memo  (in honour of Mehmet Aksoy)   
Turnam gidersen Mardine