Artist Ferhat Tunç: We won't give up defending nature
Artist Ferhat Tunç said that the state has been exposed by burning the forests and thus showing it wants to empty the villages of Dersim.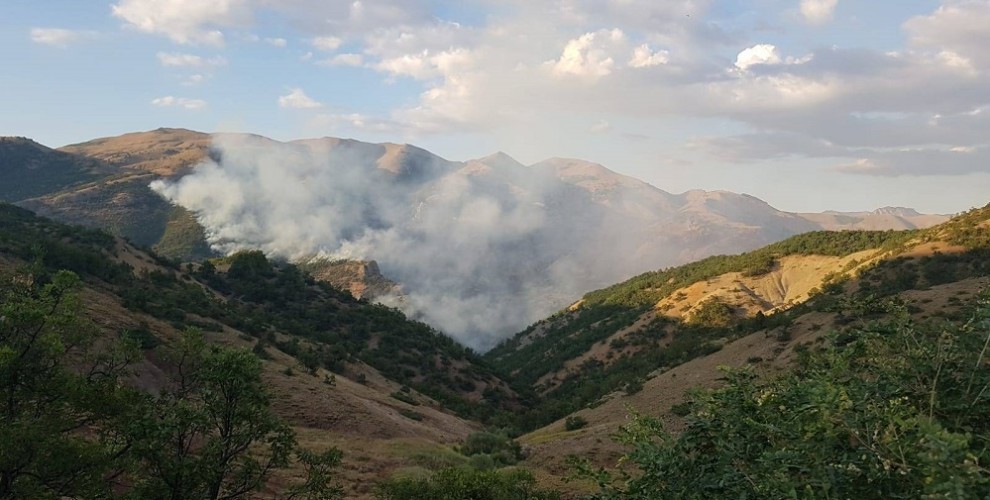 Artist Ferhat Tunç pointed out that a massacre is going on in Dersim since 15 August, and the victim is nature. 
Tunç said that the hand that burned the forests in Dersim has turned all the country into a fire; completely destroying rights and freedoms. He said they are pursuing war and violence. "We will continue to protect our humanity, our conscience, our nature", Tunç said adding that, if necessary, people would resort to international law.
Ferhat Tunç spoke to ANF about the fires destroying Dersim. 
Drawing attention to the fact that Dersim is not only mountains and forests, but also city center, Tunç stated that the city center, which has been surrounded by concrete barriers, was almost transformed into a prison.
Recalling that two thirds of the rural areas of Dersim were declared as forbidden areas, Tunç noted that this is a prohibition proclaimed with the purpose to make burning easier. 
Tunç underlined that volunteers are prevented from extinguishing the fires. Underlining that the State wants to empty the villages of Dersim through the fires, Tunç added that the same practices were used in the 1990s. 
The artist said: "In the 1990s villages were burned down and emptied as people were forcibly displaced. Today they are burning and emptying the region at the same time".
Recalling that it is a humanitarian duty to speak out against these fires which are deliberately started, Tunç continued: "It should not be that easy. No matter what reason is put forward, no State would destroy nature; no State would burn forests. When people try to take the fire under control they are prevented from doing so. In Dersim - added the artists - the State is committing a crime". 
Tunceli stated that the Governor of Tunceli lied publicly about the fires. He recalled being part of the HDP delegation that wanted to reach the fire areas and was prevented from doing so by the governor. 
"People are victims, freedom of travel is denied. Those who want to go to the city center from Ovacik, those who want to go abroad are prevented from doing so". 
Tunç added: "We are against war and violence. We are looking for a peaceful solution. We will continue to protect our humanity, our conscience, our nature. Because if there is no peace in this country, there is no possibility of living together. Therefore, we must raise the struggle for peace, in order to live together".