Greenpeace: Environmental destruction in the Kurdish region exceeds our expertise
In response to a request for help from the Şırnak Bar Association over state-imposed forest destructions in the Kurdish region, Greenpeace said, "Unfortunately, the issue is beyond our expertise."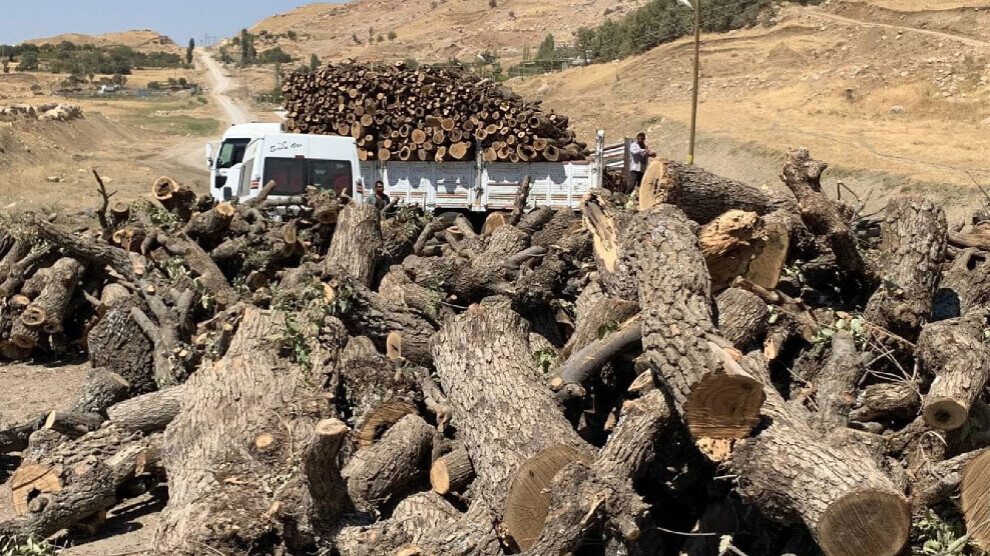 The environment in the Kurdish province of Şırnak is being massively damaged by mining, dams, hydropower plants, sand pits and arson by the Turkish military. In addition to forest fires, massive destruction operations are taking place in the mountainous regions of Cudi, Gabar and Besta by so-called village guards for "security reasons". The mountain landscapes with their unique nature are thus turned into a desert.
But while environmental destruction is widely heard in western Turkey, the destruction of nature in northern Kurdistan is deafeningly silent. The Şırnak Bar Association had now made a desperate appeal to the World Wildlife Fund (WWF), the Foundation for the Protection and Promotion of Environmental and Cultural Values (ÇEKÜL) and Greenpeace to motivate them to take action against this environmental destruction.
"Not our field of expertise"
Greenpeace responded in writing to the bar association's appeal a week ago, saying that they "thanked" the association. It went on to say: "Today, environmental crimes are continuously committed in every place in Turkey. Due to limited resources, it is not possible for us to reach everyone and work on all kinds of environmental problems. For this reason, Greenpeace focuses on certain issues in order to use the support the organisation receives from individuals as effectively as possible. Greenpeace continues its activities by campaigning on these issues. In your email, you have expressed your justified concern about the deforestation in your region. As an institution, we are against all kinds of environmental degradation, but since the issue does not fall within the scope of our expertise, we can unfortunately only refer you to experienced non-governmental organisations that specialise in these issues and have done a lot of work so far."
Dams, mining, clearing ...
Lawyer Sabri Çatıkkaş, a member of the Şırnak Bar Association's Environment and Urban Development Committee, pointed out in an interview with Mezopotamya Agency (MA) that the overexploitation of nature in and around Şırnak has been going on for a long time: "The overexploitation of nature continues with dams, mines, sand pits on the Tigris and the cutting down of trees. Many places in Şırnak are under water due to large and small dams. The construction of dams has changed the riverbeds and changed the way of life in the region. Many coal mines have been opened in Şırnak. In the process of extracting coal, nature is devastated. All the pollution from the coal mines is discharged into the rivers. Life in the streams is affected as a result. At the same time, these streams pollute the Tigris. The sand pits on the river are also a big problem. Large pits are created by sand mining. Many people drown there every year. Since 2010, dozens of people have lost their lives due to sand mining."

"The Forestry Directorate is destroying the forest"
Çatıkkaş highlighted that continuous destruction operations have been carried out in Şırnak province for about two years, on behalf of official institutions. "The responsible body is the local forestry directorate [under the Ministry of Agriculture and Forestry], which is also responsible for corresponding tenders. These tenders are carried out in violation of the tender laws. At the same time, they are awarded to people known to be close to the AKP. The forests of Şırnak are being cut down by these people." The lawyer alludes, among other things, to paramilitary village guard clans who profit massively from the clearing work. 
Regarding the appeal to the environmental organisations, Çatıkkaş said: "We emailed them the reports we made and the photos we received about the devastation of the mountains in Şırnak. We asked for help. Even if they do nothing, we asked them to at least demand a stop to this overexploitation of nature. So far, only Greenpeace has responded. In their response, the organisation writes that they know that many crimes against nature are being committed in Turkey, but as Greenpeace they have a small budget and are carrying out some work that they have agreed to do. Greenpeace states that there is nothing they can do about the overexploitation of nature here." Given Greenpeace's corporate structure with its own energy companies and huge income from donations, it is doubtful that lack of money is the real problem.
"Discrimination against nature"
Accordingly, Çatıkkaş also accuses Greenpeace of "double standards". He continued: "Other organisations that advocate environmental protection take the same approach. When it comes to Kurdistan's nature, they all show the same attitude. Until today, no international or national organisation has raised its voice against the burning of forests or the cutting down of trees in this country. They have not taken a stand against the plundering of the region by mining and sand pits. There are reasons for this, of course. These organisations are supported by some states. This aid is existential for the organisations. In order not to jeopardise this aid, they turn a blind eye and deaf ear when it comes to the nature of our region. They do not want to confront the states that finance them. This is a great hypocrisy. It is unacceptable that an organisation founded in the name of nature conservation discriminates against nature. Nature in the Mediterranean is nature, but is nature in Kurdistan not? Is life being destroyed there and not here? If the nature of Kurdistan is plundered and destroyed, will it not affect the nature of the Mediterranean? This is hypocrisy."
Çatıkkaş called for an end to this "hypocrisy" and said: "All organisations in Kurdistan must unite and work together against this hypocrisy. We must act together to stop this overexploitation of nature in Kurdistan. We must speak with one voice. If we do that, we can stop this looting."