Turkish army is destroying environment
I am visiting the area from where the Turkish army had to retreat. It's hard to find words for the destruction they left behind. The Turkish state's crime against the environment should be added to that of genocide.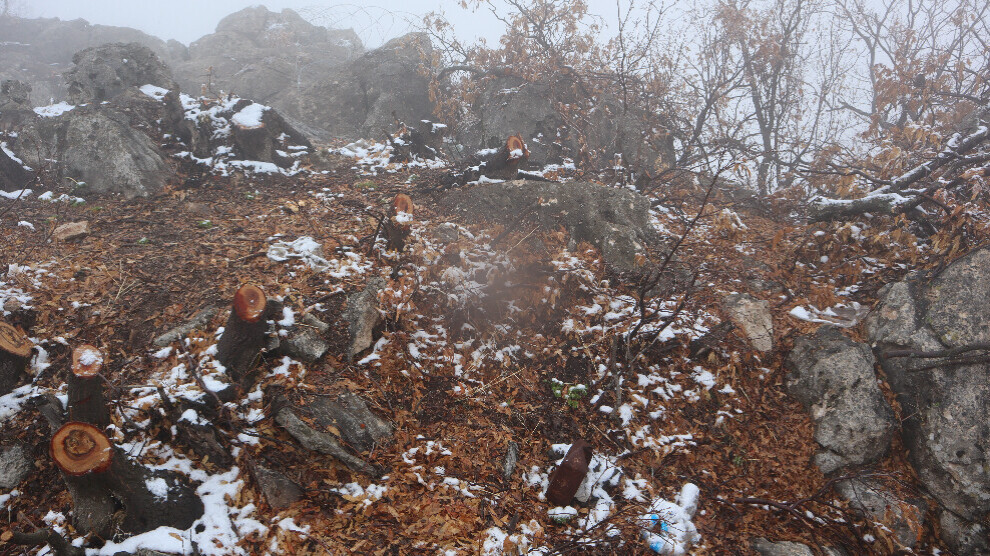 The expressions 'war means destruction, war means death' etc., used by many when describing war, refer, of course, to the massacre of human beings.
These are times in which we are faced with destruction that perhaps history has never witnessed. States and a handful of capitalists that monopolize power are destroying and plundering all our living spaces and the environment. The destruction of the environment.
To destroy nature in Kurdistan is part of a policy of genocide. The Turkish army has been burning and cutting forests routinely for years, and the sad thing is that it gives the job to some local [state] collaborators in exchange for a few cents. The Turkish state in Northern Kurdistan is destroying nature and now it is doing so in South Kurdistan as well. There, it first cuts trees in the areas it occupies, and then the local collaborators trade these trees. This is now a global problem.

The Turkish army had to withdraw from many areas of Zap in December 2022. While visiting the camps and positions left behind by the Turkish army, I personally witnessed this massacre of nature and I find it difficult to express with words the desolation I encountered. I once again felt with great pain the destruction war leaves behind. That destruction that I had followed and witnessed during the year. I was angry when I saw those trees cut down and destroyed by bombs. I just couldn't speak.
"You cowards, what did you want from these trees?" I muttered. I knew the mentality and hostility with which they cut down these trees. I learned it from the guerrillas last year. While the Turkish army was cutting down trees, some guerrillas could not stand it and intervened and were killed. The Turkish state knew no bounds in hostility and brutality and had massacred mountain goats, wild boars and the mules of the guerrillas using tons of bombs. If this were not enough, the enemy doesn't want to leave anything on this land, and bombs natural fountains and fruit trees by the water as well.
I believe that the Turkish state's crime against nature should be added to that of genocide. Of course, their local collaborators should also be exposed.