11 more Turkish soldiers killed in ongoing guerrilla resistance against the Turkish army
HPG and YJA Star guerrillas continue their actions against the Turkish army and its occupation operation in the guerrilla areas in Southern Kurdistan (Northern Iraq).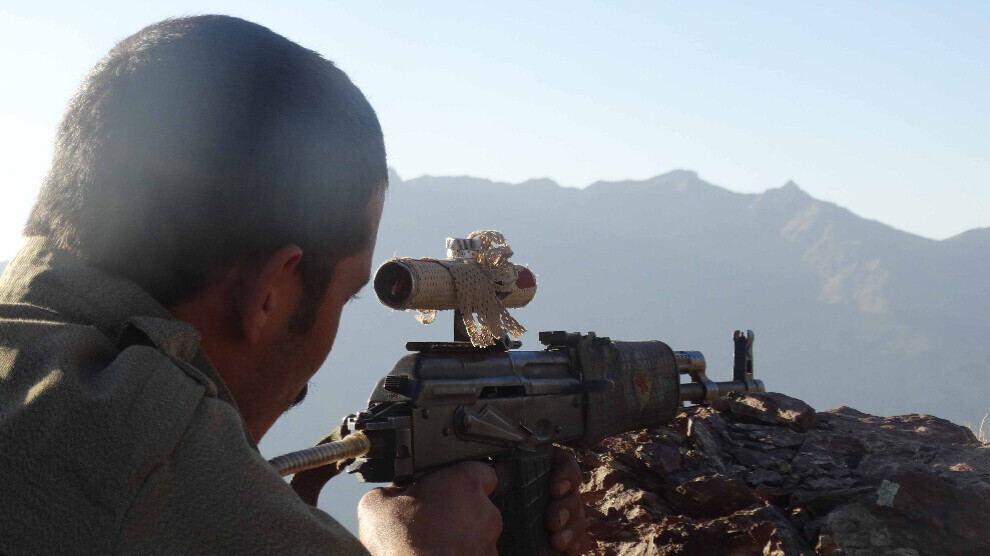 YJA Star (Free Women's Troops) and HPG (People's Defence Forces) continue the resistance against the Turkish invading forces in the guerrilla-held Medya Defense Zones in southern Kurdistan (northern Iraq).
According to the HPG Press Center statement on Saturday, the guerrillas continue their retaliatory actions in memory of guerrilla commander Axîn Mûş and guerrilla fighters Egîd, Rohat and Demhat who fell alongside her in Amed's Lice district on 17 September.
HPG stated that eleven soldiers of the Turkish occupation forces were killed and 15 others were injured in the Zap region on Friday. A tent with military equipment and two surveillance cameras installed by the Turkish army were destroyed, and eleven positions were damaged with heavy weapons.
Regarding the details of the guerrilla actions and the attacks by the Turkish army since Friday morning, HPG gave the following information:
Şehîd Delîl, Western Zap region
In the Girê Cûdî resistance area, YJA Star guerrillas struck and damaged eleven enemy positions by targeted fire with heavy weapons. In addition, a Turkish army soldier was shot dead by a sniper.
In the Girê Amêdîyê resistance area, the guerrillas targeted a Turkish unit with heavy and semi-automatic weapons. A tent with military equipment went up in flames and was destroyed as a result of strikes by the guerrillas, which left eight soldiers dead and 15 others wounded.
In another action, guerrillas carried out an attack on a Turkish unit trying to advance in the Girê Amêdîyê resistance area. Strikes with assault rifles and hand grenades left two soldiers dead, the body of one of whom remains under the control of the guerrillas.
A surveillance camera of the Turkish army was destroyed by targeted fire.
Between four and five this morning, guerrillas intervened 15 times against helicopter movements.
Xakurkê
In the Xakurke region, YJA Star guerrillas hit the Turkish occupation forces at Girê Şehîd Derwêş with heavy weapons.
Metîna
In Metîna, the guerrillas intervened twice against helicopter movements last night.
Attacks by the Turkish army
Turkish fighter jets bombed the Zap and Xakurke regions eleven times on Friday. The targets were areas on the Zap shore, the western Zap region and the areas of Sinînê, Girê Şehîd Şerîf and Ava Lolanê. In addition, the Turkish army carried out bombardments by attack helicopters and artillery attacks in Zap and Metîna.