16-year-old Yazidi girl freed after six years in ISIS captivity
Ronya F. was ten years old when the ISIS committed genocide in Shengal. She was taken to Mosul and sold in a slave market. At 14 she was forced to marry a 32-year-old jihadist. She has just been freed in the Hol Camp.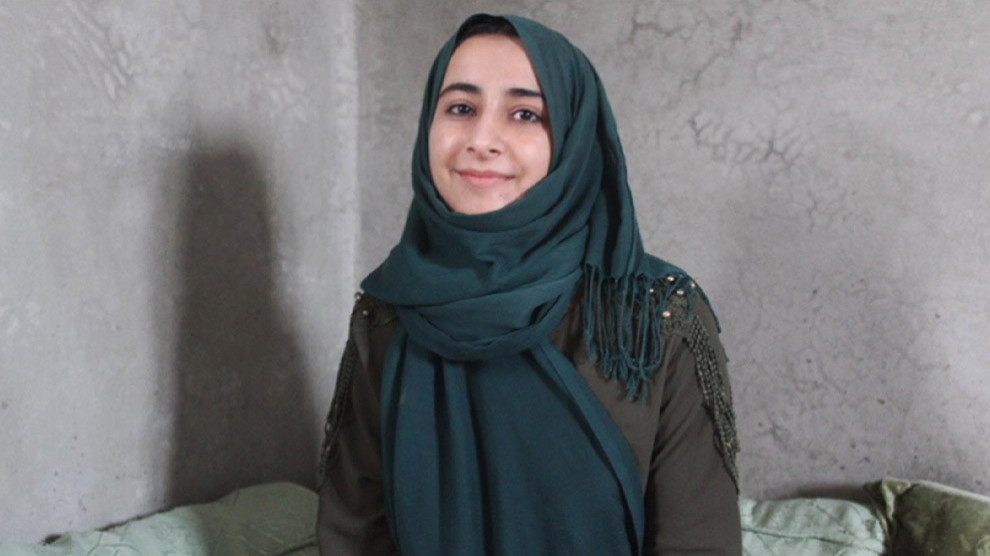 As a ten-year-old Ronya F. experienced the genocide of the Yazidis in Şengal. She, her mother and siblings were sitting at home when the terrorist militia ISIS invaded the region on August 3, 2014 and committed genocide. Those who were able to save themselves on that hot summer day fled to the mountains. On the way there, countless children and elderly people died of thirst. Men who could no longer make it away were brutally murdered by the ISIS. Thousands of Yazidi women were kidnapped and sold, maltreated and raped in the ISIS slave markets. According to the UN, more than 12,000 people were killed and over 400,000 were driven from their homes. Almost 2,900 Yazidi women, men and children are still missing.   
Ronya, her mother and siblings were also abducted by the ISIS. They were first taken to Mosul, then to a slave market in Tal Afar, where most of the middle ISIS cadres came from. In Tal Afar the girl was separated from her mother and her siblings. An ISIS family bought Ronya and took her to Raqqa in northern Syria. There she lived in the household of a Russian woman named Umm Taleb. She had to learn fluent Russian as well as Arabic, and almost lost her mother tongue. Only a few Kurdish words remained for her.   
"Married" to a jihadist at the age of 14
At the age of 14, Ronya was married to a jihadist 18 years older. After a stay in the East Syrian town of al-Mayadeen, the journey continued near Abu Kamal, to Baghouz. The village had been the last enclave of the ISIS before the Syrian Democratic Forces (SDF) broke the territorial rule of the militia and defeated the organization militarily in March 2019. Since then Ronya lived in the Hol Camp near Hesekê in northeastern Syria where families of ISIS mercenaries are held.
A few days ago Ronya was rescued from ISIS enslavement. She had been able to contact a maternal uncle via Facebook, who gave her the phone number of the Yazidi House (Mala Êzidîyan) of the Cizîrê region. The Yazidi House is an institution in Hesekê, which has dedicated itself to the search for abducted Yazidis from Shengal. After a call to the organization, it took only a few hours to free Ronya, who is now 16 years old. She spoke to ANHA news agency what she has been through.
A normal life, without fear and bombs
Ronya tells that she met many Yazidi women and girls after she was abducted from Shengal. However, an escape from the ISIS was never an issue for her as others tried it and were severely tortured.
"We were not allowed to speak Kurdish either, otherwise they would have killed us. We were considered infidels anyway. They always said that Islam is the only true religion."
The hardest thing for Ronya was the separation from her mother. "I hope to return soon to my family in Shengal and lead a normal life without fear, away from bombs."
The Yazidi House has been able to rescue 236 Yazidi women and children from Hol Camp since the military victory over ISIS. However, the organization suspects that there are still hundreds, if not thousands, of Yazidis in the camp. "Many Yazidis do not dare to signal their true identity and instead claim to be Muslims. For years they have been inculcated with the idea that their families will reject or kill them because they have converted to Islam. Or they are directly threatened with death if they tell the camp leaders about their Yazidi identity," explains Mehmûd Memî from the administrators of the Yazidi House. Ronya is currently receiving medical and psychological care there before she is brought back to Shengal.
Journalist: Ronya's mother and siblings are in Canada
Ronya's mother and her siblings seem to live in Canada by now. Dutch journalist Brenda Stoter wrote on Twitter that Ronya's mother now lives in Canada with her other children. This might indeed be the case since Canada has taken in around 1,200 Yazidi families who were persecuted in Iraq by the jihadist militia in 2017.
I know this girl, I met her mother in Iraqi Kurdistan, and interviewed her for my book on the genocide. So happy that she is back. Her mother now lives in Canada with her other children. Hopefully they will be reunited soon. https://t.co/vH9TOR2ytk

— Brenda Stoter Boscolo (@BrendaStoter) April 26, 2020
KCK: August 3 should be recognized as Day Against Femicide
The ISIS genocide of the Yazidi people in Shengal was systematically directed against women. Therefore, in its form it is also a femicide. The Kurdistan Communities Union (KCK) demands that August 3 be recognized as an international day against femicide and that the crimes against Yazidi women be punished: "The patriarchal spirit must be buried where it was born in history. The peoples of the Middle East should take a women's emancipatory approach against the dark mentality of the ISIS and transform the region back into a place where the liberal spirit of women dominates the field".
3,451 Yazidis freed by SDF
During SDF operations against the ISIS, 1,178 women, 337 men, 1,010 girls and 926 boys; a total of 3,451 Yazidis, were freed from ISIS captivity. The fate of about 2,900 people remains unclear.
RELATED NEWS: