AKP: 16 years of terror – PART II
Since Recep Tayyip Erdoğan and the AKP came to power many children have been murdered.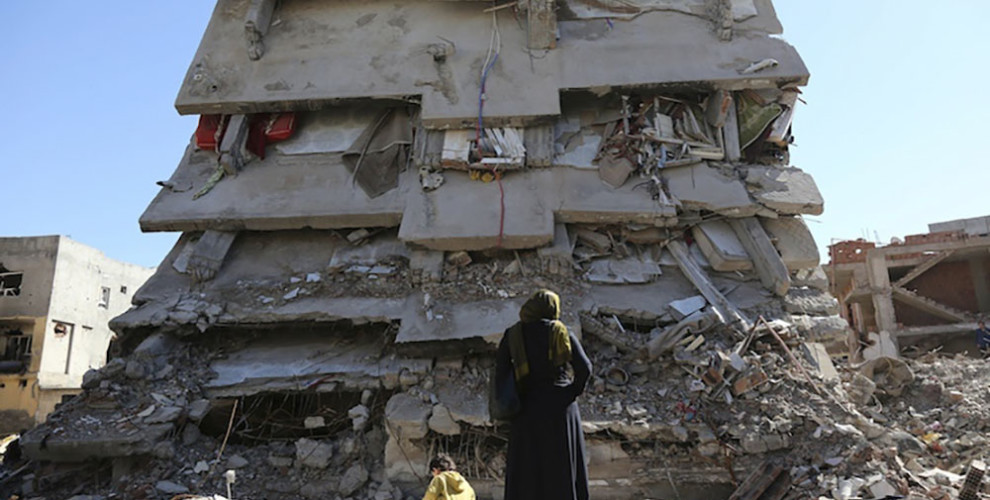 The AKP more than a party resembles a death machine. That's because it decided that in order to remain in power it would know no limits in the amount of violence and death it could resort to.
The list of crimes committed by the AKP is endless and unfortunately, ongoing: death in police custody, death in prison, torture both in and outside prisons and police stations…
* On 1 August 2015, Turkish warplanes bombing the Medya Defense Zones in Qandil hit the village of Zergelê killing 8 civilians and seriously wounding 14. Responsible of the massacres in Kortek, Roboski, Zergelê and of using chemical weapons against the guerrillas, Chief of General Staff Necdet Özel was awarded a 'honorary' medal by President Erdoğan.
* June 7, 2015: Erdoğan saw his consensus lowering after the general elections and 13 years in power. He found fit to use DAESH (ISIS) to keep the country under threat. In the bomb attacks in Amed, Suruç, Ankara and Antep hundreds of people lost their lives, including children. On June 5, 2015, just two days before the election, 400 people were injured in a bombed attack against the HDP rally in Amed. Four HDP members died.
* July 20, 2015: As a result of an attack in Suruç, 33 revolutionaries lost their life.
* October 10, 2015: Ankara Massacre. At least 100 people were killed and 400 were injured. After Charlie Hebdo's attack, Erdoğan said: "We politicians are responsible for the murders committed in our country". After this massacre he did not resign. Prime Minister Ahmet Davutoglu explained why the government had not taken any preventive actions against well-known DAESH members: "We have a list of suicide bombers. - he said - But we cannot arrest them if they don't act".
* A suicide bomb attack was carried out at a Kurdish wedding on 20 August 2016 in Antep, one of the cities where DAESH had been recruiting. Of the 57 people killed, 40 were kids. Of the 64 people wounded, 13 were badly injured.
Another 'natural disaster'
* August 24, 2015, floods in Artvin's Hopa district killed 11 people. "We may have made mistakes, but this is natural disaster", said Artvin Governor after the disaster.
Child murdered
* The Turkish State did not stop even when holding talks with Kurdish People's Leader Abdullah Öcalan. On January 14, 2015, security forces murdered Nihat Kazanhan, 12 years old, in Cizre. Soldiers and policemen murdering children were declared heroes and promoted by Erdoğan and were never tried.
* October 18, 2015: Police raided a house in Küçükmutlu, in Istanbul and murdered Dilek Doğan, 25 years old.
* An 8 month pregnant woman, Remziye Bor, was shot by special operations police who raided her house in Van Xaçort (Hacıbekir) neighborhood on April 19, 2016. She died after 28 days of treatment.
* 18 November 2016: Police raiding the house of the Ataman Family in the Agamast district of Ercis (Van) set the house on fire, burning Hediye Ataman alive. The civilians executed in house raids or in the middle of the street, were all accused of being "Members of the Organization" by the State.
* Kemal Kurkut, a student at İnönü University Fine Arts Faculty Music Department, who wanted to enter the Newroz area in Amed on 21 March 2017, was shot dead by police. The Governor of Diyarbakir claimed that Kurkut was a 'suicide bomber' immediately after the incident. A day after the lie of the governor was uncovered: Abdurrahman Gök from DiHaber published photographs showing the moments when the police killed Kurkut. Kurkut's killer was not arrested.
Some 10,000 women killed
* Nearly 10,000 women were murdered during the 16 years ruling period of the AKP. Only between 2002 and 2009, the number of women murdered increased by 400 percent.
War took thousands of lives
* According to the Human Rights Association (IHD) figures, more than 10,000 people lost their lives as a result of clashes erupting because of the unsolved Kurdish question, during the AKP ruling period.
Work-related death sky high
* During the AKP government, according to official figures, 20,500 workers lost their lives in work-related accidents. Job death in energy, construction, mining, agriculture and transportation sectors have doubled. Among the worst accidents were: Tuzla shipyards, Davutpasa, Ostim, Soma, Karadon, Ermenek, Esenyurt and Torunlar. Turkey is the first country in Europe and the third in the world for work-related deaths. In Turkey every hour there are 80 "work accidents". Every day, 4 workers die at their workplace.
Children and young people dying
* The figures are frightening when we talk about child and youth death. According to official reports, 68 children and young people, aged between 18 and 21, lost their lives from 2009 to 2017. These deaths were recorded as "suspicious ".
* The IHD has declared that 18 torture accusations have been made in relation to children in the last three years.
* 18 armored vehicles 'accidents' ended with the loss of the life of 16 children during the OHAL (State of Emergency) period. At least 19 children died and 12 children were seriously injured as a result of armored vehicle strikes since 2008.
THE REQUIREMENT OF THE DISCRIMINATION PLAN
* The 'Termination Plan' period is unique in terms of methods employed in massacres and attacks. The brutality of violence was unheard of. At the National Security Council (NSC) meeting held on 30 October 2014, Erdoğan's 'Termination Plan' was given the green light. Its target: the Kurdish people and their declared self-government. Sur, Silvan, Bismil, Cizre, Silopi, Idil, Nusaybin, Dargeçit, Varto and Gever self-administration and people were attacked with unprecedented violence. The people however resisted. Erdoğan, who could not accept the self-government declaration, is responsible of the murder of 72 children and a total of 338 civilians. He had stated: "You either bow your head, or you will lose your head".
* Cizre, one of the cities occupied with thousands of JÖH / PÖH, was sieged and destroyed. Hundreds of resisting civilians were burned alive in the basements including Cizre People's House Co-Presidents Mehmet Tunç and Asya Yüksel.
* Baby Miray, 3 months old and her 75-year-old grandfather Ramazan İnce, were killed.
* December 19, 2015: in Silopi, Taybet Inan, 57-year-old and a mother of 11 was shot dead while returning home from a neighbour's house. Her body lied in the middle of the street for 7 days.
* 5 January: Pakize Nayır, the Chairman of the People's Assembly who went to support the people of Silopi against the attacks, Sêvê Demir, Member of the Board of Directors of KJA (Free Women's Movement) and Fatma Uyar, a Member of KJA were killed by fire shots.
* In Nusaybin, mother of 5 Selamet Yeşilmen and in Sur, 57-year-old Fatma Ateş lost their life when special operations teams opened fire on the people.
* 14 October 2015, as the curfews continued, Amed Lawyer Baro Chairman Tahir Elçi who had told a CNN Turk program that 'the PKK is not a terrorist organization. It's an armed political organization', was targeted for several days by ruling circles and the Turkish press. A file was opened against him and on 28 November 2015 when he was making a press conference in Sur he was murdered.
* The United Nations (UN) stated that the massacres carried out by security forces during the 'curfews' were crimes against humanity.