AKP-MHP arming their men in Kirkuk
AKP-MHP have been revealed to be arming some Turkmens in Kirkuk. Erdoğan has sent thousands of infantry weapons to Turkmens in Kirkuk while hundreds of men have received training to provoke unrest in Kirkuk.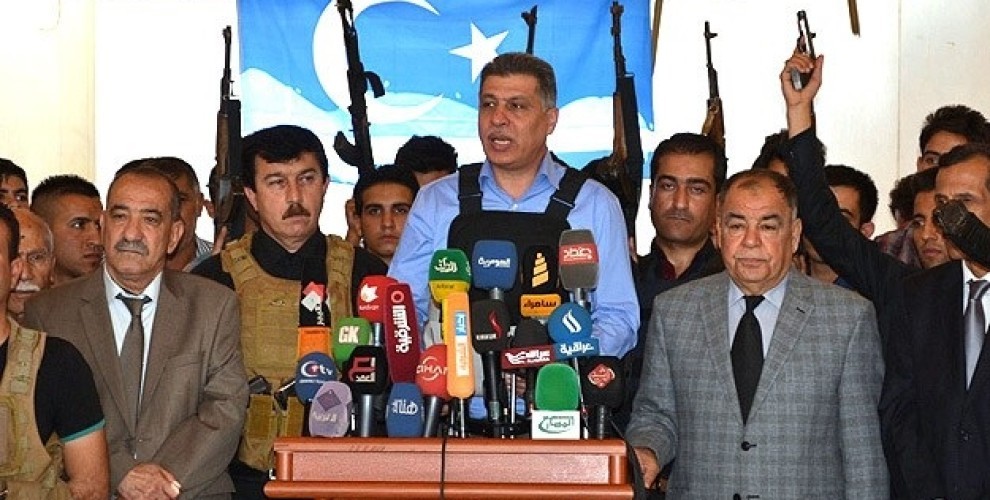 Turkey has had plans for Kirkuk for a long time. Turkey uses the Turkmens in Kirkuk as an excuse from time to time, in various schemes, and claims that Kirkuk falls within the bounds of the Misak-i Milli ("National Pact"), and is therefore a province of Turkey. In this past month, citing the referendum held in Southern Kurdistan as an excuse, Turkey issued various threats against Kurds while their schemes for Kirkuk were later exposed. Reliable sources who wish to remain anonymous provided the ANF with the following information:
DIRTY SCHEMES OVER KIRKUK TURKMENS
"Turkey has always had a meddling hand in Kirkuk. There is the Iraqi Turkmen Front that they helped found and turned against Kurds. In the last week, they sent over 40 thousand infantry weapons to be distributed among the members of this front. They took 40 of this front's recruits to Turkey to give training. Those who completed the training were sent back. A new group of 400 recruits was taken to Turkey."
Reliable sources say they have documents on the weapons and the trainees, and that they will make them public if necessary in the coming days.
BAHÇELİ HAD ANNOUNCED IT
This month, Turkey's Nationalist Movement Party (MHP) Leader Devlet Bahçeli had issued threats and said, "5000 nationalists are ready to go to Kirkuk, if things continue this way we will march to Kirkuk." The information provided by the reliable sources show that Bahçeli's threats were not baseless, and that the Turkmens taken to Turkey for training did receive training from the nationalists, later to be armed and sent back. The information shows preparations going back a long time.
"A NEW SYRIA"?
The role Turkey played in the armament of the insurgents shortly after the popular insurgencies began in Syria is not news to anybody. That is why the transfer of weapons to Kirkuk and the training of Turkmens bring to mind the question, "Does Erdoğan, after losing in Syria, wish to create a new Syria over Kirkuk?" The dirty plots and policies in Syria were what brought about the deepening of the civil war.
The US and Russia and all Western regions are watching Kirkuk closely, and it doesn't seem plausible that they will allow the Erdoğan and Bahçeli duo to enact such a plan there. The US has been engaged in conflicts in the region for some thirty years for the Kirkuk and Mosul oil. With these conflicts, they are seeking to implement their century long projects. This plan that Erdoğan and Bahçeli wish to implement is doomed to fail before it begins. But it won't be right to disregard the fact that they are attempting to execute all their dirty schemes over Kurds.
HOW DID THE WEAPONS AND THE TRAINEES CROSS THE BORDER?
Another important point is how these weapons were taken to Kirkuk while an embargo was in place. There are various pieces of information on this, but they remain in need of verification.
There are claims that trailer trucks were used for transport into Kirkuk. Here one is faced again with the methods Erdoğan used in Syria, as weapons were transported into Syria with thousands of trailer trucks for Al Qaeda spin-off ISIS and other gang groups acting as cover for them under the guise of "aid for Syria".
Another question is: Are groups similar to the Turkmens based in Azaz and Aleppo in Syria being formed in Kirkuk? The Iraqi Turkmen Front had been given the right to form armed units before to ensure the safety of their institutions. It seems like Erdoğan is trying to turn these units into groups that he formed around Azaz, Aleppo, Jarablus and al-Bab.
ASA'IB AHL AL-HAQ THREATENED KIRKUK
During these days when Turkey sent weapons and trained units, the Asa'ib Ahl al-Haq group commandeered by the pro-Iran Keys Xeze Ali issued a statement that included threats against forces in and around Kirkuk. The simultaneous occurrence of the two events is not a coincidence. Not only that, but another leg of the agreement between Iran and Turkey over Syria, Northern Syria and Rojava could be a result of a deal they made over Kirkuk. As such, there are other pieces of data that confirm this.
ISIS ATTACKED THE PESHMERGA DURING THE SAME TIME
Another significant development took place while Turkey was sending weapons and the Asa'ib Ahl al-Haq group was threatening Kirkuk, which was the ISIS attack on the peshmerga positions in the western front of Kirkuk. The attack carried out by ISIS resulted in one peshmerga losing his life and two peshmergas suffering wounds.
When all these come together, it becomes apparent that Turkey is using the referendum as an excuse and is pursuing a scheme similar to Syria centered around Kirkuk. Looking at the concrete data that has emerged, Turkey is apparently not alone in this plan, and Iran is at least a partner to some extent, if not fully.