All ISIS roads lead to Turkey
There are ISIS members from around the world among those who surrender to the SDF. The gang members have one thing in common other than ISIS: They all joined through Turkey.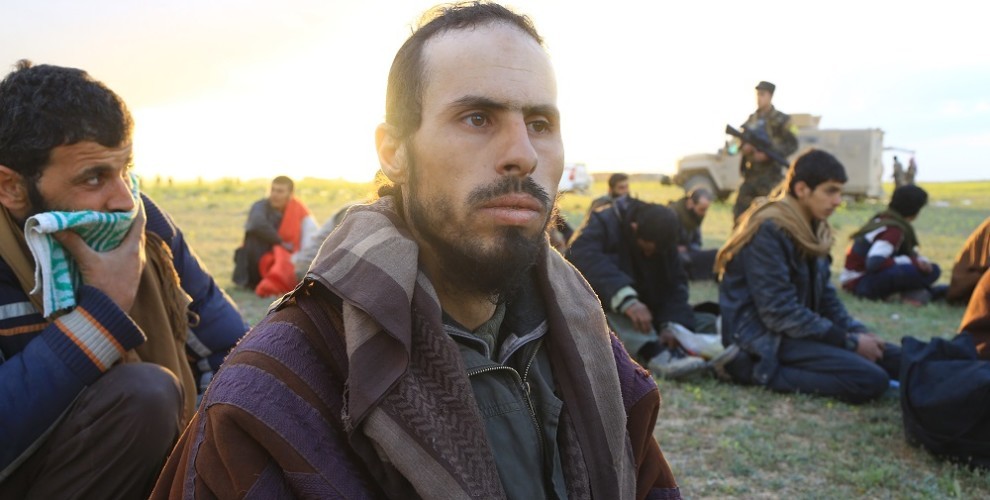 Scores of ISIS members and their families surrendered to the Syrian Democratic Forces (SDF) in their operation against ISIS in the Baghouz subdistrict in Deir ez-Zor's Hajin town.
SDF had paused the operation on February 9 to start evacuation efforts for civilians, ISIS members who accepted surrender and their family members in the region.
Over 10.000 people were removed from the area between February 9 and March 1, while the 2.000 (mostly foreign born) ISIS members and their families who refused to surrender decided to fight.
Afterwards, SDF fighters launched operations on 3 fronts on March 1 at 18:00. Intense clashes continued as one of the operation fronts was paused to open a corridor for gang members who accepted surrender.
Some 5.000 people were evacuated through the corridor yesterday and the day before. The ISIS members are mostly foreign born and include people from all around the world.
Another commonality with the ISIS members is that, except for the Iraqis, almost all of them crossed into Syria through Turkey. Their last stop before Syria was Turkey, and they all say they had almost no difficulty crossing through.
FROM MOROCCO TO TURKEY TO ISIS
An ISIS member named Ebdulhemit Dimeshk who crossed into Turkey from Morocco and to Syria from Turkey says he still thinks of ISIS as "the State". "I crossed through Turkey and joined the State," says Ebdulhemit Dimeshk and confesses that the crossing from Turkey to Syria was very comfortable and that there is an understanding between them.
Ebdulhemit Dimeshk continues: "I came here after I went to Turkey. I don't know what kind of agreement Turkey and the State have, but they let me through very comfortably. I did cross through official channels. I stayed in Homs for a while after I came, then I stayed in Meyadin. I never went to Kobane or Cizire."
FROM INDONESIA TO TURKEY TO ISIS
Another ISIS member whose route passed through Turkey is Ebu Liya from Indonesia. He says he also crossed into Syria through Turkey 4 years ago: "I first went to Turkey, then I came here. I stayed in Tedmur for a while, and later we crossed into Raqqa. Then I came here."
FROM AFGHANISTAN TO TURKEY TO ISIS
Another traveler of the same route is an ISIS member named Suleiman from Afghanistan. Suleiman says he stayed in Jarablus and Manbij, then he was wounded in Tabqa and started to work in propaganda.
Suleiman says: "I crossed into Syria from Turkey. I was in Jarablus. Before I was in Manbij. Then I was in Tabqa, where I was wounded. Then I crossed to Raqqa and stayed in a hospital in Meyadin for a while. After I was wounded I worked in media, over the internet." He doesn't respond when asked if he regrets anything.
FROM DAGHESTAN TO TURKEY TO ISIS
We see another two gang members who came from the Daghestan region in Russia. With his broken Arabic, Ebubekir says he crossed into Syria from Turkey 3.5 years ago.
When we ask the other Daghestani, he asks whether he should give his code name or his real name. His real name is Abdulwahab, but he took the name İbrahim Dagistan after he joined. He says he was in Gire Spi for a while after he came, then he was wounded in Tabqa. His next stop was Deir ez-Zor.
FROM SAUDI ARABIA TO TURKEY TO ISIS
Mustefa Selah, who joined ISIS in Iraq, was born only in 2004. He joined ISIS from the south of Baghdad and stayed in Ebu Kemal for a while. He says he joined "for Islam".
ISIS member who joined through Turkey is Saudi national Senhad Salih. He crossed into Syria from Kilis, and stayed in Azaz. He then went to the rural areas of Aleppo. Senhab Salih's wife stayed in the Euphrates Shield region under Turkish state control, and wants to go back to Saudi Arabia.