Asya Abdullah: "The resistance will increase in Afrin"
TEV-DEM Co-chair Asya Abdullah stated that there is a historic resistance in Afrin against the Turkish state's genocidal attacks and gave the message that they will be increasing the resistance with the spirit of Avesta Xabur.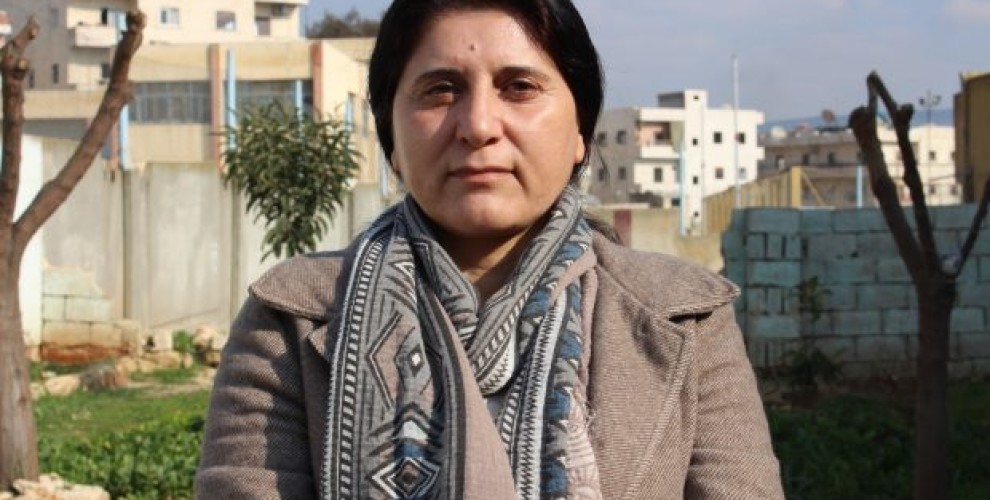 Democratic Society Movement (TEV-DEM) Co-chair Asya Abdullah spoke to ANHA about the Turkish state's invasion attacks and the Resistance of the Age.
Abdullah said the Turkish state is aiming to implement a genocide against the Kurdish people through the violent bombing of Afrin for the last 14 days and added: "Afrin is part of Syria and has a population of hundreds of thousands. Today in front of the whole world to see, a most vile attack against human morality is underway. The Afrin region is under bombardment by jets, tanks and all kinds of heavy weapons. All these meetings for a solution to the Syrian crisis are in vain. Where is the solution? Where is peace?"
Abdullah pointed out that the Turkish state is attacking the ancient history and the social reality of Kurds and humanity and spoke about the success of the Syrian Democratic Forces against ISIS gangs.
"SILENCE CREATES POOLS OF BLOOD"
Abdullah protested the silence of the International public in the face of the Turkish state's physical and cultural genocide in Afrin: "The truth of the matter is that they don't care that the Kurdish people are faced with destruction and massacres. Kurds are experiencing a genocide, and the whole world is watching. There must be pressure against the Turkish state to stop their attacks. If this isn't stopped, the lives of the peoples of the region will come under threat. If this isn't stopped, this pool of blood won't dry out, and this silence by the International public means support for terrorism.
"THEY ARE TEARING APART THE BODIES OF WOMEN AND CHILDREN"
"In published videos, you can see that children, women and the elderly are targeted and dismembered violently by the Turkish army. This is a great shame for the whole humanity," said Abdullah and likened the Turkish state's attacks against civilians and civilian residential areas in Afrin to ISIS attacks.
"THE PEOPLE WILL RESIST AND AVENGE THEMSELVES"
TEV-DEM Co-chair Asya Abdullah stated that the people of Afrin have been displaying a historic resistance since January 20 and concluded with: "Avesta Xabur sacrifice action took the Afrin resistance over the top, and gave a message to the Turkish state that the people of the region will be avenged. There are hundreds of female fighters and they have all taken their place in the front lines. YPJ fighters' leadership in the Kobanê and Raqqa resistances is an example. The fighters that have ended ISIS will also bring about the end of the Turkish state in Afrin. All women will resist with the spirit of Avesta Xabur who delivered a heavy blow to the Turkish army and with their strong faith in victory."