Aymaz: Schools will only symbolically open in Hatay
Trade unionist Mutlu Aymaz said that after the earthquake many schools in Hatay are not suitable for education.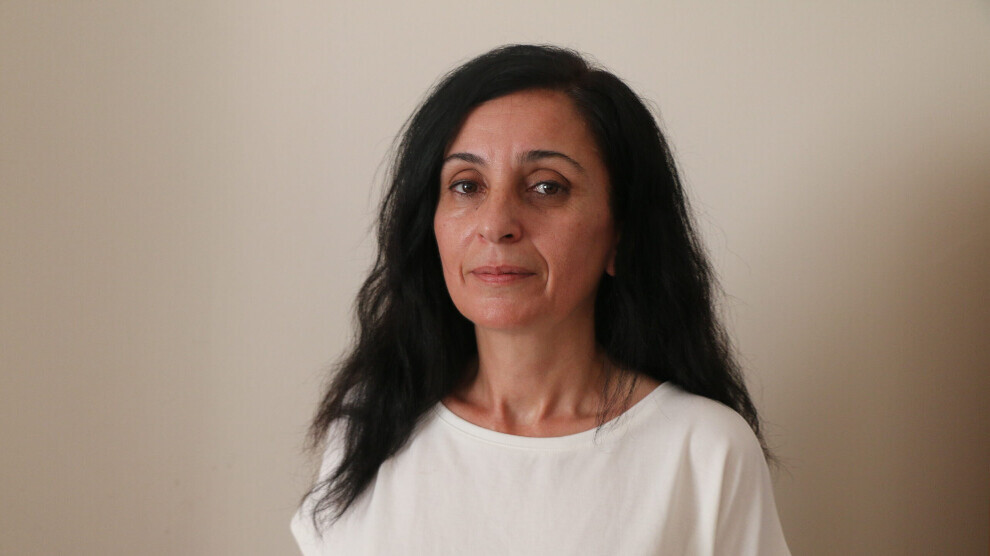 95 school buildings were destroyed in 10 provinces affected by the earthquake that occurred in Kurdistan and Turkey on 6 February. A total of 3,368 schools were damaged, 504 seriously. While the demolition of severely damaged school buildings has been completed, work on the reparation of moderately damaged school buildings is progressing very slowly. Most of the slightly damaged school buildings were allocated to other state institutions that were destroyed by the earthquake. Education will not be possible in hundreds of schools. Despite this situation, the Turkish Ministry of National Education announced that schools in earthquake zones will open on 11 September, as in the rest of Turkey.
Eğitim Sen (the education trade union) unionist Mutlu Aymaz spoke to ANF about the situation in Hatay before the new academic year.
Aymaz said that 17 percent of the school buildings in Hatay were destroyed in the two earthquakes that occurred on 6 February, and that most of the remaining buildings are not suitable for education and training. Aymaz said that less than two weeks are left before the schools open again, but no restoration work has been carried out.
The number of students in the class will double
Aymaz said that slightly damaged school buildings are generally allocated to other state institutions, and added that the number of students in the classrooms will double due to the lack of buildings and that education will be carried out in schools on a rotating basis. She said: "After the earthquake, the government said that education will start again in April. We visited some schools where education was said to have started at that time. They had put up a huge tent in the school garden. All primary school classes from the 1st grade to the 4th grade were in the same tent. There were no educational materials. Children were only allowed to play games during certain hours of the day. This time around, the picture will not be much different from that."
Aymaz added: "Damaged buildings were not demolished, and state institutions settled in most of the moderately and slightly damaged buildings. Schooling will continue in the remaining few solid buildings left. The number of students in classes will double. In these schools, everything from educational materials to cleaning and hygiene materials will be missing. Hatay is a place where there is a water problem after the earthquake. Schools will open and water will not run in school toilets. When you put all these things together, we see that there is no realistic attempt at education and training. Yet, when we ask questions, we do not get any answers."
Most teachers stay in tents
Mutlu Aymaz underlined that the transfer of students from collapsed and unusable schools was made to healthy schools, but then there was a problem with the roads. Indeed, damaged roads throughout the city were not completely repaired and drivers working as shuttle services went to different provinces due to the financial difficulties they experienced after the earthquake.
The same problem of transport applies to teachers who come to the city by appointment, said Aymaz, adding: "There are tents and container cities throughout Hatay, as well as people setting up tents in their own neighbourhoods where their destroyed houses are located. People's children have been directed to places far away from where they stay. How will they go to school? There is no infrastructure left in Hatay. The condition of the highways is very bad. All the service vehicles have moved to different provinces for this reason. These people have to survive somehow. At this point, there is also a vehicle problem."
The same, said Aymaz, applies to teachers. "We have a big problem. There are teachers who both lost their lives or went missing. Therefore, appointments were made, but they were far from meeting the number of students. It is said that the incoming teachers will be provided with shelter in tents and container cities. But how? If married, one container will be allocated to a teacher, while single teachers will have to share with at least another person in one container. But the reality is that we still lack containers. Currently, many of the teachers are staying in tents."
Schools will only symbolically open
Aymaz said that Eğitim Sen will organize panels with broad participation at both central and local levels, to discuss what needs to be done as the new academic year begins in the provinces affected by the earthquake, and added that they will draw up an action plan after the meetings.
Aytaz said that there is much more to be done in Hatay and added: "My opinion, both as an educator and as a trade unionist, is that, in reality, schools will only symbolically open on 11 September. The government will leave them with their children to their own fate. They did the same after the earthquake occurred."
An additional action plan is a must for Hatay
Aymaz said: "Our people are healing their own wounds, but the issue of education and training is beyond solidarity. During the time of Covid, children were confined to homes and received unqualified education. The same thing will happen now. This time it will be more complex because the limitations are regional. Children will take the exams in disadvantaged conditions. What success can be expected considering the cuts in education over the last 3 years? It is necessary to develop an additional action plan both for the earthquake region in general and for Hatay in particular."