Bab-centered ISIS organization by the Turkish state
The Turkish state is restructuring and reorganizing ISIS under different uniforms and labels, centered around Bab, in Afrin and occupied areas of Shehba as well as in Turkey.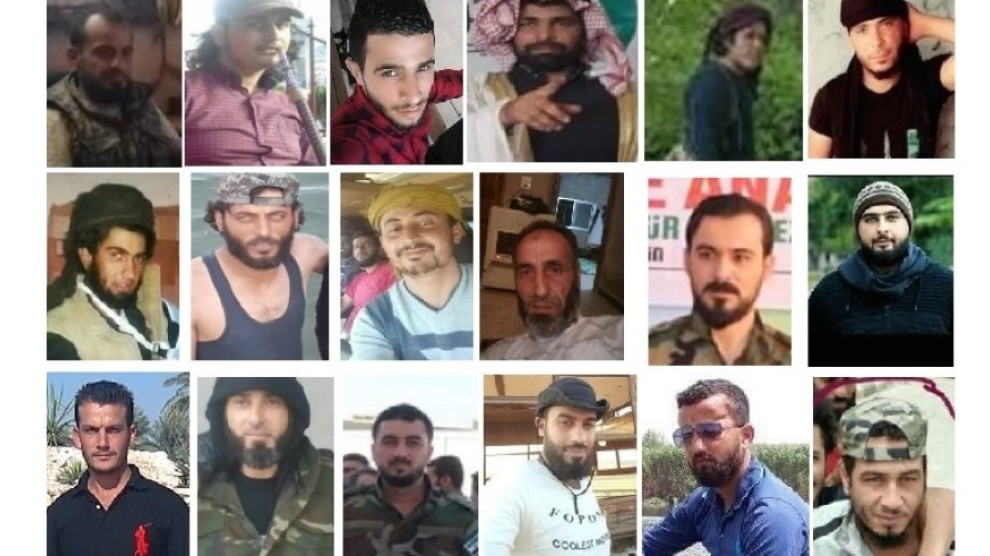 The Turkish state continues to settle ISIS members in Syrian territory under their occupation, disguising them as FSA like they did during 2016 and 2017.
Reports say the city of Bab has become a center for regrouping, reorganizing and arming the gang members and spreading them throughout the area. Some ISIS members scattered in Afrin, Shehla and Manbij under various guises were brought over from Idlib. Like Afrin, Bab, Azaz and Jarablus, some ISIS members settled in areas occupied by the Turkish state and their allied gangs have been identified. These ISIS members gather in Bab first, and then are placed in various gangs. The MIT is responsible for all their activity. The central location of Bab, in the middle of Manbij, Aleppo and Afrin, and its chaotic state makes it a prime choice. The "qualified" ISIS members who are being organized in Bab and Azaz form cells for explosions and assassinations in Northern and Eastern Syria.
ELBEYLI BORDER GATE
The gang members cross between Turkey and Syria from the border gate in the Cobanbey (Rai) town of bab and the Elbeyli border gate right across from it. The gate is controlled by the MIT.
AL-AMSHAD GANG
For the last two months, ISIS and Jabhat al Nusra members as well as their families have been transported from Idlib to Afrin under the guise of "refugees" with Russia's approval.
Al Amshad gang group held a meeting in March with ISIS members crossing to Afrin from Idlib. The meeting was held in Shiye, and it was decided there that the ISIS members would be placed in the Al Amshad gang as well. Al Amshad is already mostly made up of ISIS members who fled from Deir ez-Zor, Shexler and Shuyix.
ISIS members have been placed in Sultan Murad, Ahrar al Sham, Ahrar al Sharqiyya, Hamza Brigades and Sultan Suleiman Shax Brigades the most.
MIT FREED GANG MEMBERS THEY DIDN'T PICK
The MIT had been holding some more radical ISIS members who refused to answer to them in prisons in Azaz and Bab, but in March 2019 these ISIS members were transferred to Afrin where they were allowed to "break out" in a matter of hours for some, and days for others. This way, the Turkish state ensures the gang members who refuse to fully comply with them are still dependent.
IDENTIFIED ISIS MEMBERS
The information on ISIS members already identified is as follows:
Xalid Turkî Elhesen: Born 1989. From Alqoriya village of Deir ez-Zor. Joined ISIS from Deir ez-Zor. Crossed from Turkey in 2017. Joined Isud Alqaqa group, one of the Turkish state allied gangs of the "Euphrates Shield". Currently in FSA in Jindirese.
Husam Resul Rehmawî: From Tehtaniye village of Shuyix. Joined ISIS from Manbij. When Manbij was liberated, he headed to Jarablus and joined Ahrar al Sham. Currently in Ahrar in Afrin.
Hemza Memdoh Elmetrûd: From Elshair village of Hama. Joined Euphrates shield after 2 years in ISIS. Currently in FSA in Jindirese.
Sehed El-Sehed: From Deir ez-Zor. One of the media amirs in ISIS. Prepared and published many propaganda images for ISIS in Deir ez-Zor. Went to Turkey after several years in ISIS and later joined the forces that invaded Shehba. Participated in Afrin invasion as well. Known to have produced many images of the gangs.
Ebud Elî Ubêd Eladî: Member of Islamic Police in ISIS. Currently part of Euphrates Shield gangs in Afrin.
Tariq Ebdullah Eqreb: Known as Ebû Ebdullah. From Loebna village of Kobane. Intelligence member in ISIS. Later joined Turkish state gangs. Currently commander in Hamza Brigades in Afrin.
Elî Yûsif Elselama: From Elshiyux/Tehtaniye village of Kobane. Participated in ISIS attack against Kobane. Fought in Manbij. Later joined Turkish state gangs invading Shehba. Currently commander in Ahrar Elshuyix gang who participated in Afrin's invasion.
Mûsena Ayêd El Mixêndî: From Cura district of Deir ez-Zor. Participated in several ISIS attacks. Fled to occupied Shehba and was placed in Turkish state allied gangs, currently stationed in Afrin.
Fadî Hesen Elhisên: From Rehiye Elzahir village of Qamishlo. Among the first to join ISIS. Served in Hol and Til Hemis as part of ISIS.
Seyif Polat: From Bizea district of Bab. Was in FSA in Qibesin before ISIS invaded Bab. Known as Ebu Bekir. Was Bab Governor for ISIS. Currently in the administration of Al Hamzat gang, the gang Turkish state trusts the most, in Bab.
Mihemed Ehmed Shibilî: From Qibesin district of Bab. Known for selling women abducted by ISIS. Joined Hamzat when invited by the invading Turkish state and is currently a commander.
Shewket Xoca Semawî: From Shuyux village of Kobane. 50 years old. Served as intelligence amir in ISIS. Participated in Kobane attack. Currently a commander in the invading Turkish state's gangs in Jarablus.
Mehmud Heran: From Deir ez-Zor. Known as Ebu Naci Elensari in ISIS. Later joined Turkey's gangs that invaded Shehba. Currently stationed in Afrin.
Isa Elmihemed: From Girê Spî. Known as Ebu Hemed Shemaliya. Joined ISIS from Deir ez-Zor and remained in Raqqa for a long time. After Raqqa, went back to Deir ez-Zor to serve as "agriculture amir". Currently in Turkish state gangs in Azaz.
Ebdulrezaq Elcerah: From Heswiya Elkebira village of Heseke. Known as Ebu Besam. Went to northern villages of Aleppo as ISIS member, there joined Sultan Murad gangs allied with Turkish intelligence. Was made commander of Liwa Alrafideyn in Azaz.
Tariq Xalid Elzahir: From Jarablus. Joined ISIS when FSA in Shehba turned into ISIS. Changed uniforms and joined the "Euphrates Shield" in Jarablus during the Turkish state's invasion attacks against Shehba on August 24, 2016.
Ismail Fîras Elebar: From Sibexan village of Deir ez-Zor. 53 years old. ISIS amir. Stayed 2 years in Deir ez-Zor, then went to Aleppo's villages as ISIS member to join Euphrates Shield.
Basil Nayif El Shihab: From Qurteba village of Til Hemis. Known as Ebu Zed Eltai. Joined Jabhat al Nusra in the first years of the Syrian war, then joined ISIS. Sent to hospital in Mosul by ISIS when he was wounded in the battle of Manbij. Later went to Bab. Currently Bab commander of Sultan Murad gang.
Newaf El Xelûfî: From Um Kehif village of Til Hemis in Qamishlo. Known as Ebu Mihim. Joined ISIS when the gang was first established in Til Hemis. Fought in Til Hemis, Hol and Sheddade. Crossed to Shehba after Sheddade was liberated. Participated in Turkish state's invasion of Shehba with FSA uniforms.
Ismaîl Mehelî Tirkmenî: From the Bozhoyuk village. Went to Jarablus when he was wounded on his eye in Bab as an ISIS member and there joined Ismail Ereb's gang. Currently a commander in Sultan Murad.
Mihemed Elî Ceban: From the Meskene region. Fled to occupied Shehba after Tabqa was liberated. Currently in Sultan Murad.
Mihemmed Birahîm El Xidir: From Imal in Deir ez-Zor. Known as Stik. Joined ISIS when he was a FSA member after ISIS invaded most of Deir ez-Zor. Currently in Turkish state allied gangs in Bab.
Fadil Hemze El Hindawî: From Sirin district of Kobane. Became intelligence officer after switching to Ahrar from Jind Al Haramin. Later transferred to ISIS. Worked with Ebu Hemze el Ensari in the Euphrates Dam. Participated in ISIS attack against Kobane. Fled to Manbij during Kobane's liberation, and to Jarablus from there. Currently works with Turkish state allied gangs as intelligence officer.
Ehmed Salih El Togan: From Til El Leben village of Heseke. Known as Ebu Esed. Was responsible for explosives in Kizwan Mountain. Currently part of Turkish state allied gangs.
Mihemed El Emîn Eswed: From Belqis village of Til Hemis. Known as Ebu Hemam El Sherabi. Participated in Til Maruf and Cezaa battles. Crossed to Jarablus when Hol was liberated. Currently an intelligence officer in Turkish state allied gangs in Shehba.