Death toll from flood in Urfa rises to 21
After a series of earthquakes in February, North Kurdistan was hit by heavy floods after heavy rainfall in mid-March.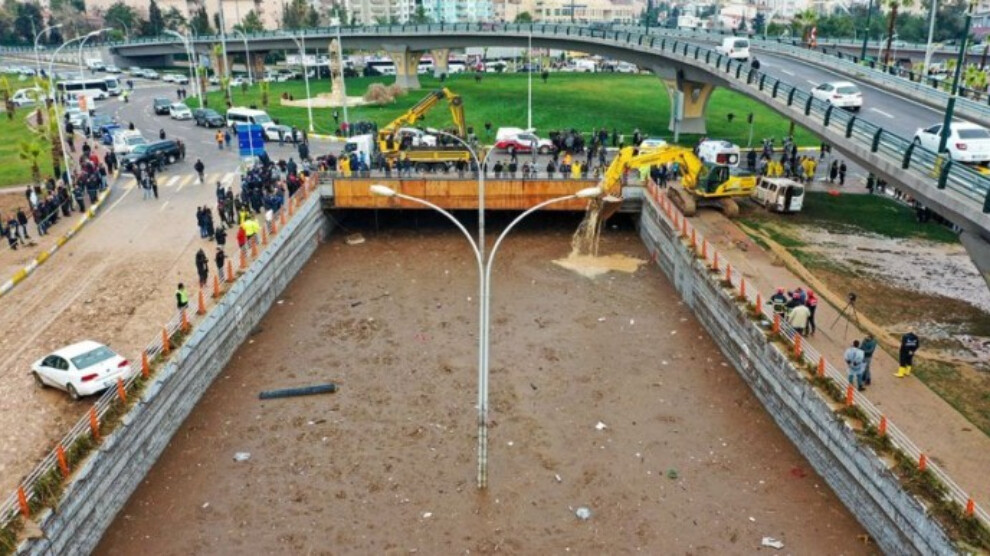 Heavy rain caused flooding in several places in North Kurdistan and southern Turkey on March 15. The disaster hit a region that had been struck by a severe series of earthquakes on February 6. Hundreds of thousands of people in the region are currently homeless and sheltering in emergency shelters. In addition to numerous roads and houses, the rain masses have also flooded emergency shelters and water penetrated tents where survivors are living under challenging conditions.
The body of truck driver Emin Ergün was discovered in Urfa after 9 days. The man had been caught in the flood on the main road between the districts of Bozova and Hilvan. His lifeless body was discovered today in the Bozova district and taken to the Forensic Medicine Institute for post-mortem examination. The death toll from floods in the city thus rose to 21.
In Urfa, the water entered homes, shops and public buildings and flooded roads, bridges and tunnels. Also affected was the 150-metre-long Abide tunnel in Haliliye, which was inaugurated by AKP leader Tayyip Erdogan only three months ago as a major service to the population. At least six people, including firefighters, were in the tunnel, which was flooded by muddy water, and were swept away by the floodwaters during a rescue operation. One person rescued himself by swimming out of the tunnel. Rescue divers were then deployed to the tunnel which connects the motorway between Urfa and Antep.
The intensive care unit in the basement of the Eyyübiye Training and Research Hospital in Urfa was also flooded, and the patients were transferred to surrounding hospitals. The Archaeological Museum also suffered water damage.
The mayor of Urfa, Zeynel Abidin Beyazgül of the ruling AKP, was met with boos from an angry crowd as he inspected the rescue work. The anger increased when information spread that a bodyguard of the AKP politician pointed his gun at the protesting crowd. Bayazgül was taken to his car under police protection and had to leave the place.