Five months under Turkish torture
M.S. and son C.S. were unable to leave their village after the Turkish state invaded Afrin, and were subjected to torture for five months. The family spoke about their experience and what they witnessed.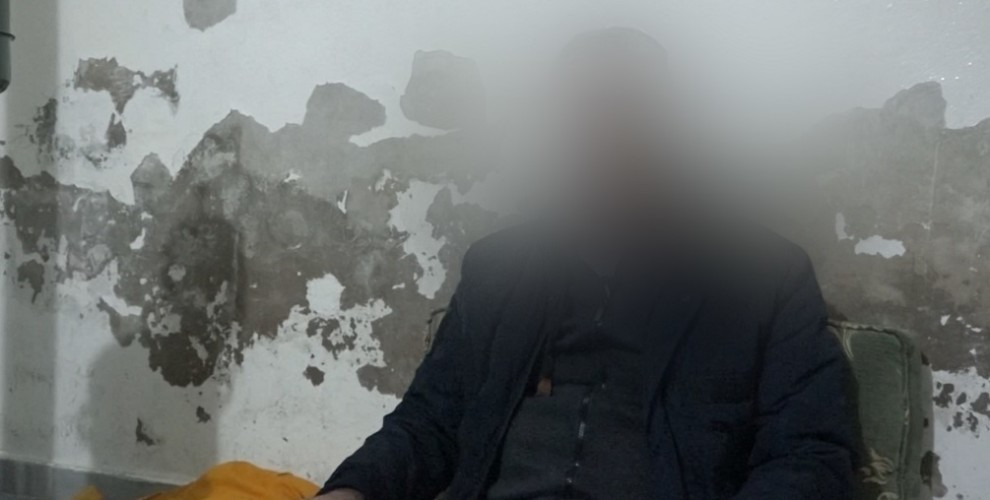 The Turkish army and their allied gangs continue to commit war crimes during their occupation of Afrin. They have destroyed buildings in the center and villages, smuggled historic artifacts and attempted to change the demographic makeup.
M.S. and son C.S. were subjected to months of torture until they were finally able to get out of their village after the Turkish state invaded Afrin. 
M.S. was paralyzed for months and lost an eye due to Turkish state and allied gangs' torture, and said the following about the torture: "When they entered Afrin, they demanded everybody be rounded up from the mosque. They beat us as they were gathering us, they beat us in the vehicles, they beat us when they were taking us out. They put us in prison. They continued to torture us there, all the while insulting us. They let us go after two days. They came a few days later and took us again. We went through the same again. I lost my sight to their torture. They let us go after a few days. When they came for the third time, they took us to the same place and told me that it had been decided that I would be beheaded. They asked I wanted to tell my son as my will. I said, 'Son, never stray from the path of humanity.' They rushed at me when I said that, they said I was telling my son to follow the path of the PKK and put a knife against my throat."
THEY STARTED TO DESTROY EVERYTHING
M.S. said the Turkish state and their allied gangs started to destroy everything the day they entered Afrin: "They cut down olive trees. They looted historic sites, bombed martyrs' cemeteries, set mountains on fire, tore down mosques and Yazidis' places. They want to destroy everything in Afrin, the nature, the people, everything. They changed the demographics in Afrin. They changed the names of neighborhoods, villages, schools, streets into Turkish. They put up Erdogan's photographs in Afrin's streets. They brought gangs from Ghouta, Deir ez-Zor and other places and settled them in Afrin. The Turkish state controls everything."
FATHER AND SON TORTURED AT THE SAME TIME
C.S. lost 70% of his vision under Turkish state torture and said the following on what happened to them: "When they entered our village, they gathered the people in the mosque. Everybody slept in the mosque that night. They came back the next day and said those who didn't pray should go out. My father left before me. As soon as he left, they started beating him. When I went out, they started beating me too. Then they took us to the Qirmitlik village in Shiye. They tortured us in every way imaginable there. I'm having difficulty saying some of these things. They did extremely degrading things to me and my father. They tortured us in front of each other. They said my father must die, and told him to prepare his will. They were furious when my father told me never to stray from the path of humanity. They dragged my father away, they said they would behead him. There was a discussion among them. One of them said they should behead him, the other disagreed. This was their way of toying with people's psychology. We came back home like dead men after they released us.
WE WANTED TO DIE
A few days later they came back in the evening, they took us to the same place. We were five people, subjected to intense torture. They put us in a car and took us somewhere else, where they continued the torture. No food, no water, no bathroom. The Turks, and the Kurdish interpreter, was doing the torturing. It was so intense that we wanted to die, we told them to kill us.
LOST AN EYE, PARALYZED
A few days later they released us. When I saw the state of my father when I got home, it hurt me twice as much. He was lying on the floor. He lost his eye, and he was paralyzed on one side. For three days, he hadn't had anything to eat or drink. Me and my father were in that situation for a week, we had no food for a week. We didn't even have bread. Nobody would approach us for fear of the gangs. They would have punished anyone who helped us.
WE GAVE THEM MONEY AND GOT OUT
A few days later they came back. They had a photo of me making a victory sign. They said they came to get me, but maybe I could save myself if I gave them money. They asked for $ 2.000, to be paid in 3 days. We gave them the money and left Afrin. Because they would have come every day. They would torture us and demand money every day.
All kinds of things happen to people in Afrin. Houses are burned down and looted, graves are torn down, artifacts are smuggled, the land, the mountain, the olive trees are set on fire. Women are raped and men are abducted for ransom. The Turkish state is now building new bases and cutting down thousands of olive trees to do it. They set fires everywhere. The Turkish state's only goal is to disrupt the nature of Afrin and destroy its identity and history. They are trying to push the remaining people away out of Afrin with constant torture, usurpation and looting."