Holidaying in Turkey? Think it twice
The International Solidarity Platform and the Platform for Afrin have launched a tourism boycott campaign.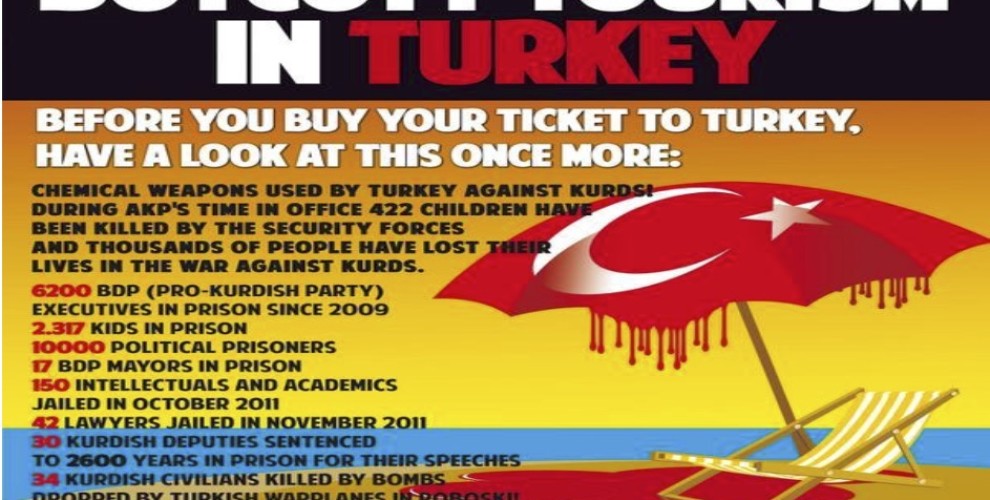 The International Solidarity Platform and the Platform for Afrin have launched a tourism boycott campaign aimed at making people aware of what they can expect in terms of human rights respect should they chose Turkey as their holiday destination. 
In a detailed 12-pages report, the promoters show, figures at hand, how there is a direct link between tourism money and the war promoted by Recep Tayyip Erdogan and its AKP-MHP fascist alliance.
Underlining that "the AKP government approved a 41% increase in the defense budget over the period of just one year, setting the defense and security budget for 2018 at 92.7 billion Turkish Liras", the dossier states that "this budget clearly represents the desire to perpetuate existing conflicts and initiate new ones over the next year".
While acknowledging that there are several reasons why holidaymakers should chose Turkey as their leisure destination (it offers inexpensive holiday packages and pleasant weather, beaches, and historical sites dating back thousands of years), the boycott promoters warn potential tourists that "Turkey has become increasingly autocratic, with Turkey's President Recep Tayyip Erdogan solidifying his grasp on power following a referendum of questionable legitimacy on presidential powers in 2017". 
Destroying Kurds, their culture and history
Detailing the reasons why tourists should think twice before choosing Turkey as their holiday destination, the boycott promoters remind that "the Turkish state has been waging a war against a third of its population, namely the Kurds. Thousands of Kurdish people have been forced to flee their houses, forcibly evicted in the '90s (when the war reached its peak) when the army burned more than 4,000 of their villages. In the 2000's the war reached a new level: after rejecting all proposals and invitations to find a negotiated political solution made by the Kurdish liberation movement, the Turkish state engaged in an all-out attack". 
The dossier continues: "In its frantic efforts to abolish any kind of opposition and dissent the Turkish state and the ruling AKP (Justice and Development Party) led by President Recep Tayyip Erdogan have ended up jailing and putting on trial tens of thousands of people. This meant that the policy now pursued by the Turkish state was one of "total suppression", or genocide. Not just Kurds: whether trade unionists, academics, journalists, writers, singers, politicians, civil society organisations, nobody escapes the AKP crushing machine. But there is more to this genocide being carried out by the AKP party and his leader Erdogan. If Kurds must be exterminated, their existence denied, then every trace of Kurdishness must be erased. Therefore, culture and history become targets of this war machine".
Which is why many historical places (like Hasankeyf and Sur) cannot be visited, as the Turkish government policies destroyed them whether through an alleged "progress-first" policy (flooding 12000 years old Hasankeyf) or "security" reason (siege and destruction of ancient borough of Sur). 
Jihadists safe heaven
But there is no more: it is no mystery that Turkey has become a safe heaven for jihadists. In fact, holidaying in Turkey carries some serious risks. The war waged by Turkey's military and government in the three parts of Kurdistan (Turkish, Iraqi and Syrian) is under everyone's eye, which is why Kurdish organizations have called on tourists not to opt for Turkey as their holiday destination. 
Expanding the war
Not happy with the repression within Turkey, the AKP and Erdogan have been constantly trying to destroy any achievements made by Kurds in other parts of Kurdistan, in particular South Kurdistan (Iraqi Kurdistan) and West Kurdistan (Rojava). 
In order to destroy the Rojava model, Turkey has directly financed and trained members of the Islamic State in its various manifestations, being it al-Qaida, al-Nusra, Free Syrian Army and the many names the gangs have taken along the years. 
Anti-foreign and anti-western attitude shown by Turkish President Erdogan and its government is reflected in the general public. It's not a coincidence that more and more racist and violent anti-west and anti-foreign attitudes and attacks have been reported by tourists who have had to suffer verbal and physical abuse.