HPG Commander: It's not easy to enter or leave these lands
HPG Commander Zerdeşt Navdar spoke about the invasion concept from Afrin to Bradost and the guerrilla's actions.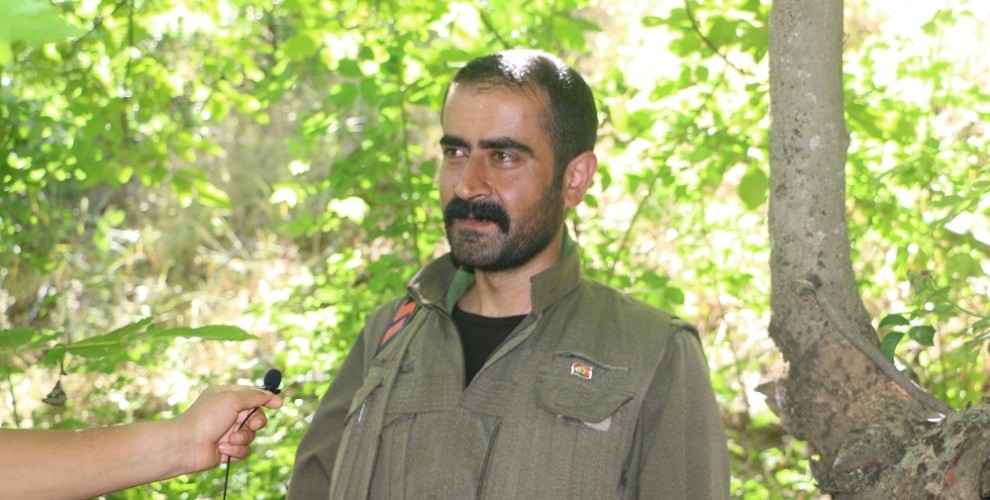 People's Defense Forces (HPG) Xakurkê (Hakurk) Commander Zerdeşt Navdar spoke to the ANF about the Turkish state's invasion attacks and the actions the guerrilla have carried out.
Navdar pointed out that the invasion concept spans Afrin to Bradost and added that the attacks don't comply with any rules of war.
RESORTED TO INVASION WHEN DEFEATED
Navdar pointed out that the AKP government has constantly tried to void the Kurdish Freedom Movement's attempts at peace before the latest invasion attacks and said: "As a movement, we have always had sincere approaches for the solution of the Kurdish issue, be it through dialogue or politics. But the AKP government, especially under Erdoğan's leadership, constantly tried to abuse and void these attempts. Our Leader developed attempts at a solution most recently. The AKP government, when they saw that they lost in the June 7 elections, resorted to invasions again."
"These attacks were carried out by a fascistic mindset that knows no values of democracy or freedom," said Navdar and stressed that a new process of war was launched through intimidation.
THE INVASION CONCEPT FROM XAKURKÊ TO QANDIL
Navdar said: "They created a perception and made the PKK look like a threat to Turkey, and through that they launched a new process of war. These attacks targeted an extensive area from Medya Defense Zones to Bakure Kurdistan, and to Afrin and Bashure Kurdistan. They attacked and invaded Afrin, a city that has no connection to Turkey at all. Now they want to invade Bradost. They have arranged an invasion concept from Xakurkê to Qandil. There have been attacks to this end, and they were met with a magnificent series of actions and resistance by the guerrilla."
THEY TRUST IN THEIR TECHNOLOGY RATHER THAN THEIR SOLDIERS
Navdar stressed that the Turkish state uses all kinds of technology against the guerrilla, and adding that the Turkish state trusts in technology rather than their soldiers, stated that the guerrilla have voided this confidence.
THE GUERRILLA VOID THE TECHNOLOGY THE TURKISH STATE RELIED ON
Navdar continued: "The Turkish army, with all their faith in their technique, didn't see that even the latest technology can be voided through human ingenuity. They don't have any military spirit apart from their technology. The guerrilla is a creative force. We believe in the power of people against the latest technology. The guerrilla develops a new tactic in the face of each new strategy in constant fluidity. As the technique develops, the guerrilla develops professionalism. When the enemy entered the Xakurkê area, they came face to face with a new tactic/style. The guerrilla voided their invasion plans with strong actions. On the Lêlîkan, Evdalkovî and Alî Drej hills the comrades carried out very strong actions. Hundreds of Turkish army soldiers died on these hills. The action our comrades carried out in the Alî Drej hill against this technology actually shows how the technology the Turkish state had infinite faith in was voided. Comrades managed to get close to enemy positions and hit the enemy effectively in their own positions despite the intense enemy technology, this shows that technology can be defeated by the guerrilla and acquiring enemy weapons without casualties was an example of creative guerrilla tactics."
THEY HIDE THEIR CASUALTIES, QANDIL IS A DREAM
HPG Commander stated that hundreds of soldiers have been killed in Lêlîkan to date, and that the Turkish state hides its losses. He added: "None of these are shared with the public. All the losses are hidden. They are implementing a perception operation through false politics. Qandil is a dream, they must dare a lot of things to come to Qandil."
THEY DON'T AIM FOR THE PKK, THEIR TARGET IS ALL KURDISH PEOPLE
Navdar continued: "Right now the guerrilla is stationed throughout every hill in the Xakurkê area. They are prepared and organized in a way that can respond to any and all actions. So, if the Turkish army ha plans to advance, they should consider the price they will pay. The invasion planning against Rojava and Bashure Kurdistan is an extensive concept. They are absolutely not aiming for the PKK, that is a false analysis. Their target is all of the Kurdish people."
TURKISH FLAGS FLY IN MANY PROVINCES IN SOUTHERN KURDISTAN
Navdar called on the people of Southern Kurdistan for awareness and said: "Turks never give up on areas they once invade, so our people in Southern Kurdistan must have more awareness. There are Turkish flags flying in many provinces in Southern Kurdistan. This is a great shame for the regional government. Everybody must take on a stand as best they can, and none of the invasion in the region should be accepted."
NOT EASY TO ENTER, NOT EASY TO LEAVE
Navdar concluded with: "As the Kurdistan Freedom Guerrilla, we are prepared to respond to any attack anywhere. As guerrilla forces, we are ready to fight in all areas under threat of invasion and protect the people. We are certain that we won't let the enemy rest on our lands. The people of Southern Kurdistan and all our people should know that these are not Lands to just abandon to the enemy. For that, we are prepared to pay whatever price necessary. Our resolve that we won't let the enemy stay on our lands is strong. It's not easy to enter these lands, and it's not easy to leave them."