In 2021, while the isolation deepened, the resistance was globalized - I
The year 2021 was marked as the year when Abdullah Öcalan's isolation deepened and the campaign for his health and freedom became global. While the Kurdish people only heard from their leader once in 2021, "disciplinary sanctions" were implemented.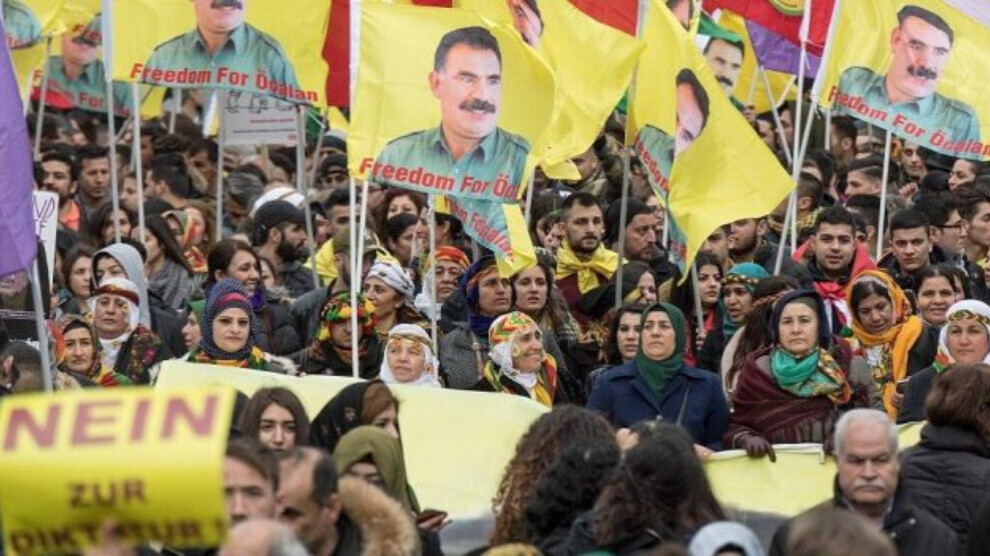 The Kurdish People's Leader Abdullah Öcalan's detention entered the 22nd year in 2021. Similarly, the resistance of the Kurdish People's Leader who was kidnapped and imprisoned as a result of an international conspiracy on February 15, 1999, against the Turkish state's torture and isolation system, ended its 22th year. While the AKP-MHP administration deepened the isolation and the "prolonged death" in Imrali F-Type High-Security Prison in 2021, Abdullah Öcalan's life, health, and freedom remained on Kurdistan's and other peoples' agendas.
Following the outpouring of support from Kurdistan and around the world, a brief phone call with Mehmet Öcalan, the brother of the Kurdish People's Leader who has not been heard from for 324 days, was permitted on March 25, 2021. Abdullah Öcalan, who was last heard by phone during the mentioned call with his brother on April 27, 2020, stated in this last encounter, "Such a meeting is really inappropriate and hazardous. If there is to be a meeting, it should be with lawyers."
Mehmet Öcalan, who talked with Kurdish People's Leader Abdullah Öcalan for around 5 minutes, stated that at around 18.00 on March 24, 2021, he was called by a person who introduced himself as the Director of İmralı Prison and detailed the occurrences of that day to the Kurdish media. Mehmet Öcalan stated that he was at the Urfa Courthouse during the time reported to him in the morning, and that authorities there were also aware of the phone conversation, and that he was escorted to a downstairs room alone after about 10 minutes. Mehmet Öcalan stated that there was an employee in the room and that he was informed he would talk with his brother in the room to which he was escorted.
'MY SITUATION IS BOTH POLITICAL AND LEGAL'
When he answered the phone, Kurdish People's Leader Abdullah Öcalan asked him questions, "How did you end up there? Who brought you there? How did it happen? From where are you calling?"
Mehmet Öcalan further said:
"My brother stated that 'Both you and the state are doing wrong. There were no meetings for a year. These sanctions can not be explained by state law or other laws. Your call is both inappropriate and harmful. The situation in the state is just too perilous. This isn't right. If a meeting is to take place, it must take place within the legal framework. It is not acceptable to make a phone call at their own request after a year. This is really wrong of you. The state is making a mistake, and so are you. This is neither legal nor moral. This will never be tolerated. This is also quite harmful. Are you conscious of what you're doing? I'd like my lawyers to come here and interview me. This is a legal matter. I've been here for 22 years. What will become of this issue in the future? Only the rule of law can address this problem. Why aren't they coming here? If a meeting is to be held, it should be with lawyers. It's both a political and legal issue."
"'I don't want someone to die on a hunger strike or in prison for me,' remarked the leader. "I've said it before, and I'll say it again. That's not necessary. This is too much. That is something you must consider," he stated. We talked for almost 4-5 minutes. It was short. It sounded like the leader's voice. 'This meeting is really incorrect,' he stated. The phone was disconnected after I said, 'This is not a meeting.' Then there was another phone call. Someone else was calling. He told me to stay there and not to go. I claimed the phone would not come after around 10-15 minutes of waiting. I reported it to the authorities there. Then they told me that 'The meeting has concluded.'"
TWO DISCIPLINE SANCTIONS UNDER HEAVY ISOLATION
While the Kurdish people only heard from their leader once in 2021, during a 5-minute phone call on March 24, it was notable that the Turkish state allowed this to happen following allegations about the life of Abdullah Öcalan published by some anonymous virtual media accounts. Following the allegations that infuriated Kurdish public opinion, hundreds of demonstrations took place in dozens of cities across Kurdistan, Turkey, and Europe to ensure a steady flow of news from Imrali.
Instead of responding to the demands of the Kurdish people, their friends, and their resistance, the Turkish state's isolation and torture regime gave Kurdish People's Leader Abdullah Öcalan disciplinary sanctions twice in 2021. Lawyers from Asrın Law Office, Abdullah Öcalan's defence counsel, learned that the Kurdish Leader had been given a disciplinary penalty on January 29, 2021, during those days when they tried to contact İmralı through strenuous applications and explanations. The Turkish state, which also disregarded the regulations requiring disciplinary punishments to be carried out in the presence of a lawyer, continued to impose all arbitrary sanctions on Imrali without informing the lawyers.
On November 29, the Kurdish public learnt of the second disciplinary penalty. On November 22, lawyers from Asrın Law Office petitioned the Bursa Execution Judge's Office for an "urgent meeting" with Abdullah Öcalan, who has been imprisoned in İmralı under harsh isolation conditions, and the fellow detainees Ömer Hayri Konar, Hamili Yıldırım, and Veysi Aktaş. The lawyers stated that they had not heard from Abdullah Öcalan and three other clients for 8 months and had no knowledge about their life and health circumstances, detention conditions, legal situations, or other measures regarding the pandemic. The application for a lawyer's opinion was denied by the Bursa Execution Judge, citing the 6-month ban imposed on October 12, 2021, as a result of the disciplinary investigation conducted against Abdullah Öcalan. The Turkish state's judiciary, on the other hand, cited a decision of the Imrali Penitentiary Directorate's Disciplinary Board, dated 18 August 2021, for "deprivation of visitors" for a period of three months as a cause for its refusal of family visits. However, the reasons for the penalties were not disclosed in the disciplinary investigations, which restricted both 6-month lawyer and 3-month family visits.
'PACING' IN THE YARD WAS ALSO PROHIBITED
Rêzan Sarıca, one of the lawyers of the Asrın Law Office, gave the following information about the punishments given to the Kurdish Leader: "The sentences given to Mr. Öcalan are being tried to be hidden. Various disciplinary sanctions are meted out because of Mr Öcalan's decision to turn physical activity into a walk. It's because of pacing. We understand the physical significance of human mobility in light of the fact that one's whole life is spent in a confined place in jail. This has been said by Mr. Öcalan as well. As a result, he objected to the penalties imposed on him for pacing. Pacing is a natural activity, and there is no moral or legal reason to prohibit it."
It was already revealed in October that a "disciplinary penalty" imposed in prior years was based on the Kurdish Leader's "pacing." On the basis of the disciplinary investigation launched by the prison's Disciplinary Board because Abdullah Öcalan paced after playing volleyball and basketball with the other prisoners on İmralı Island on 14 September 2018, he was sentenced to "Deprivation of visitors for 3 months". Moreover, the public found out about his penalty after nearly three years, on October 29, 2021.
CONSTITUTIONAL COURT SUPPORTS TORTURE AND ISOLATION
In 2021, support from the Turkish state's front for the isolation and torture regime on Imrali came from the Constitutional Court (AYM). In December 2020, the attorneys of Asrın Law Office filed an appeal with the Court of Appeals and the High Criminal Court for them to send a copy of the file to their client Ömer Hayri Konar, specifically the decision of the disciplinary board, if any, the decisions of the Execution Judge and the High Criminal Court, and to abolish the unjust and unlawful disciplinary punishments.
The lawyers' request was denied by both the Court of Execution and the High Criminal Court. In October, lawyers applied to the Court of Execution for family visits for their clients, Veysi Aktaş and Hamili Yıldırım, who are also imprisoned there. However, applications for both detainees were denied. Lawyers filed an application with the Constitutional Court (AYM) on behalf of their clients Konar, Aktaş, and Yıldırım, stating that the rulings were illegal.
On March 13, 2021, the Constitutional Court declared that the application filed for three revolutionary prisoners was "unacceptable." Concluding there was no infringement decision, the Constitutional Court declared that there was no violation with regard to lawyer and family visits, which had not occurred in a long time, as well as lawyers' denial of access to decisions concerning their clients. It was noteworthy that İrfan Fidan, who was elected as a member of the Court of Cassation on November 27, 2020, and was recently elected as a member of the Constitutional Court by Turkish President Erdogan despite having no activity yet, was one of the member judges in the stated decision.
165 APPLICATIONS FROM LAWYERS, 53 APPLICATIONS FROM THE FAMILY
Attempts by Asrın Law Firm's lawyers and family to challenge the Turkish state's particular attitude against the Kurdish People's Leader's physical condition, health, and "legal rights" as specified by law persisted throughout the year. In 2021, Turkish judicial units did not answer positively to 165 applications from lawyers and 54 from the relatives.
The AKP-MHP government's reckless attitude in Imrali elicited protests from the Kurdish and Turkish public that lasted throughout 2021. HDP launched an anti-isolation campaign in the first days of the year. Announcing the final declaration of the January 10 Party Assembly (PM) meeting, the HDP introduced the campaign to the public with the following call:
"Our urgent task is to create strong democratic sensitivity with broad social support to meet the just demands of the indefinite alternating hunger strikes launched in all prisons to end the absolute isolation on Mr Öcalan in İmralı and to end inhumane practices in prisons. We would like to emphasize that the fight against isolation is inextricably linked to the promotion of hope for a democratic solution and peace and that this critical goal should be shared by all democratic initiatives, not just one social section or party."
On the other hand, HDP deputies Kemal Bülbül, Hüseyin Kaçmaz, Abdullah Koç, Celadet Gaydalı, Şevin Coşkun, Feleknas Uca, Kemal Peköz, Ömer Faruk Gergerlioğlu, Erol Katırcıoğlu and Gülistan Kılıç Koçyiğit issued a press release in the Parliament on January 15, 2021 demanding an end to the aggravated isolation in İmralı. Deputies raised awareness about the continuous hunger strikes against Öcalan's isolation. This time last year, the relatives of Kurdish People's Leader Abdullah Öcalan and other inmates in İmralı Ömer Hayri Konar, Hamili Yıldırım, and Veysi Aktaş called out from Parliament. Abdullah Öcalan's nephew, Peoples' Democratic Party (HDP) Urfa Deputy Ömer Öcalan, Ömer Hayri Konar's brother Emin Konar, Veysi Aktaş's sister Sabiha Aktaş, and Asrın Law Office lawyers Özgür Faik Erol and Serbay Köklü attended the meeting on December 1.
STRONGER REACTION FROM KURDISTAN AND TURKEY
A signature campaign was started by 768 lawyers and lawyers in May. The campaign's signatories emphasized that complying with Kurdish People's Leader Abdullah Öcalan's request to meet with his lawyers is a necessity of the rule of law. The Association of Lawyers for Freedom (İHD) launched a campaign in the Yeni Yaşam newspaper, requesting that Abdullah Öcalan meets with his lawyers as soon as possible. HDP former Co-Chair Selahattin Demirtaş, Human Rights Association (IHD) Co-chair Eren Keskin, and lawyer Ercan Kanar were among those who signed.
Similar support came from Rojava Kurdistan. The Cizre District Lawyers Union called on European institutions to intervene in the isolation of Kurdish People's Leader Abdullah Öcalan, and several of its lawyers were designated as Öcalan's defence lawyers. Non-governmental organizations in Northern Kurdistan banded together to organize their responses to the Imrali isolation. 344 non-governmental groups issued a joint statement under the name of the 'Regional Democracy Platform', calling for the isolation of Kurdish People's Leader Abdullah Öcalan to be lifted.
While the Regional Democracy Platform, comprised of 344 non-governmental groups from 21 provinces, convened in Amed on February 21 in front of the Koşuyolu Park Human Rights Monument to declare their pronouncements, Turkish police cordoned off the park. Using the pandemic as an excuse, the police stopped the platform members' statements. Members of the platform who wanted to access the area where the statement would be made were surrounded by three groups by police. When the hour-long negotiations between platform members and police failed to produce results, the Southeastern Journalists Association (GGC) issued a statement condemning the Imrali isolation.
On the same day, Ankara's democratic mass organizations publicly declared their support for breaking the isolation of Kurdish People's Leader Abdullah Öcalan. Representatives of mass organizations declared during a press conference held at the Ankara Provincial Organization, "Isolation in Imrali is a crime against humanity; it must end immediately." This meeting was attended by representatives from Alınteri, Democratic Alevi Association (DAD), Revolutionary Party, Socialist Party of the Oppressed, Peoples' Democratic Congress (HDK), Peoples' Democratic Party (HDP), Partizan, Socialist Assemblies Federation (SMF), Socialist Re-Establishment Party (SYKP), and Kaldıraç.
AMARA WAS UNDER POLICE BLOCKAGE AGAIN ON APRIL 4
Turkish state forces were once again frightened prior to April 4th, the birthday of Kurdish People's Leader Abdullah Öcalan. The Amara (Ömerli) village in Urfa's Halfeti district, where Abdullah Öcalan was born, was surrounded by Turkish police and military two days before his 72nd birthday. The highways leading to Amara were closed with water cannon vehicles and armoured vehicles before the Kurdish People's Leader's birthday, which is celebrated tremendously every year despite bans and impediments. On April 4, the Turkish state police and military barred delegations from the DTK, TJA, DBP, and HDP from travelling to Amara. No one was allowed to enter the village due to the presence of the Turkish military and police.
The Turkish state was alarmed not only by the birthday of Kurdish People's Leader Abdullah Öcalan but also by the traces he left in the areas he visited in Kurdistan. On April 16, an airstrike was carried out on the house in the village of Elpelore in Kobanê where the Kurdish Leader had resided for a period after crossing from Northern Kurdistan to Rojava in 1979. The house was damaged as a result of the attack by an unmanned aerial vehicle belonging to the invading Turkish regime.
TOMORROW: Why was the resistance in 2021 different and more effective than in previous years?