ISIS used radio communication equipment brought from Turkey
Ilyas Aydin, a former ISIS executive and currently under arrest in the hands of the SDF, stated that ISIS has purchased a large amount of radio from Istanbul.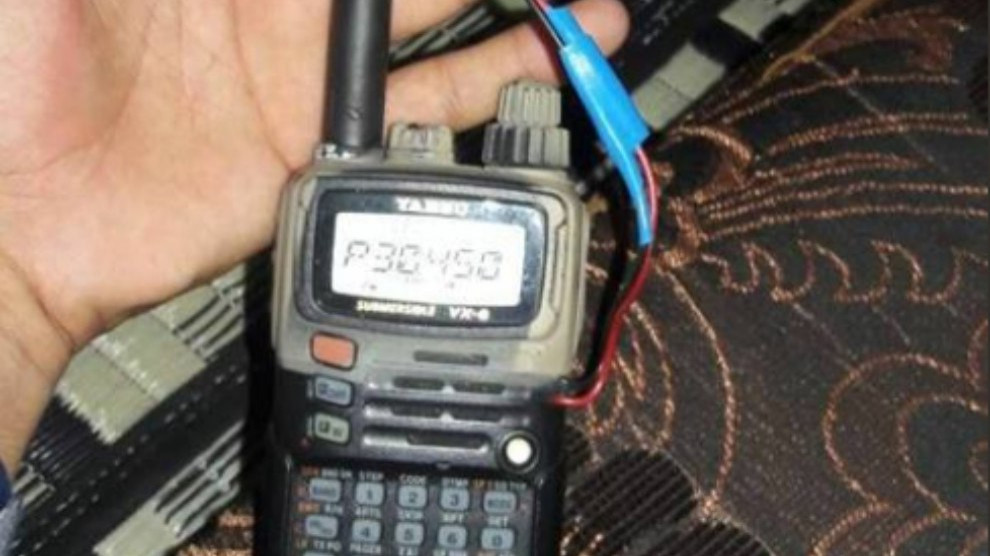 Documents obtained by ANF show how ISIS have used radio communication equipment brought from Turkey. 
ANF asked about this issue to Ilyas Aydin who has been in SDF custody for 2 years. He confirmed that from 2014 onwards ISIS has been provided equipment from Turkey and HYT distributor in Turkey, Ideal.
The first document, dated 12-04-2014, is an invoice issued by HYT radios company's distributor Ideal in  Okmeydanı Perpa in Istanbul. 
140 HYT TC 518 UHF hand radios and 3 program cables were sold to a person named Abdülkader AlRazi for 28.932 Turkish Liras. Under the name Albülkader AlRazi is written 'Deir Ez-zor' and the invoice also states that the devices will be used abroad.
The second document is an invoice showing radio sold by Ideal. This invoice was issued on 28-05-2014 and the actual dispatch date is the same. It carries the name of Abdulraheem Bahro and under the name it says Idlib-Syria. The document states that the unit price of each radio is 157 TL and that the payment of 18 thousand 623 TL 6 cents has been made for the sale of 100 HYT TC 518 UHF hand radios. In this invoice, just like in the first, it is stated that the devices will be used abroad.
The 3rd document is an invoice, like the 2 previous documents. On 26-05-2014, it was prepared by HYT İdeal company in Perpa. This document also states that 100 HYT 518 UHF radios are sold at a price of $ 115 to $ 11,500 each. The name of the deliverer is not specified, but has a signature. A. Cargo is written as delivery area.
The 4th and 5th documents show that someone used to  take the HYT radios to ISIS was caught while trying to cross the border into Syria from Turkey but was just given a small fine amount by the Directorate of Customs.
The 4th document is signed by the Customs and Trade Ministry Öncüpınar Customs Directorate. 
The decision date is 22-04-2014 and relates to a citizen of Turkey, Mustafa Ozkan fined 1575 TL for goods exempt from customs intended to be taken abroad without permission from elsewhere. Also in this document it is stated that Mustafa Ozkan, was detained in Elbeyli Gendarmerie Command area while trying to smuggle 90 hand-held radios HYT from Turkey to Syria.
In the 5th document it is stated that as Mustafa Özkan paid a fine on the same day, he was made a discount and ultimately paid 1181 TL and 25 cents.
Documents 6 and 7 are proof that radios have been received by ISIS. 
The 6th document is actually a contract on the radio purchases from Turkey, a contract in Sharia courts. In the contract, the first party is Abu El-Mughaire El Jazrawi and the second party is Abu Ducane El Turki. There is a note in the contract saying that "the parties have accepted the following" and it continues: "2. The party will bring 100 radios worth $ 11,400 to be delivered on Friday 16-7-1435 by 16-7-1435 ". The first witness of the contract is Hüseyin Keleş and the second witness is Abu İbrahim El Kurdi.
The 7th document was prepared by the ISIS Aleppo province and Islamic State is written at the top and  Aleppo province just below it. 
The document reads: "May Allah's blessings, mercy and blessings be upon you. To the brothers working on the provincial border in Aleppo. Please provide the clerk of the border from Turkey to bring its telecommunications equipment". According to the Gregorian calendar document 6 writes dates 1436-1437. According to the Gregorian calendar, this date corresponds to 25 April 2015-2016.
ILYAS AYDIN TESTIMONY
Ilyas Aydin, a former ISIS executive and currently under arrest in the hands of the SDF, stated that ISIS has purchased a large amount of radio from Istanbul:
"The radios we use are of two types. Analog devices and digital devices. The Islamic State, was getting radios from a company called Haytara.
This is a world-famous brand, also sold in Turkey. The products were coming from Turkey. A large amount of digital radios have been received. There is a place called Perpa in Mecidiyeköy, Istanbul. There are radio outlets upstairs. I mean, these companies are security companies. They look after the security communications of big factories, many places."
He states that this company also look after the security and communication of Erdogan's yacht Savarana. "These companies are under the control of intelligence. The owner of that company is either a retired soldier or a soldier is put there so that he knows who is coming, who is buying. They're security companies, so they're handing out radio."
İlyas Aydın's narrative shows that the reception of the radio from İdeal company continued not only in 2014 but also afterwards. Aydin, said: "They even brought digital radios. We complained at that time. 'The digital radio can be listened to by computer.'
We had friends who understand technology, we proved it. It was easy to ooze because it was digital. They couldn't infiltrate old and analog radios. At that time, they forbade to use these radios and distributed the digital to war zones. There were analog and digital equipment. After learning this, they always brought analogue radios."
Stating that most radios were brought in boxes in 2014, Aydın said: "They were brought to Idlib with boxes. They reached the Islamic State brought by FSA through Sahara, Hama, avoiding the regime. Delivered to Raqqa."
When we mentioned that the radios were taken in the name of Idlib and Deir Ez-zor and the Front al Nusra, FSA and ISIS were involved, Aydın said: "No doubt, the intelligence knows who the party that bought it."
When we talked about the contract made in the Sharia court on the radios, Aydın said:
"Maybe it's a contract with one our people. People need money to fight. For example, an agreement can be made with a trader from ISIS. The organization says, 'No matter how do you buy the material, on the black market or whatever, take it, get your share, bring it. This agreement may be the organization's agreement with a trader itself.
For example, the organization says, 'Where do you deliver? He says, 'I will deliver it to you in Idlib, Sarmade.' In general, all such transfers are from Idlib, Sarmade. In the organization, 'Okay, you bring the goods to Sarmade. I'm getting this money from you.' Sometimes I would deliver in Turkey, he says. Then the Islamic State gives little money. It now depends on the delivery of the agreement they made.
If the buyer was caught, maybe he corrected a paperwork, maybe he bribed the police, maybe the intelligence gave him permission."
The security and communication network of the Savarona yacht, known as Atatürk's yacht and currently used by Turkish President Tayyip Erdoğan, was undertaken by Hytera.
HRT authorized distributor in Turkey is Ideal, and the owner of the company is Yuksel Pekdemir. Former partners of the company are Rıza Pekdemir, Hakan Şimşek, Yüksel Pekdemir, Mehmet Akkın, Erdal Özken and Bilal Kurt.