Jan Fermon: Europe is playing a dangerous game with Turkey
European countries are playing a dangerous game, said Belgian lawyer Jan Fermon says in light of European governments' failure to respond to threats by Turkish ex-intelligence agent Ismail Hakkı Pekin.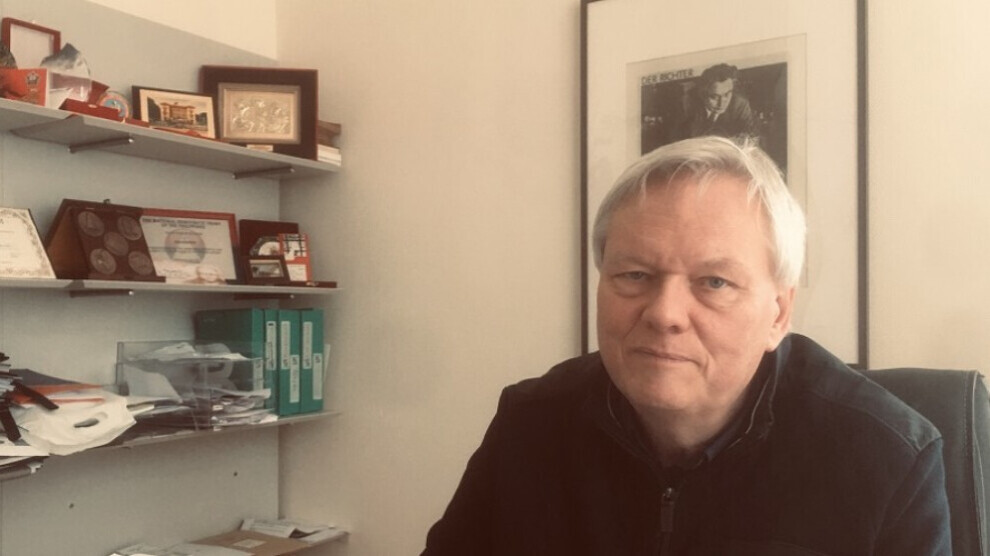 Belgian lawyer Jan Fermon says that Turkish ex-intelligence officer Ismail Hakkı Pekin's statement on the murder of three Kurdish revolutionaries in Paris merely confirmed what was already known: the Turkish state was behind the attack on January 9, 2013.
Ismail Hakkı Pekin, former head of the intelligence department of the Turkish General Staff, had admitted in mid-February on the TV channel CNN Türk that the murders of Sakine Cansız, Fidan Doğan and Leyla Şaylemez in Paris in January 2013 were a state operation and advocated further political assassinations of Kurdish leaders in Europe.
Jan Fermon, as a lawyer, has represented Kurdish politicians and media figures in an intense legal battle that has lasted for years, and the trial ended in January 2020 with the ruling of the Court of Cassation in Brussels stating that the PKK should not be considered a terrorist organization, but an armed party to the conflict in accordance with international law. Speaking to ANF about the public confession of Turkish ex-intelligence agent Pekin, the lawyer said, "In a way, this is not unexpected. We know that Turkey acts abroad. It has been involved in such actions many times in the past. Perhaps the only novelty in this statement is that it is openly admitted."
Confirmation of already known facts
Fermon assessed the legal aspect of Pekin's confessions and threats, stating that he does not expect any direct legal repercussions in Europe: "In my opinion, legally, it will not have any direct repercussions. However, precautions are needed because the statement is clear. The message he wants to give to the world is obvious: murders are being committed. At the same time, he is confessing to it. There will be no direct legal consequences, but it is a confirmation of what was already known. In other words, the Turkish authorities gave the order to murder the three women. On the one hand, this creates a shock effect, but on the other hand, it is not a new situation."
Europe must react and take action
Fermon stated that the new death threats are unacceptable and the European authorities must react: "There is a clear threat and it is an unacceptable statement. However, there are certain difficulties because the matter is subject to Turkish law and it is difficult to catch this person. And nothing will happen to him in Turkey. This person says what is already known and makes an absolutely unacceptable, scandalous call. The countries concerned, and Belgium in particular, must react and take action immediately."
The lawyer referred to the continued silence of European governments on the open threats from Turkey and the case of Ruhi Semen in Germany and stressed that there must be "calls to Turkey", on this.
Ruhi Semen had ties to Paris-based contract killer Ömer Güney and continues to live unmolested in Germany, where he works for DITIB, one of the Turkish government's main institutions in Germany.
Criminal partnership
On the attitude of European countries, Fermon said, "It's a problem that comes up often. European authorities provide generous support to Turkey. They support Turkey's actions against the Kurdish people and have allowed Turkey to invade Syria. They are also involved in legal procedures against the Kurds. It is obvious that there is a very old and strong bond between them, they are accomplices. This cooperation also covered up a series of events. I think there is only one explanation for this: they have common interests, and these interests are above everything. This is, of course, unacceptable, but it is also not a new situation. Most European countries have a very vague attitude towards what is happening in Turkey. In the worst cases, there is even complicity."
European countries are playing a dangerous game
The Turkish state is today applying an increasingly clear and aggressive policy, Fermon said, pointing out that the "conflicts are being exported to Europe."
"Turkey is adopting an increasingly clear and aggressive political course today and for the future. The conflicts with the Kurds are being exported to Europe. Pekin's statement makes the situation even more dangerous. It is clearly a dangerous development. For a long time, the Kurds were criticized for bringing the conflict to Europe. In fact, they never did, Turkey is exporting the conflict. The European countries are playing a very dangerous game here. The consequences could come back to Europe. All of this is not new, but it is irresponsible. Europe has been behaving this way for a long time."
Investigations in Belgium
Jan Fermon did not comment on the investigation into assassination plans against Kurdish leaders in Belgium. "There is currently an ongoing investigation, but I cannot talk about it. It is an investigation into threats against Kurdish leaders in Belgium. I cannot talk about the content," the lawyer said, referring to a secrecy order in the proceedings.
In June 2017, Belgian police stopped three suspects based on information provided by Kurdish organizations. This incident contributed significantly to the reopening of the investigation in Paris. The three individuals in the stopped vehicle were planning to assassinate the co-chair of KONGRA GEL, Remzi Kartal. One of the suspects was a former Turkish soldier. Another presented a Turkish police identification card. According to a source close to the investigation, the two men had been in Paris since June 16 with four other people of Turkish origin. One of them is believed to be a sniper. Belgian police suspect that a senior Turkish diplomat in Paris is coordinating these activities.
RELATED NEWS: