Karayilan: The only solution is Leader Abdullah Öcalan
After the earthquake, the Kurdish liberation movement decided to stop all armed activities for humanitarian reasons. Murat Karayilan said that Turkey is likely to intensify its attacks in the run-up to the elections.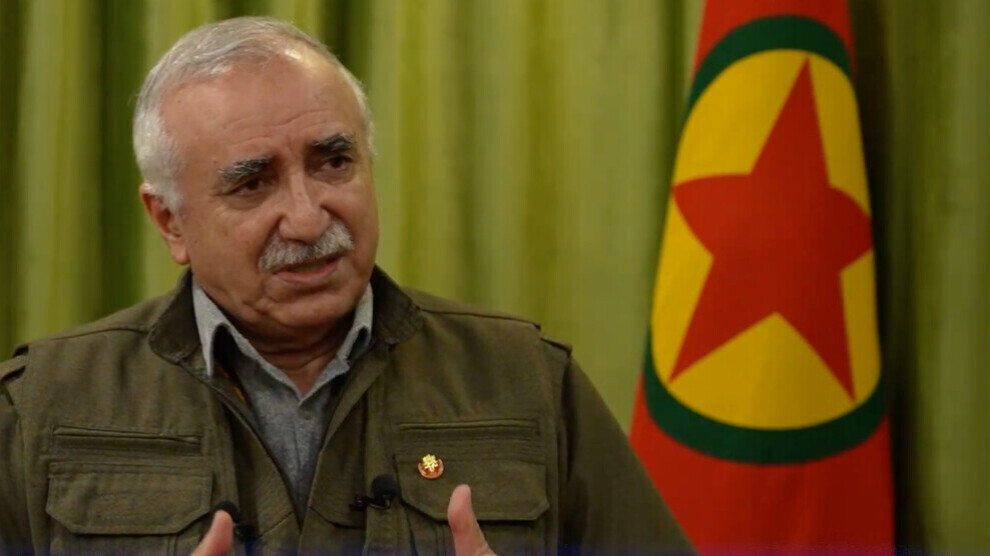 Member of the Executive Council of the Kurdistan Workers' Party (PKK), Murat Karayilan spoke about current issues in a special program on Stêrk TV. Among other things, Karayilan addressed the importance of Abdullah Öcalan for a solution to the Kurdish question. There has been no information about the Kurdish people's Leader  for almost two years.
Underlining that Abdullah Öcalan is the key to the solution to the Kurdish question, Karayilan said: "As it is known, a system that is unique in the world is being implemented against Leader Apo [Abdullah Öcalan]. This is a deep system of psychological torture. Its aim is to massacre the Kurdish people and to carry out the policy of genocide in Kurdistan. For this reason, such unprecedented isolation and torture is applied to Leader Apo. They don't want Leader Apo's voice to be heard, but Leader Apo's work and methods, and the meaningful stance he has shown, have gone beyond all prison walls. Today, the influence of Leader Apo's thoughts is not limited to the four parts of Kurdistan, but spreads to the Middle East and the whole world. The thought, line and paradigm developed by Leader Apo is being discussed and mostly accepted by many people around the world today. Everyone who hears this idea and understands its content finds it very remarkable and owns it.
Leader Apo's views and ideas are a new wave and are spreading all over the world today. On this basis, we must now carry out the struggle for the physical freedom of Leader Apo in a stronger way. The time has come for Leader Apo to be free. We are now at this stage. We must fight not only against the isolation, but also against the isolation, mainly for the freedom of Leader Apo, and the moves we will start must develop on this basis."
As to the Turkish state's depopulation policy in the Kurdish regions west of the Euphrates after the 6 February earthquake disaster, Karayilan, who himself comes from Urfa (Riha), called on people to return and to continue solidarity. We publish the translation of an excerpt of the TV interview, conducted in Kurdish, in which Murat Karayilan assessed the likelihood of an intensification of the Turkish state's attacks on Kurdistan.
The television journalist asked: "The Community of Kurdistan Societies (KCK) called for a cessation of all military activities after the earthquake for humanitarian reasons. Does the Turkish army take this decision into account in practice? How long do you intend to continue this inactivity?"
Karayilan replied: "The decision of our movement was correct. It is a humanitarian and social approach. Our headquarters also approved the decision and did what was necessary. The Turkish state and the AKP-MHP government have not acted in the same way and have continued their attacks. Nevertheless, our forces have stuck to this decision to this day. I would like to point out that in the war being waged in Kurdistan, the Turkish state uses all types of technology. In winter, the enemy's technology largely loses its effectiveness. Therefore, this situation offers the guerrillas various options. For example, it provides the opportunity to attack and eliminate the enemy. In our central headquarters and in all combat areas, especially in the Medya Defense Areas, there were corresponding plans for the winter. Within this framework, actions were carried out in the areas of Girê Cûdî, Girê Hekarî and Girê Amêdî. In 2022, a very historical resistance took place. This resistance was successful: it did not allow the enemy to achieve their goals. However, the guerrillas wanted to crown this resistance with a victory in winter. The planning of the guerrillas went in this direction. After the earthquake, when the co-chair of the KCK Executive Council decided to stop operations due to the situation of the population, our headquarters had to abandon its plans for the winter. As I said, the possibilities for us are greater in winter. It's not like it used to be. In the past, for example, war was mainly fought in summer and stopped in winter, but we have now recognized this new situation and our planning takes into account that the enemy relies on heavy technology in war and this is mostly unsuccessful in winter. Then the earthquake happened and the guerrillas had to stop their actions."
The enemy keeps attacking
Karayilan continued: "The enemy wants to take advantage of that. For example, it attacked in Besta. We had casualties there. Attacks on the Medya Defense Areas also continue uninterrupted. Likewise, the enemy has not stopped its attacks against other parts of the country. Our people and the public should know that we maintain our stance for humanitarian reasons, but the AKP-MHP state doesn't take notice of this situation and wants to destroy us. It wants to keep expanding the war. There is no humanity in this state. There were so many people under the rubble after the earthquake. Instead of helping them and getting them out of there, the state continued its attacks. [Turkish Defense Minister] Hulusi Akar justified the army's inaction in the rescue work by saying: 'Do you want us to withdraw our troops from Iraq and Syria?' In any case, the earthquake and this war are closely linked. Turkey spent all its money on the war. Nothing is invested in the infrastructure. That's why there was such a high number of dead. The official figures are not correct. More than a hundred thousand people lost their lives. So many places were destroyed and the AKP-MHP still think they're right and they're continuing to wage war. A great catastrophe has happened but they continue their attacks undeterred. The public should know this and, of course, our friends should not misunderstand. If we are attacked, we will of course defend ourselves militarily and provide the necessary response. This is a government of opportunists, hypocrites and conspirators. If they see the guerrillas loosening up, they will attack immediately. That is why our forces must be cautious everywhere and not let up in their measures."
Intensification of attacks in the run-up to the elections likely
Karayilan added: "As is well known, Turkey is in the run-up to elections and the AKP-MHP government wants to create a nationalist and chauvinist atmosphere. To this end, it tries to reinforce an anti-Kurdish feeling. Within this framework, there is a possibility that the state will step up its attacks. We unilaterally decided to stop actions because it was the right thing to do, but we know that the enemy has no humanitarian feelings and wants to seize every opportunity. It wants to keep his power and for this reason it is likely that it will intensify the attacks on the Medya Defense Areas, South Kurdistan and Rojava. Everyone should be prepared for that."