Lawyer Newroz Uysal talks about the meeting with Öcalan
Newroz Uysal, one of the lawyers for Kurdish People's Leader Abdullah Öcalan, told ANF about the meeting they had in Imralı Island Prison on May 2nd.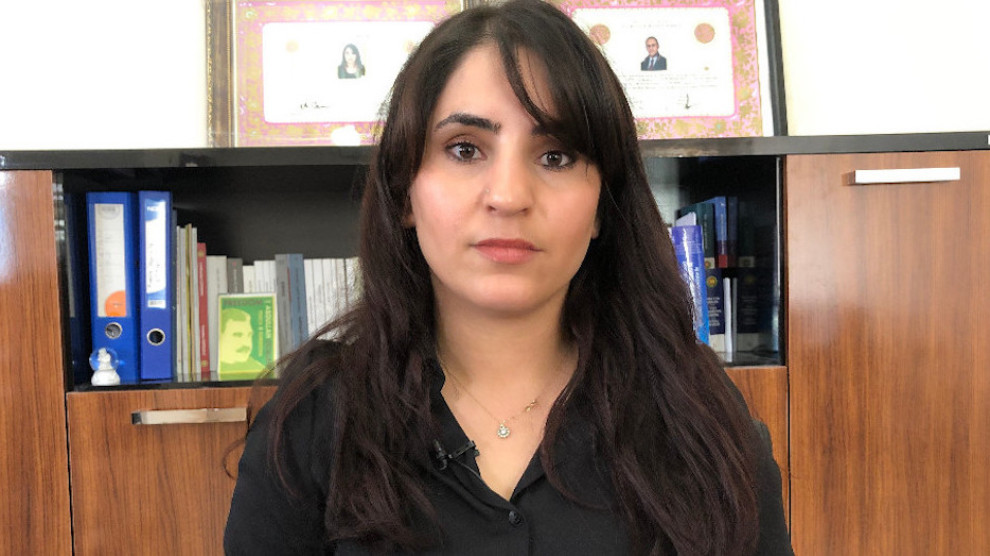 Asrin Law Office lawyers had a meeting with their client Abdullah Öcalan who is held in the Imrali Type F High Security Prison on May 2, 2019. This was the first lawyers' visit since July 27, 2011, with 810 appeals from then until now.
Lawyer Newroz Uysal, who attended the meeting together with Rezan Sarica, answered ANF's questions about the meeting.
How is his state of health?
He is in good conditions in general, he was in good morale and strong. He did not go into details when we asked if he was experiencing health issues. He told that his priority was social issues and that he pushed such matters into the background. He said he was feeling young and was strong in mental and spiritual sense. He said to be mentally strong and that he has rendered himself stronger.
What are the first impressions you have made there?
We were hearing the strong voice of Mr. Öcalan as we were kept in the waiting room after search procedures. He was ready when we entered the lawyers visiting room. He gave us a standing welcome, holding in his hands the declaration that we made public after the meeting.
This was your first visit after 8 years. Which procedures have been implemented?
Unlawful ban decisions have been made basing on court verdicts since July 21, 2016. The ban was lifted by the Heavy Penal Court of Bursa following the objection we made against the ban on March 13, 2019. This new decision was conveyed to us on April 22. As a result of our continued appeals, we were informed that only two of the four lawyers that had appealed for a meeting on May 2 would be allowed. We, the two lawyers in question, went to Gemlik. Following a search and our access to the island, our meeting began at around 3 pm. It was approximately one hour long. There was no chance of exchanging documents during the meeting, nor did we have the opportunity to take notes.
How does Öcalan himself evaluate this special isolation system that has been imposed on him?
The fact that our client has not been allowed to meet his lawyers for around 8 years is an unprecedented case proving that he has been deprived of all his legal rights. Our client has repeatedly emphasised in his defences that the Imralı isolation system is imposed on the whole Kurdish people in his person, and that a people was imprisoned in his person between four walls on an island. During the past three years, he has been allowed a family visit by his brother only twice. In the last one of these meetings, he had stated that these exceptional meetings did not remove the isolation and the aggravated isolation conditions were still in place. However, we know that he has been monitoring the strict isolation conditions imposed on society. Accordingly, he was highlighting that the society, the state and everyone had shackles on their feet.
We can see that the two family visits (on 11 September 2016 and 12 January 2019) and one lawyer visit (2 May 2019) granted in the past three years were all enabled during the process of hunger strikes. These are striking examples to understand the isolation system being implemented.
What about the physical conditions, the common area, open-air area, communication, TV and newspapers? To what extent can they access the library and books?
We are sending him books, magazines and daily newspapers regularly and collectively during the month. However, we learned during the meeting that he was not given the Yeni Yaşam (New Life) newspaper for instance. Some other newspapers are not given to him either but we do not know if this obstruction is taking place on a regular basis. He said he could watch TV, but only 7-8 channels. We also learned that he was given only 2-3 of the many letters we had sent to him. When he mentioned a letter he had sent to us, we said that we did not receive it.
He said he was talking to the three other clients of ours there. We are of the opinion that they are able to meet at the sports area and the common area. Apart from that, we know already that he spends the remaining 23 hours of the day alone.
We do not know at the moment if his library is in his room or not. Still, we know that he continues reading. Speaking of today, he said he was reading about the Cizre Principality, mirs and beys. For instance, he stated that Mem u Zin, which is known to be a love story, was essentially telling about the pain of democratization.
How does he see the political course of events in Turkey?
Mr. Öcalan is currently leading a deeper discussion that involves his past concentrations. Since the times of Özal, he has been leading the same discussion and the same struggle for 24-26 years. The evaluations of Mr. Öcalan should not be interpreted as related with any administration or political party, nor should be treated in a manner that is limited to political developments.
These are deeper and more historic discussions and evaluations. These are discussions related to the State, democracy, the country and the region. He states to be in an advanced stage in his evaluations compared to his concentrations of 7 years ago. He is trying to lead this discussion in a more historic way that will lead to even deeper results. He monitors the situation of the society as a form of deepening disintegration and polarization. He underlines that politicians have not been able to produce a result during the past 3-4 years that have witnessed terrifying things.
The declaration of Mr. Öcalan should be treated together with these discussions. In his public declaration with 7 titles, every paragraph could be considered a separate title.
In this sense, according to Mr. Öcalan, there is a need for a deep social reconciliation at this stage. This should be a reconciliation away from polarization and discrimination, which means Turkish-Kurdish reconciliation, social reconciliation, political reconciliation, cultural reconciliation etc.
He puts particular emphasis on the method of democratic negotiations. As an example in this sense, he attaches importance to the European Union and the paradigm of Habermas on this matter. He finds it important that old mistakes are not repeated, but lessons are drawn from these and similar mistakes are not made. Problems can be resolved through the method of democratic negotiations. Mr. Öcalan as a true democratic negotiator, states that the method is quite clear. He is of the opinion that everyone involved in politics should be ready any time and should be renewed as no solution would be produced otherwise.
He maintains his opinions and proposals regarding the problematical state of the concepts of nation, constitutional citizenship and the relationship between the State and citizen in Turkey.As was highlighted in the declaration, according to Mr. Öcalan, soft power is intelligence, politics and culture. He states that it would not be possible to resolve the existing problems as before and without democratic negotiation, the method of which should definitely be an honorable peace.
Mr. Öcalan considers it important that the Syrian Democratic Forces (SDF) of Northern Syria, which include Kurds, Arabs, Syriacs alike, be granted an assurance in the Syrian Democratic Constitution at least as much as the centralist system. He also attaches importance to the unity of Syria. Regarding the matter of constitutional assurance, he says that local administrations should be strengthened, and discussions could be made on democratic autonomy, federal system and other subjects. Similarly, he attaches importance to common politics and diplomatic talks together with regional solutions. He emphasised that there should also be awareness of Turkey's sensibilities. He remarks that there should be no approaches like Afrin or Idlib, citing the Suleyman Shah issue and the Eshme Spirit he had highlighted in the Newroz Declaration of 2014 for the achievement of a solution. He points out that solutions could be resolved with the method of political reconciliation. He trusts that Syrian refugees could return home form Europe, Turkey and everywhere else following the formation of a possible Democratic Constitution of Syria.
Regarding the hunger strikes, he states his respect, noting that his approach on the matter is known since 1982 period. He says that hunger strikes was one of the influential reasons that prompted the declaration which he has made public. In addition, he stated that he thanked all the activists but did not want them to take it to the level where they will endanger their health or result in death.
Öcalan refers to the Newroz Declaration of 2013 and the stance of Imralı. What should be made out of this?
Mr. Öcalan put emphasis on the stance of Imralı and 2013's Newroz in the two paragraphs of his declaration. His answer to those who wonder about his stance in Imralı was that he was a political subject and this state of his was the basis for a democratic solution and honorable peace. Mr. Öcalan's political power as the main subject has been long known. In 2013's Newroz Declaration, he makes a reference regarding democratic political solution and honorable peace. In his remarks on democratic negotiations and honorable peace, he once again reminds of the Newroz of 2013.
How is the situation of other political prisoners on the island? How does this particular isolation affect them and how is their state of health?
Our other clients who are held in Imralı alongside Mr. Öcalan are also held under the same conditions of isolation. They have not been allowed to meet their lawyers once since their transfer to the island prison in March 2015. They have not been allowed to exercise their rights to communication, like letter or phone. Nor were they able to have a meeting with their family members. We do not know if they are allowed to watch TV. Despite the fact that the removal of the ban for lawyer visits to Imralı applies to them too, the appeal we made to meet them on May 2 has been rejected. When we asked Mr. Öcalan about their state, he said that they were in good state of health and sent their regards to their families.
Finally, let us convey Mr. Öcalan's greetings and thanks to all those who are concerned over him and have manifested an attitude, women being in the first place.